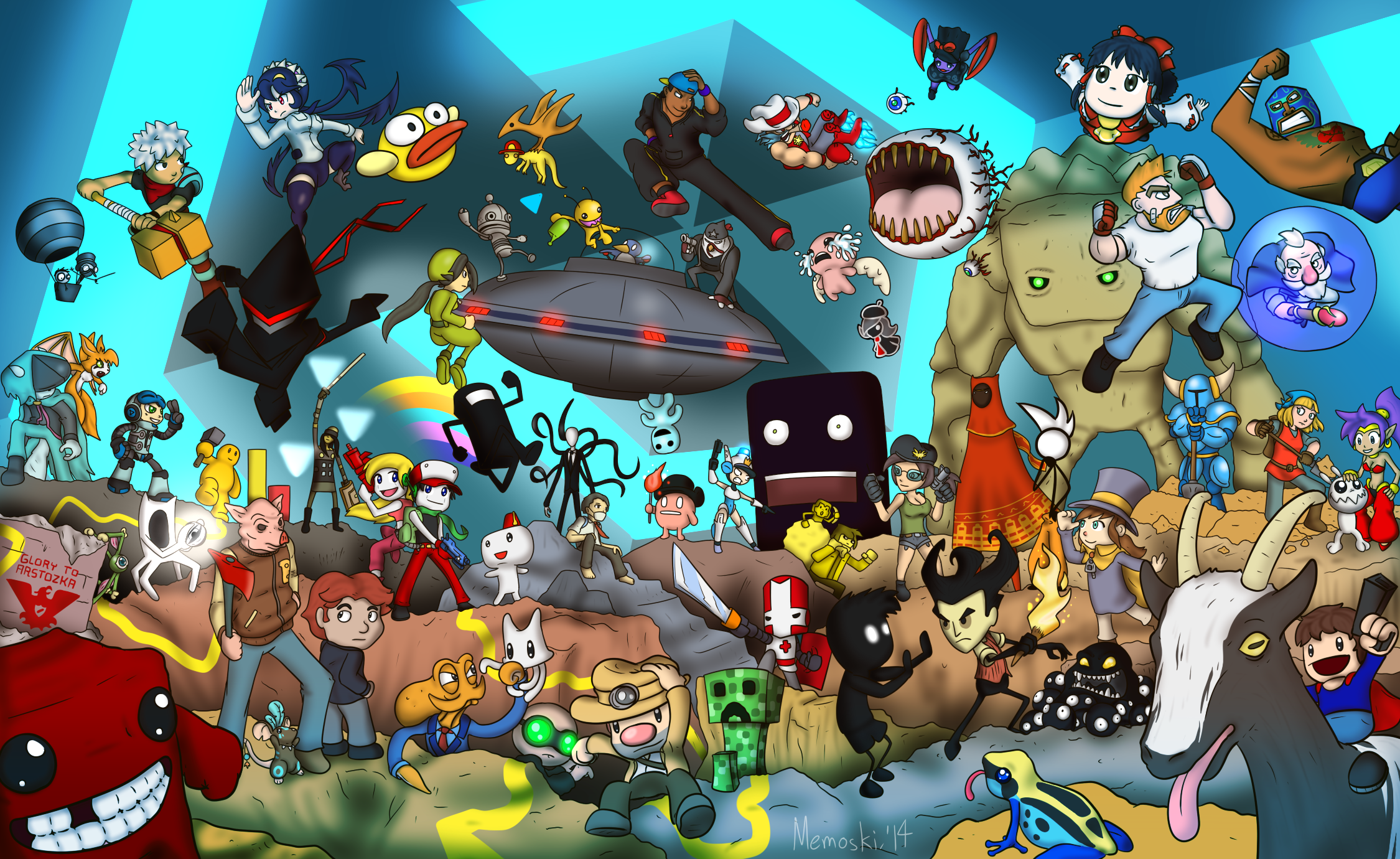 Watch
65 (arguably) indie games collide into one massive drawing. Platformers, adventure, action, puzzles, blockbreakers, survivals, horror, shoot 'em ups, simulators, rythm, experiments, released, to be released... There's just too much!
Think that you can name them all?
For each game you know, give yourself one point. If you know the name of the character(s), give yourself another point!
Fun facts:
- I haven't played many of these myself, but they all are interesting to me.
- I wanted to make a Children's Day (Día del Niño) drawing, starting with Quote, but then everything went out of control.
- The drawing is based off an opening of Marvel Vs Capcom 3
- I originally wanted to put 50 characters, but I ended up adding one after another. The only ones I didn't add that I planned were Recettear and Nidhogg.
- Special thanks to

for supervising the thing from beginning to end. Thanks to everyone that suggested games when I asked for! :3
If you give up on the guessing, or want to compare, here's the list:
pastebin.com/RS4gNqQU
---
If you liked this, then you might like these:
Bitchin! Though, middle seems a bit heavy compare to the foreground and background. Also, as much as I love Meatboy, and detest the Creeper, there's no denying the later is much more prevalent, and might as well be to the indie scene as Bowser is to Nintendo. Also, I'm not sure if the WayForward heroines would be strictly indie, given that WayForward pre-dates the term. And there's no way Journeyman (as I call the robed figure for lack of an official name) is indie, being fully funded by Sony after all, and the same issue may stand with the Alien Hommind (how the heck do you spell that?). Other than that though, this is now my screen saver. Now make the character select screen. And maybe rival fights, if only because I wanna see who'd be able to take on The Almighty Goat.
The Artist thought this was FAIR
16 out of 17 deviants thought this was fair.
This is one of the best drawings I've EVER SEEN IN MY LIFE!!! Literally, just look at it!! I believe it's a very nice tribute to indie games! It's great to see that even indie games have fans. Well, I'm also a fan of them so that's why I consider this great. The details are just incredible!! I'm surprised

had a LOT of patience for this one. There are so many characters I don't even know where to begin with who is there. Overall, it's an awesome pic and a great tribute. If you're a fan of indie games you'll appreciate this as much as I do, if not more.

The Artist thought this was FAIR
19 out of 20 deviants thought this was fair.