Streetfair's 1,000 Watcher Raffle

is having a raffle to celebrate hitting 1,000 watchers! 1000!!!!!!! That's an AMAZING number!!! But the amazing person that they are didn't want to hog the glory to themselves, they want me to feature some other amazing talented artists that I've gone and followed and you guys should check them out too!
Here they are: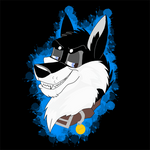 - This amazing piece is done by the wonderful
Shadow-D-Husky
it reminds me a lot of a Balto like style and I love the whole sticker aspect to this picture! How cheeky is that pose? HAHAHA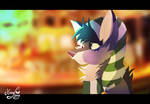 - Can we just talk about the lighting in this amazing piece by the talented
HoneyLovage
please? I can tell that they really worked hard to play with lighting and as someone who doesn't do art myself I can only IMAGINE how difficult this must have been to do! Such a beautiful picture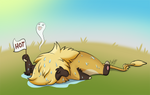 - BAHAHAHAHA I've not laughed this much at a picture in a while, this was done by the brilliant
Brysfine
and this hilarious piece is one I think we can all identify with... makes you wonder just how do male lions keep their cool with all that fuzz???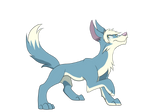 - This cartoon-y style by
Luna-Stark
is adorable, there's something about that pose and cheeky little face that just made me smile!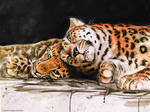 - From Cartoon-y to REAL check out this amazing piece by the outstanding
CherishArt
!! If I could draw this well you'd find me in Africa drawing pictures of all their wildlife, this artist is AMAZING.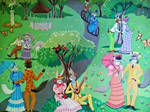 - Lets jump to a traditional hand drawn like style now that reminds me of some kind of historic paintings, this amazing piece was done by the wonderful
FlapperFoxy
and for some reason reminds me of paintings I've seen in history museums

outstanding!
- Okay can we just... hahahaha talk about how hilariously adorable this is? I mean lets face it if this happened to us... would we be screaming and running in fear or cooing as we died? This is adorable! Nice one
Jblask
!!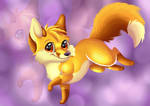 - Look at this little fox-o by the adorable
FigoFox
! Have you ever seen something so innocent in your life? Pictures like this are the reason why I'd love a pet fox one day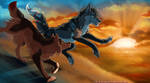 - Those of you who follow me for a while know I'm a sucker for a picture with great lighting and here is another example, the shading from the sunset in this piece throws beautiful shadows over the characters and I'm in awe, it had to be featured here. Well done on this piece
Strawberry-Loupa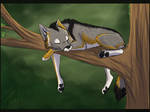 - From digital to a sweet hand drawn like feeling from our next artist
Fecu
this adorable picture is beautiful and it's rare for me to see such great poses and anatomy in a hand drawn style like this so well done!!!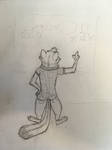 - This adorable little sketch by
BurtanTae
is a great stepping stone and shows off great future potential into their role as an upcoming artist!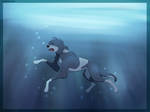 - Its rare and bold for artists to take on underwater pictures, but thats exactly what
Solkeyia
has done here. The lighting (I know I have a thing about lighting) on the top of the water takes my breath away, I don't know how artists can do this and make it look so easy when I know it's not! Amazing piece!
- Finally by no means least we have this piece by this piece by
Danno1991
here, the glow around these characters looks simple but I've tried to do this before and it's not haha! I love the playful pose of the two as well, very well done!
Check out Streefairs raffle here:

(CLOSED)1000 WATCHER RAFFLEHi guys!
I have never done this before so I am very excited! I am doing this raffle to celebrate reaching a 1000 watchers, which has been a dream of mine since I first started out on here!!
:iconiloveitplz: :iconiloveyouplz:


You guys have given me such undescribable amounts of support and I have met so many incredible people on here; every single one of you is fantastic artists, writers or creative enthusiasts and you all deserve endless blessings


Now on to the celebration raffle!! I am trying something a little bit different with this and I hope it works!!


I will give out ticket numbers as you comment with the link and the winner will be chosen at random with this generator:
https://www.random.org
So firstly, let's do the important part, PRIZES!!


First prize:
- A full illustration with a detailed background and two characters
- 500 points
- A sticker pack of 7 stickers
Examples: (just to give an idea of the backgrounds and with obviously less characters in tho,