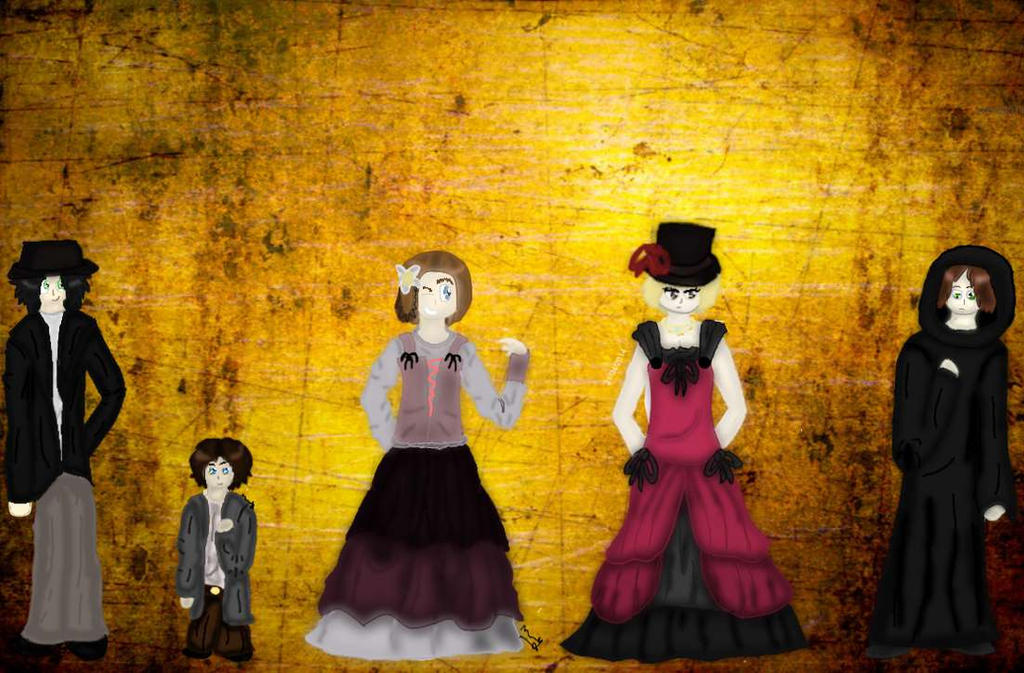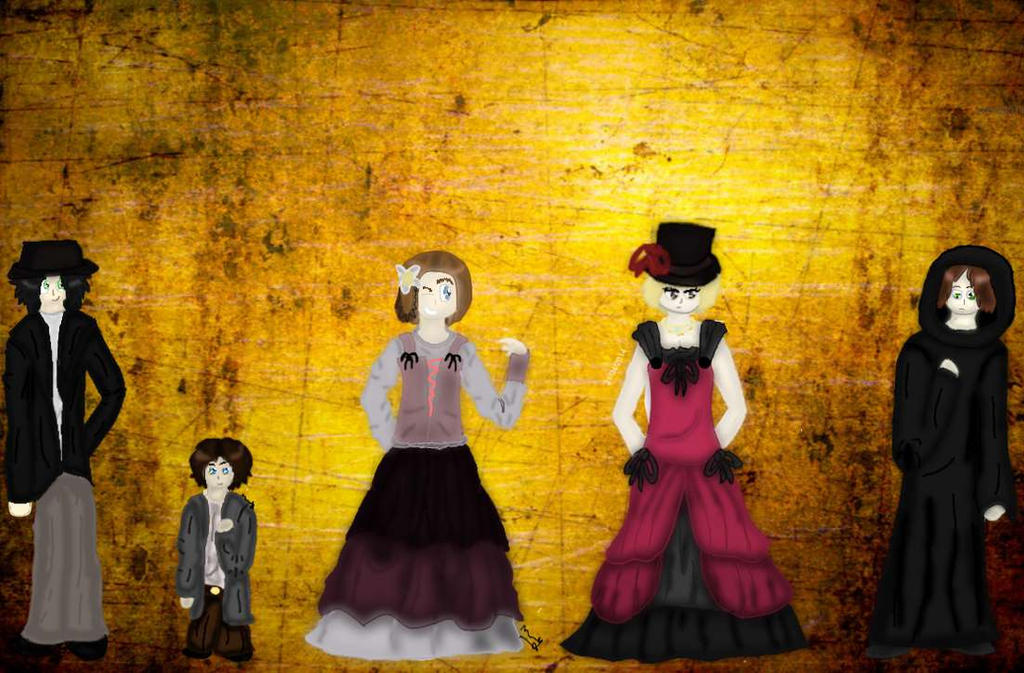 Watch
Yes.... We are back with Victorian stuff.... Hurray?
Yes, but today these characters are from a DIFFERENT Victorian based book which I am planning now.
I do not have a title for the book yet but if you want feel free to comment some suggestions

Characters in order:
Ray Brams: Ray is a 25 year old, na´ve grave robber who is not as worldly wise as some, he used to rob for his own need but now he robs recently buried graves for Mrs Courtenay, who is rather secretive on why she truly needs the fresh corpses.
Floyd Abel: Floyd is a 29 year old dwarf who work alongside his best friend Ray, they both met each other in their early teens at a bar, Ray saw him there all the time so one day he decided to approach him. They were friends ever since.
Felix Turner. (My personal favourite) Felix is a 32 year old murderer and thief, he dresses in drag to seduce potential victims before running off with their cash, leaving the victim alive and shaken if he was in a caring mood.
Felix is not the type of man who gets easily offended but he does become very frustrated when people come to the assumption he is a homosexual due to having a habit of dressing up like a woman, when people ask rudely or politely he would ramble on about how he uses it as a scam and he also find women clothing more comfortable than men clothing and then he would quickly snap. "But it doesn't mean I like men!"
Henrietta Courtenay: She is a strong, sophisticated 31 year old lady, she acts like any other Victorian woman but there was a something that separated her from the other women.... She's a cannibal.
No one knows why she likes the taste of ones flesh and she refuse to tell anyone, not because it was too morbid or tragic to explain she just liked to tease people. Of course being a upper class lady she distaste the idea of getting her 'gourmet' food herself, so she hired Ray and Floyd to grave rob her a fresh corpse every night, maybe spooking them a little by saying that she might resort to eating them if they gained a few pounds.
Real name unknown but most people call him: Cross eyed reaper.
He is well known for killing people in alphabetical order and also leaving the wounded corpse in a position that made it look like they were in a coffin already. Cross eyed reaper is a eccentric man who thinks his job in life is to take on the job of the grim reaper and pick off total strangers that look like they need to move on. No one knows who he is, the police caught him once but he swiftly escaped a day before his hanging.
He still commit murders but no one have ever saw a man that remotely looks like him.
Each drawing took a day to draw.
Layers: too many
Background belongs to:
struckdumb


Feel free to leave some constructive criticism, I need all the help I can get

Enjoy