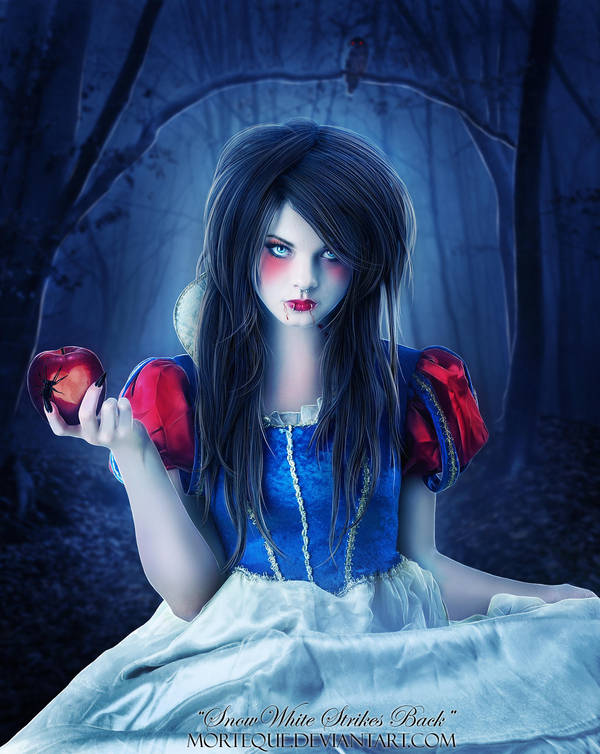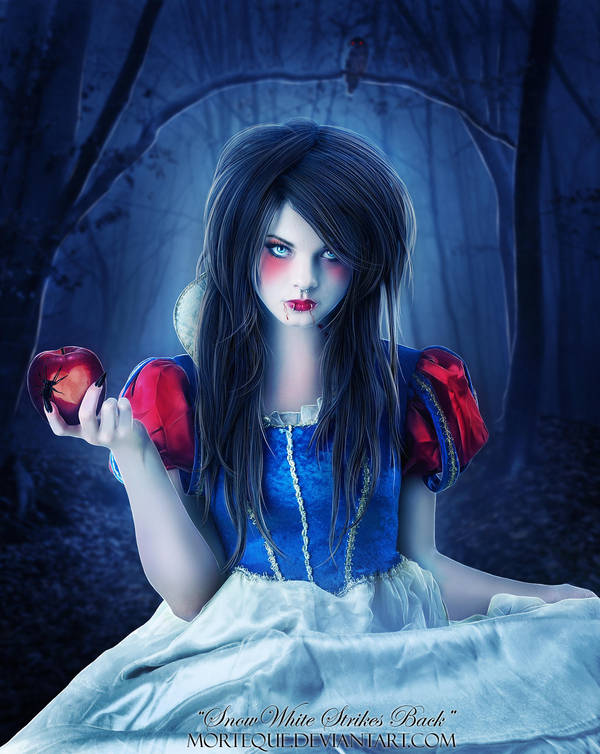 Watch
MY OFFICIAL WEBSITE: www.darkimaginarium.com
FACEBOOK: If you like my work then follow me on my page www.facebook.com/DarkImaginari… more!
"SnowWhite Strikes Back"
~PRINT AVAILABLE UPON REQUEST~
for more info e-mail me at morteque@gmail.com
This is my take on twisting a fairy tale.. what if Show White wasn't awaken by the kiss of the prince... but by his bite! And now she will have her revenge... I'd love to have such a tale

I hope you like it

I'd love to hear what you think!
stocks:
jagged-eye
UmbraDeNoapte-Stock
www.sxc.hu
Daily Deviation
Given 2011-11-16
Morteque's 'Snow White strikes back', by PrincesaSevilla.

Do you remember the famous fairy tale by the Grimm brothers? And of course, the not less famous adaptation by The Disney Studios in 1931? Remember how sweet Snow White was? Well, not anymore. Behold! Here comes this beautiful but sinister Snow White painted by Morteque!

Not only is the subject of this picture original by the twist given by its author, but is also very well painted. The dress worn by this little darky princess reminds us of the sweet and charming Disney princess - with its colours modified to give us a darkier impression. These colours perfectly match with her black hair, her deathly pale skin and her pale blue eyes, that gives us the impression we are in front of a vampiress; as well as the colours used to paint the background - a dark forest at night, with nearly leafless trees with a raven hanging on one of them. And the apple - yes, the apple. So red, it looks like blood turned into a piece of delicious, but sure poisoning, fruit.

And look at the details on the character itself. I told you she looks like the Disney version of the character created in Germany centuries ago, and collected in the XIXth Century by the Grimm Brothers. Yet the author changed these features so as tell us we're not face to face with the cute little princess we're all used to - take a look at the nails, for example. They look dark and if they haven't been cut in centuries! And the same goes for the hair - long, disheelved and black as Death herself. The pallour of the blue eyes really go with the one of the skin, but I'd personally have chosen red. Doesn't matter - the blush on her cheeks, the red lipstick, her fangs and the blood drops coming out of her mouth will do the rest to scare us as well as hipe us up.

To sum up, this picture is a frightening yet beautiful twist to the famous, lovely fairytale we all know. If you like dark twists like this, you should probably have it in your collection. Well... you MUST have it in your collection! And if you're expected to look at it for many minutes, and maybe hours, you should do it while listening to the song 'Sonne', by Rammstein.
The Artist thought this was FAIR
22 out of 24 deviants thought this was fair.