I've just seen the newest Change Log: May 15, 2019 , which was posted a few days ago. Most of the comments left by users are once again very negative. It's been going that way for a while now: DA's staff collect feedback, they evaluate that feedback, they make changes and tell us about them. Despite all their efforts people are still unhappy and the cycle begins anew.


Things'll probably continue going like that for another while until people are finally satisfied with Eclipse. Except… that won't happen. I don't think there will ever be a point in time when the majority of users will prefer Eclipse over the classic design. Many will eventually accept and use Eclipse, but they won't love it. And it doesn't matter how much work is put into DA's new design. It doesn't matter whether Eclipse is actually any good. All of that is irrelevant. Why? Because DA's staff don't understand the most basic principles of marketing and possess some terrible communication skills.

For far too long Eclipse has been marketed as something it is not and it will continue to suffer from labels it received a long time ago.
But before I go into any more detail, let me make one thing very clear: Those people complaining about DA's staff not listening to feedback simply don't know what they're talking about. Staff members most certainly are collecting feedback and analyzing it. Tons of it actually. They are not very good at doing so, but that's beyond the point. DA is pumping a lot of time and energy into Eclipse. There are decent human beings giving their best to make Eclipse work, and at times I feel bad seeing all the flack they are getting.
Imagine uploading a new picture and getting nothing but negative feedback. Imagine how you'd feel. That's probably what DA's staff members have been feeling like for the last couple of months.
That being said, I can't really blame anyone for being pissed about Eclipse as it was off to an incredibly rocky start and still is, at least in my opinion, not a finished product.


Creating too high expectations
I've known about this huge site update for a while now, even before Eclipse was officially announced. I tried to keep my expectations low, but found it increasingly hard to do so, because right off the bat DA was advertising Eclipse as something incredibly great. At a time when DA's staff had little more than an alpha version, a new version of DA that was barely functional and very limited in its features, they were already advertising it as something incredible, something "really excellent in terms of quality and execution". They literally started a scavenger hunt that was basically an elaborate advertising campaign for Eclipse. They then launched a flashy website (www.deviantarteclipse.com/) showing off what Eclipse could do and they created a waiting list (BETA TEST: DeviantArt Eclipse) asking people to sign up to test Eclipse, making those individuals feel like they were being given exclusive VIP-tickets to be part of something awesome.
Instead of keeping expectations low and emphasizing the fact that Eclipse was far from finished and more of a reboot of the site rather than an upgrade, they praised it with every breath they took, calling it "bigger, better, and bolder", a "new stage to showcase your art" and a way to "explore with more choice and creativity". DA's ad campaign was NOT selling a product that actually existed, but merely a future vision, and in doing so it created expectations DA's developers couldn't possibly meet.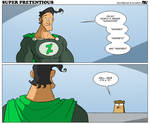 DA has done this numerous times before, completely botching the reveal of their new logo back in 2014 and then similarly screwing up the switch from Premium to CORE a year later. Both times DA made incredibly lofty promises and used over-the-top adjectives like "magnetic" and "kindred" to make their goods look far better than they actually were. Both times that strategy backfired with the CORE-debacle actually leading to DA's CEO writing what may well be the most pathetic, half-assed apology I have ever seen: Coffee to the CORE


First impressions matter

Big companies regularly spend millions to make their products seem as appealing as possible, so people will go out and buy them. They use something called the AIDA principle, AIDA being an acronym for the words attention, interest, desire and action. The action here is of course the purchase of a product.

But DeviantArt isn't like other companies. They aren't selling a normal product. A subscription to a website isn't a thing that can be sold like a laptop, a movie ticket or most other objects. DeviantArt is offering people a service. One-time transactions hardly do DA any good. While other companies can rely on lofty claims or even plain advertising lies to trick people into buying their products, DA cannot operate the same way. As a social media website they don't make money by selling single items, but by keeping users interested and invested over a long period of time. False promises and advertising lies may get people to sign up, but it will get them to leave again just as quickly.
It seems that after all these years, DA's marketing team still hasn't understood that yet.
When they launched Eclipse, they ignored their own list of people waiting to test it. Instead, official beta-testers with CORE-status got to see Eclipse first. Needless to say, they were not impressed. Most of them had rightfully come to expect something far better than what they already had. Something "bigger, better and bolder". But they were instead treated to a significant downgrade, which more or less forced them to immediately switch back to the classic user interface.
Eclipse was launched with less features than classic DA. Furthermore it had serious performance issues (and still does. It takes my netbook 15 seconds to load a page on Eclipse). It was so bad that many users decided then and there to hate the new design. Eclipse was labeled a failure; something unwanted. It has changed a lot since then and will continue to change, but people still don't like it and that is perfectly normal. This reaction was to be expected as first impressions matter a great deal, especially when expectations are sky high.
I like comparing Eclipse to a video game that despite being advertised as the next big thing is launched with a million bugs. The first reviews are understandably horrible, so the developers start rolling out patches. 100 patches later, the game is actually quite enjoyable, but the first reviews still stand and the masses still hate the game.
This could have been avoided so easily if DA's staff hadn't been so incredibly boastful. Some modesty, honesty and especially some transparency could have gone a long way. Time and time again DA's staff use advertising strategies that work for other companies, but simply can't work here. They seem to find it far too difficult to acknowledge the existence of problems. They highlight their achievements, but can't admit flaws or only do so in random comments. There are currently 18 Eclipse change logs highlighting the changes DA has already made, but there are only 5 journal entries highlighting "What's Next for Eclipse" with the last of those dating back to February, meaning problems are usually only addressed in retrospect once they've been solved, and even then they aren't seen as such. This is incredibly frustrating for those who want to do more than just boo Eclipse. DA keeps asking for feedback, but won't tell us which issues they are already aware of or which things they are already working on. Want to help by using the official feedback form? Well, that first piece of feedback you're giving may refer to a problem that was fixed two days ago, the next item on your list may be something a thousand other deviants have already mentioned. You might not be helping. You might just be wasting someone else's time. There is a reason most market research is done with specific multiple-choice questions and rating scales rather than questions that could all be replaced with "Give us feedback!".

A matter of priorities

Another reason why many people might feel like Eclipse isn't the answer to their prayers is the fact that Eclipse is not a simple update. I've mentioned this above, but really can't stress this enough. Eclipse is a reboot. Classic DA isn't being updated. It's being dropped and replaced, and due to this there has clearly been a shift in priorities for DA's staff members. They are no longer trying to improve an existing platform, but are instead working their asses off to essentially get Eclipse to where classic DA has already been for years. Sadly, this means many of DA's more general problems are now being ignored, at least for the moment, especially those that aren't purely technical or cosmetic.

There are a number of things deviants have been complaining about for eons. The quality of art on DA has declined greatly as most professional artists have left for greener pastures. ArtStation works far better as a professional portfolio while websites such as Redbubble or Society6 offer vastly better print-on-demand services. Deviantart, once a diverse art website for artists of various quality levels, now focuses primarily on low level art and fanart. It has the world's biggest collection of illegal renders, one of the largest MLP communities on the planet and an impressive amount of fetish content - vore, inflation, macrophilia, bondage, etc - along with not just a few pictures that easily qualify as soft- or even hardcore porn. deviantART has already officially become DEVIANTART and is now heading towards DEVIANTart and probably DEVIANTwhatever.

People have been asking for better adult content filters and better filters in general. They want more of a focus on quality. They want better ways to deal with art theft and bullies, a better group system, less spam. Those are just some examples. Users have been begging for plenty of other things as well. Eclipse is not an answer to any of those pleas. Some things are being worked on, but have yet to see the day of light, which is to a certain degree understandable. Eclipse has to be at least as good as classic DA, before actual improvements can be made. Sadly, that probably won't be the case for another while, especially since DA seems - or seemed - more worried about attracting new users than pleasing existing ones. Eclipse was launched as an answer to current market trends, rather than a response to its target audience's needs. It's an unwritten rule that all modern websites, programs and apps have to be easy to use. DA followed that trend, but sacrificed customizability for accessibility. The thing is, while users of Twitter, Facebook or Instagram have almost nothing in common, DA users do: They are all artists or at least art enthusiasts and as such they want a site that's not just easy to use, but at the same time highly customizable. Classic DA was easy to get into, but hard to master. You could set up a decent looking journal entry within just a few minutes or instead spend an hour coding a complex journal skin. You could just browse the front page or use dozens of filters to find exactly what you were looking for. Eclipse was and is fairly easy to use once you've gotten used to it, but offers very few customization options. It is clean and simple, but devoid of functions that nurture creativity and individuality. Apart from different banner-images and (obviously) different artworks, all user accounts look exactly the same. DA now seems aware of this problem, but should have really been aware of it from the start.


Edit: I wrote this text four or five days ago, but then decided not to upload it. After seeing Heidi ask the community for video reviews of Eclipse (Devious Visions: Eclipse video reviews) with a journal entry that once again was created to make Eclipse look like the greatest thing ever, I changed my mind. Yes, the videos do in some very few instances "shed light on things that could be improved", but they are clearly not unbiased reviews and were not picked at random. Every quote used highlights a positive aspect of Eclipse.