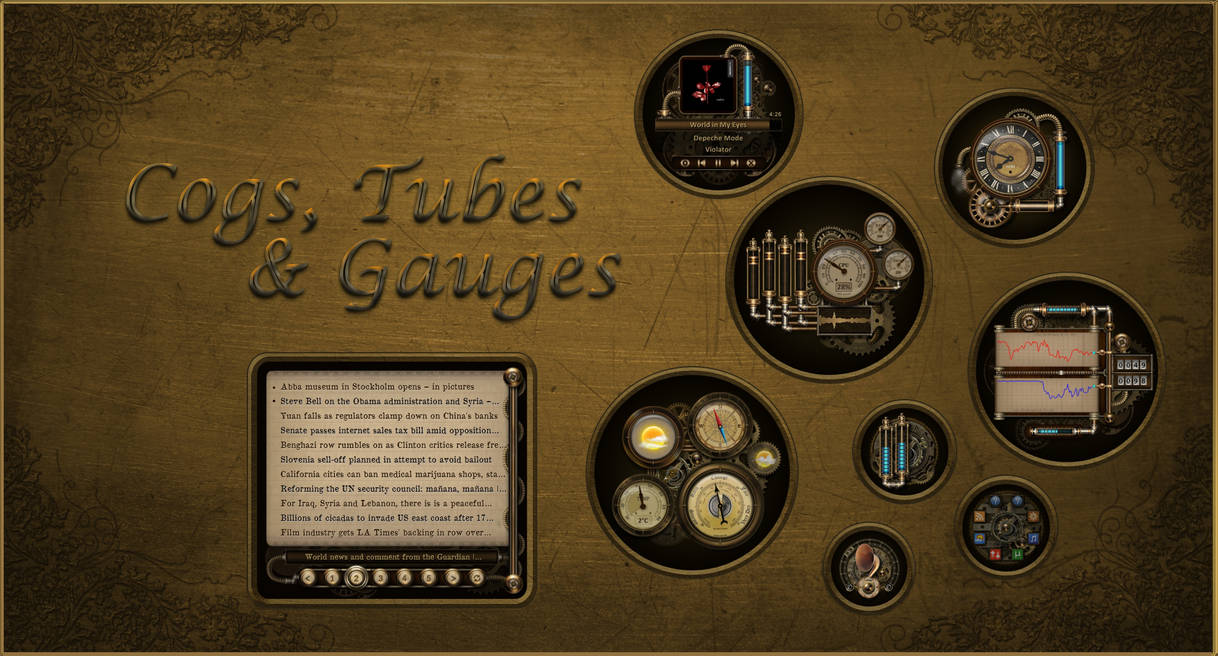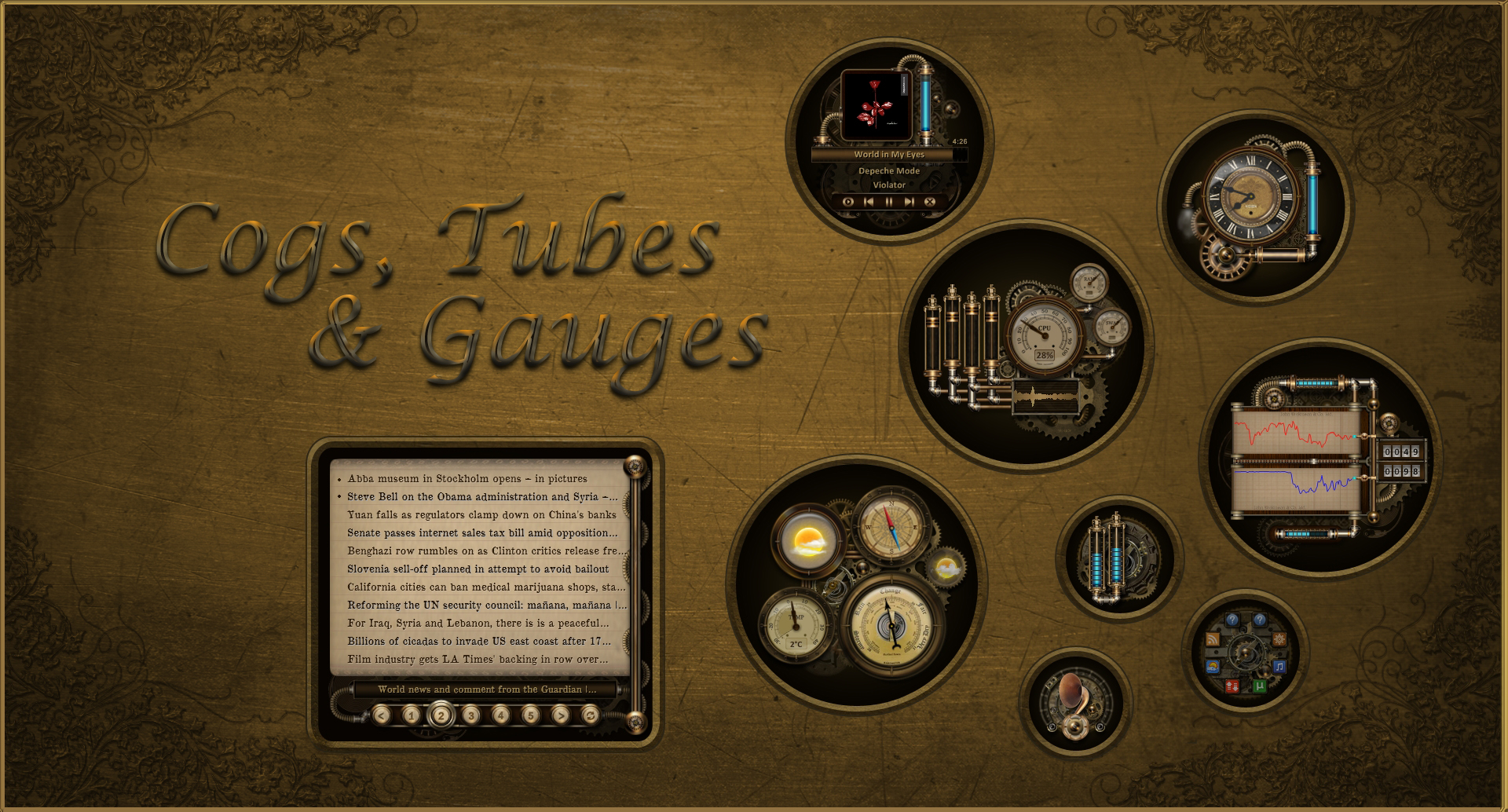 This collection of rainmeter skins uses tubes, gauges and tooltips to display information. Most of the skins have twirling cogs or other gizmos to add a little movement to your desktop but none of them use much in the way of CPU or RAM resources. You will need the latest beta version of Rainmeter to run these skins. Get it from
rainmeter.net
The skins in this version are:
- Analog clock (left-click to change the clock face or left-click on the tube to change the colour of all tubes in all skins of the collection) - watch for the steam emission every minute.
- System info with a gauge showing overall CPU usage, individual bars for up to 8 cores and smaller gauges for RAM and SWAP memory usage.
- Network activity showing upload and download speeds along with the ping return time and wifi signal strength.
- Volume control - use the mouse scroll wheel to adjust the system volume.
- Gauges for used space on 1-4 hard drives (gratuitous pendulum thinga-me-bob for one or two disks).
- Weather skin with analog gauges for temperature, barometric pressure and wind direction. Click the forecast icon for a 72-hour forecast from the Weather Channel.
- uTorrent tracker using Lua script adapted from
LuaTorrent 3.1
by JS Morley
- RSS/Atom feedreader built around Kaelri's
Reader.lua script
. Feed items are sorted by date/time and anything less than an hour old is bulleted. The neat little selector animation uses Kaelri's
Universal Transitions script
.
- The Music Player uses Poiru's NowPlaying plugin and works with a variety of media players (e.g. Windows Media Player, AIMP, Foobar2000, iTunes, MediaMonkey, MusicBee, Media Player, Classic, WinAmp, Spotify, TTplayer, VLC, Zune, etc.).
- Skin Launcher for the FeedReader, Weather, Network, Music Player and uTorrent skins.
NOTE: Click the settings icon in the two-o'clock position on the Skin Launcher to open the CogsTubesGauges@ResourcesConfigsUserVariables.inc file where the weather code and other user settings are stored.
The collection is intended for use on widescreen resolutions and the rmskin includes a 1920x1080 version of the wallpaper shown. If you don't fancy the black/gold background to the skins you can change to a transparent background in the UserVariables.inc file.
If you have any suggestions or questions concerning the skins, you'll get a quicker response if you contact me on the
Rainmeter forums
.
UPDATE 18th January 2013 - Fixed an error in the uTorrent skin that prevented it working properly on some machines.
UPDATE 20th January 2013 - Added a skin variant to show CPU usage on up to 8 cores.
UPDATE 27th January 2013 - Added circular variants for the volume control and skin launcher skins.
UPDATE 8th March 2014 - Fixed another problem getting the night time forecast from Weather.com.
UPDATE 1st August 2015 - Added a hexa-core version of the CPU skin.
UPDATE 14th May 2016 - Updated the weather skin to get revised feed from from Weather.com.
Daily Deviation
Given 2013-01-13