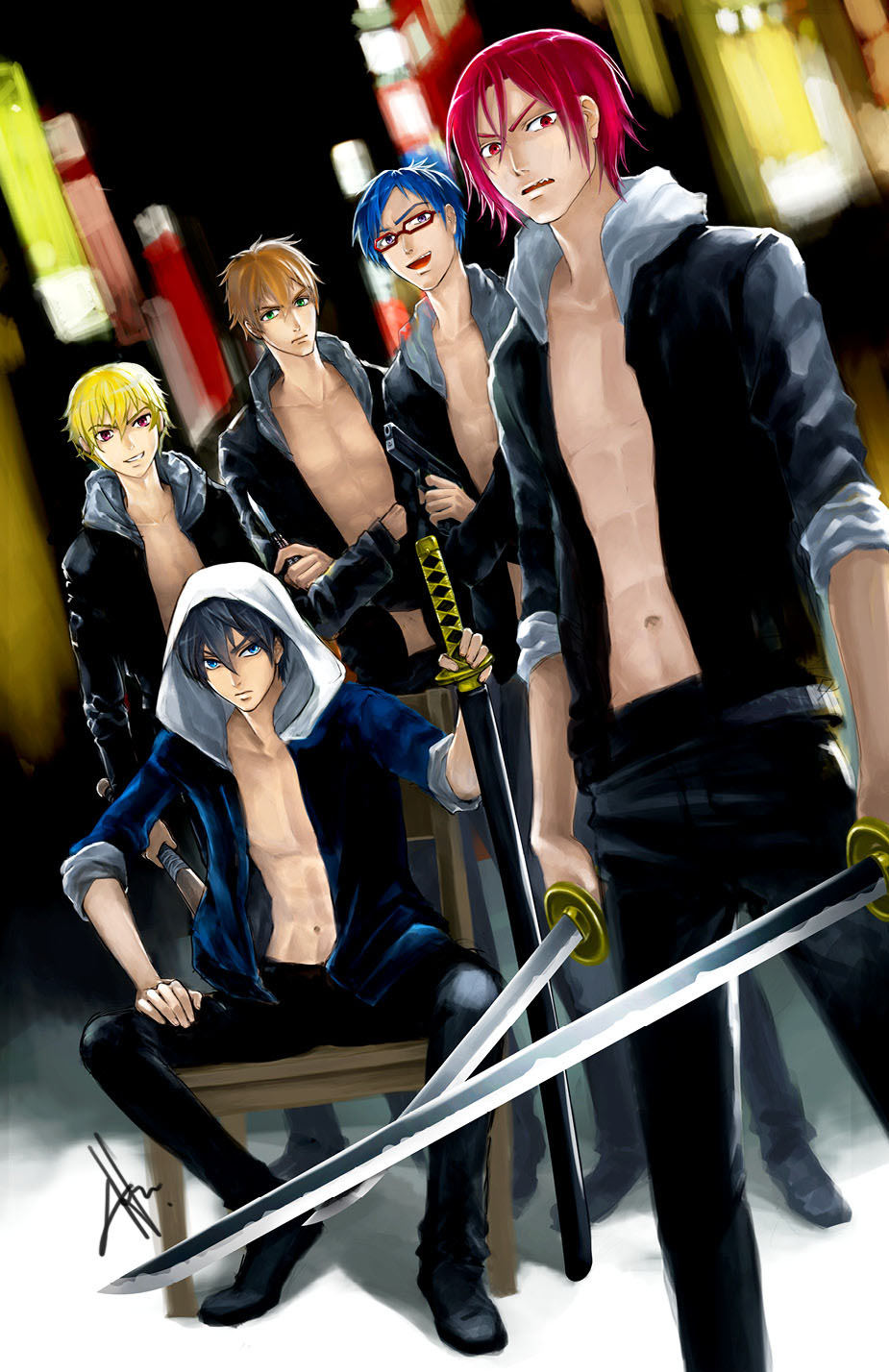 Remember that new indoor pool they needed?

This pays much better than a normal high schooler part time job.

(This is what happens when you read gangster comics and then watch Free!)


Edit: I did a test print and the color looked too dark and grey. Also Haru's right arm was a bit too long, so I fixed it up a bit.

*looks over*
....
Ok, I'll take it. *nods*

hahahahaha

Very epic! Love the style and they look great!
Reply

*drools* Best thing ever and Rin has swords! Like can he get anymore epic?. Haru's got a very nice katana as well and just epic
Reply

Haha thanks! I'm so happy you like my AU take on the boys... I totally want them to make a gangster version of Free XD and yes Haru and Rin would fight over who is the best swordsman
Reply

Yes! I call Rin. Oh I love it really. That'd be awesome. Can I fave? I like to asks just to be nice and to make sure that it's ok.
Reply

Omg of course!! That would make my day!! Aah you've encouraged me to finish this bad ass Free portraits XD *runs to make more Free fanart
Reply

Really? I have? Awesome! Can I request Rin then?. Like by himself with those basass swords
Reply

*drools * wouldn't mind an episode with this going on lol.
Reply

Haha I would totally buy it XD zing I just saw the date of this comment I'm so sorry ._.
Reply

Reply

Reply

I've been good! finally working on some art! yay for making my huge pile of WIPs smaller! lmfaooo. you? (wish you had line messenger *hopes*)
Reply

That's awesome!! Any con plans coming up? Or ur just going ham and getting things done? Haha sorry I don't what's line messenger?
Reply

I want to go to cons and get a table but I have no luck. I always miss out or not enough money. but yeah, I'm getting a bunch of fanart done and making some badges and such... planning ahead? i guess lol.
ohoh and line is like skype but sooooo much better!
line.me/en-US/
(I have the comp version on my comp and laptop and I have the cellphone version too lol)
Reply

haha I'd totally watch it

Reply

This look different from your normal style of drawing. If I didn't know it was your drawing, I will never know it is you. Nice however.
Reply

Aah sorry for all these late reply! Really? I hope is a good different :3 or at least transitioning into something good XD
Reply

Thanks!! I guess my style started evolving once I started to draw again

Hope it's a good change?
Reply

Pwahahahaha omg XD This is brillianT!
Reply

Thank you!! XD glad u enjoyed my humor and sorry for late reply D:
Reply

Reply

Woooowww Would love this kind of AU!
Reply

Thanks!! Me too XD but then i have a thing for bad ass boys
Reply

This is so SO... I can't find the right word. It's brilliant!
Reply