CLOSING EARLY
The name I picked: Tuesday
Congrats Citharoedum !

The winner of the RNG slot is.....
White-Crest-Stables !

To claim your slots, just let me know who you'd like a slot to!
So with the wave of new imports that were uploaded, my gal here was amongst them: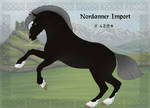 But I don't have a suitable name in mind for her!
So I'm gonna turn to you guys for help with this one

Things I like
Witty, humorous names (can be a tad dirty if you like


)
Clever names (didja see what i did thurrrr? (if it helps for cleverness I like Supernatural, Harry Potter, and anything in the rock to metal spectrum of music genres) )
Names that sound pretty, after all, she's a girl
What you'll get
Either a slot to her (once her ref is up) or a slot to
another one of my nords
you get to pick which one!
I'll also RNG off a slot to everyone who enters! Again, this would be your choice to which horse you'd like a slot to!
To enter
Simply comment below with some name ideas
If I like more than one name, I may award a second slot since I also have another import to name as well!
I'll close this up on the 8th of December, unless I find a name that I can't turn down~

Normal-sounding:
Silvermist
Mistborn
Ghostly Thestral
Phantom Menace

Brain children:
Linsargo
Destraia
Nincoidez
Juniga