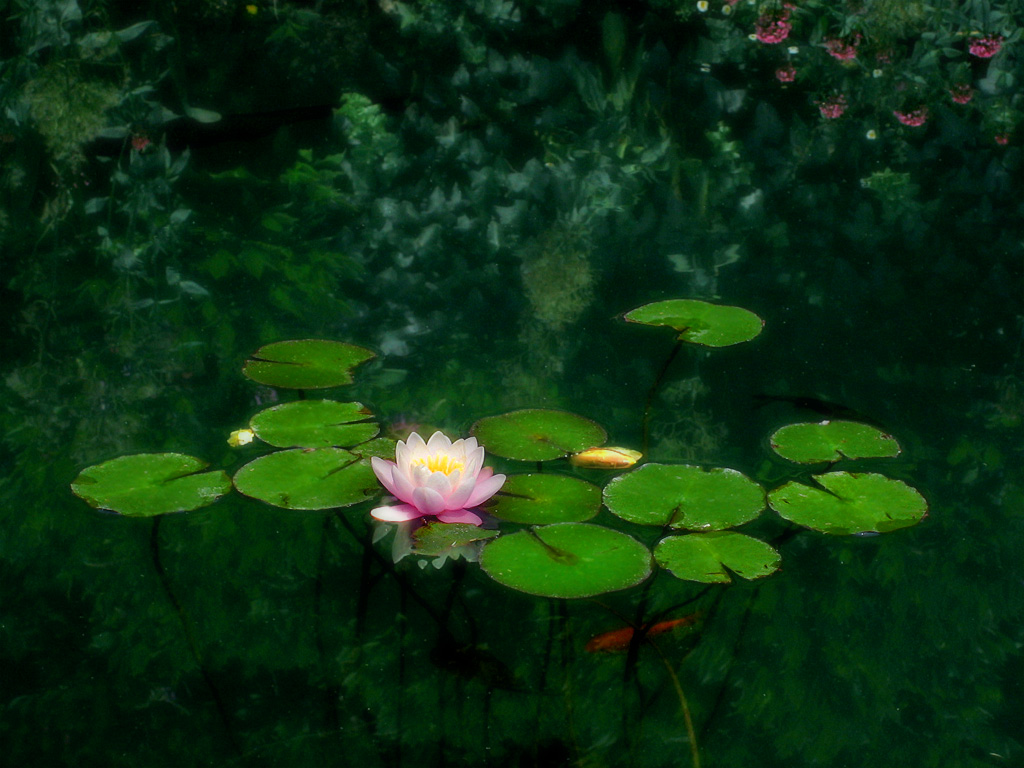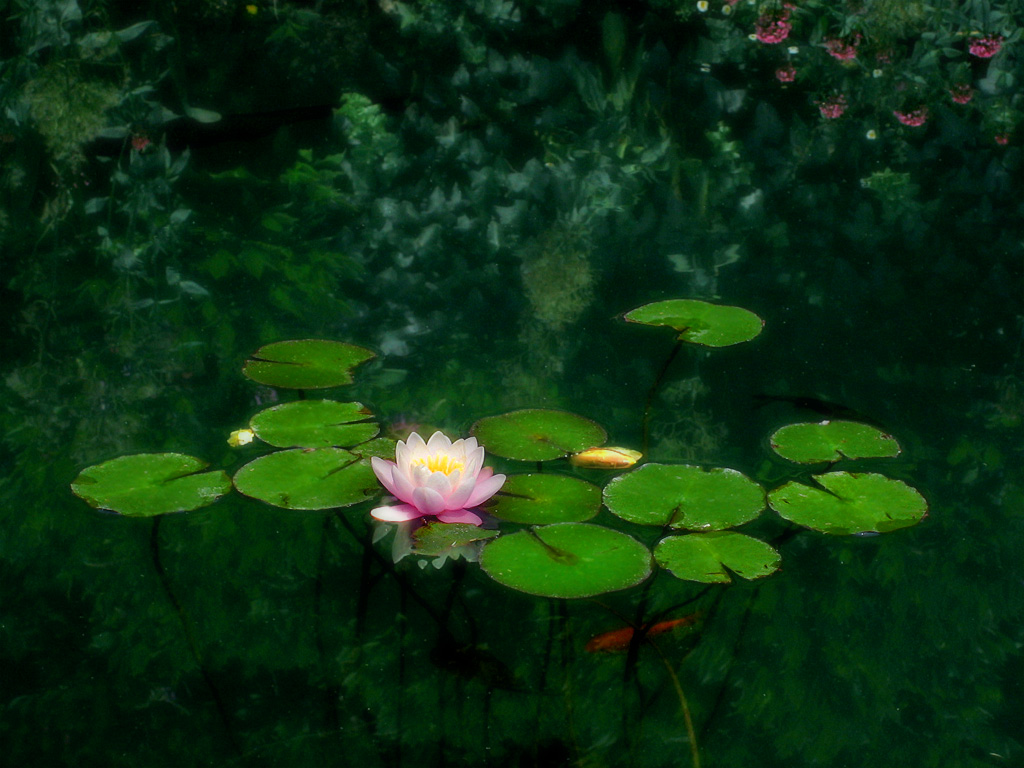 Watch
About time I made some more wallpapers for you all eh?

Taken in Florence, Italy.


Postprocessing:
a *lot*

[Date taken: subtract 8 hours]

I was looking at this picture for a while, and the perspective somewhat confused me.

Not to be a dumb question or anything but, do you notice that there is a little orange fish under one of the lily pads?
Reply

Yes, there is something a bit weird about the perspective, because of the fact that the water appears mostly as reflections but is also slightly translucent. I think that's the reason anyway. And yes, you bet I noticed the little fish! I love it! I think I even enhanced it to make it more visible, if memory serves.
Reply

Oh, wow, the reflections! I love how the lotus looks almost glowy and seems to light up the background. Definitely a

Reply


Thank you! That lotus was definitely much brighter than everything else (had to do a really short exposure so it didn't saturate) but the glow is probably helped along a lot by a bit of post-processing

Glad you liked it!
Reply

Thank you

Mmm, I see your point. There is definitely something a bit weird about the picture to me, the way the lilies to hang there like that. Almost as though they're floating in air.
Reply

Ooh, I like it! I like how everything but the lotus flower itself has a kind of textured ethereal look and the lotus is so crisp and vibrant. I took a stab and modeling and rendering a lotus flower and leaf about a month ago for a meditative wallpaper which can be found here
[link]
if you are interested, but it was more of an interpretive piece and not in any way intended to be photorealistic. With the post work you have done, yours is obviously "interpretive" as well, but there is no mistaking the realism of the flower, if perhaps a bit enhanced. Anyway, nice job at balancing the interpretive and the realistic and blending them together nicely.
Reply

Thanks so much! I'm glad you like it. I did work on it quite a bit and for quite a while. If you're interested, you can find the original photo here:
[link]
I had to make the exposure time as short as it would allow me (I can't directly set the exposure time, but I can bias it) in order for the lotus to not be overexposed, but the consequence was that the water turned out very dark. But a bit of PS fixed that right up

Reply

Well, the original is quite enjoyable in its own right but I do like the manipulations you employed. The green leaves glow much more, the reflections are more prominent and the flower has more of the sort of magenta color that on the original was only at the base. Nice job at taking an already strong photo and making it better. Ansel Adams would be proud of you.

Many people don't know this but much of the brilliance of his work was achieved in the dark room. Of course, you have to have something good to begin with, but manipulation techniques can make the difference between a good and a great picture.
Reply

Thank you

I feel a bit ignorant not knowing who this Ansel Adams is, but it's the second time I've heard his name mentioned on DA. Anyway, thanks for the compliment! I totally agree that manipulations can make all the difference. Of course, I use Photoshop instead of a darkroom, so it's hard to know when you're crossing the line, but when I submit to Wallpaper I just let myself go and do whatever I want

But yes, the photo has to be good to start with, or there's no point. The trick is to be able to see it's potential even when it's imperfect, I guess.
Reply

Well, you should definitely check his stuff out. Here is his official site
[link]
He is probably better known in the US than abroad. He is probably best known for his black and white Yosemite pictures. He shot mostly with large format view cameras and the negatives can be reproduced to quite large size prints with amazing detail and clarity. I saw a show of his at the DeYoung museum in San Fran one time and it was kind of like watching Star Wars in the theater instead of the TV. There is something to be said for the impact of a three foot picture of Half Dome in all its glory compared to a 5x7. Unfortunately, anything you are likely to view on the internet is going to be more equivalent to the 5x7 which does not do any kind of justice to his work, but it is better than nothing. Poster prints are fairly readily available on the internet and they are a relatively inexpensive way to view his work on the scale that they deserve. Anyway, I don't mean to sound like a commercial but I would highly reccomend that you check out his work if you ever get the opportunity.
Reply