Summer is winding down, and we'll all be heading back to school before we know it. Help your fellow students get ready by designing deliciously beautiful, mind-explodingly stylish skins for the latest laptop line from Toshiba, the Laptop Expert.
It's not enough that Toshiba is the laptop expert and makes the best laptops for your school experience. You've gotta take it one notch further: super-size your cool factor, turn the dial up to 11, radiate awesome from every angle. Go nuts and design a laptop skin that exemplifies the very essence of cool that you and every other student out there needs.

1. Download the Skin Template provided below.
2. Design your skin within the boundaries of the template.
3. Upload your work to deviantART!
Download Skin Template
Read Official Rules
Skin Example by $
reiiz
For those seeking a super-size PC with desktop-like performance, plus Toshiba quality, style and value, the Satellite® L675 laptop is a great choice. Whether you're working, studying, creating multimedia, or just up for widescreen high-def entertainment, the 17.3" diagonal TruBrite® HD display on this notebook makes it better. And for those thinking about replacing their desktop computer, this PC offers the newest multi-core processor from AMD®, a DVD player, along with all the memory and storage they'll need to tackle whatever the day may bring. Draped in style, it comes with our acclaimed Fusion® finish in a range of striking colors. Toshiba "Smart" Features—like a TouchPad™ with Multi-touch Control and our PC Health Monitor—mean you can do more and worry less. And with Wi-Fi®, a Webcam plus plenty of expansion ports, you'll have all the freedom you need to do your best. With this Toshiba laptop, you'll be living large for sure. Check it out!
Check out these sweet prizes you can win, and all you gotta do is make an equally sweet laptop skin. It's like taking candy from a baby, right?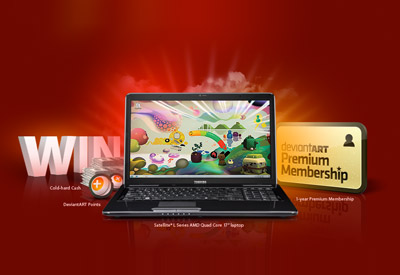 Toshiba Satellite® L Series AMD Quad Core 17" laptop
$1,500 USD
16,000 deviantART Points
A 1-Year Premium Membership to deviantART
Toshiba Satellite® L Series AMD Quad Core 17" laptop
$1,000 USD
12,000 deviantART Points
A 1-Year Premium Membership to deviantART
Toshiba Satellite® L Series AMD Quad Core 17" laptop
$500 USD
8,000 deviantART Points
A 1-Year Premium Membership to deviantART