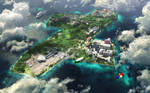 T he Deviousness Award, bestowed in recognition of exemplary membership and an outstanding spirit of helpfulness and mentoring within the DeviantArt community, has recently undergone a reevaluation to provide a focus and a re-definition as to just what Deviousness truly represents.
The award is given once per month to honor a deviant who has gone above and beyond in their services to the DeviantArt Community. The 189 recipients of the Award thus far have brought something to the community that was not there before their presence, and it's our duty — and honor — to publicly recognize their efforts in doing so.
Early on, Deviousness was given more than once per month to a deviant whose involvement in the community merited recognition. However, starting in 2004, the award officially became a once-monthly accolade, given to a deviant who excelled in community involvement and engagement. Sometimes professional artists, sometimes hobbyists or art appreciators, these deviants all share one thing in common — a kindred and exceptional passion for the DeviantArt community and an inspiring commitment that truly exceeds expectations.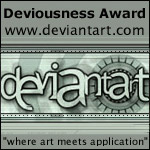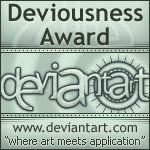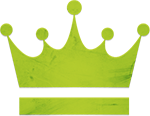 W hen selecting Deviousness Award recipients in the future, we will be focusing on recognizing deviants who best exemplify "Authentic Citizenship" in the DeviantArt community.
An "Authentic Citizen" in the DeviantArt community is one who brings community members together, be it over shared interests or art medium, or by providing resources for others to use and reference. These deviants can be outstanding artists in their medium of choice, or they can be art appreciators who provide palpable love and support to their fellow deviants. Highly active in the community, all Authentic Citizens are deviants who strive to be the best they can, providing invaluable mentorship and paving lifelong relationships in the process.
Each Deviousness Award recipient has contributed to the community in a way unlike anyone before them, but some of the common ways past winners have excelled include regular positive contributions to groups, projects, and community events, consistent positive commentary and/or constructive feedback to individuals, and actively engaging with their fellow deviant in meaningful ways.
The sorts of invaluable resources such individuals selflessly bring to DeviantArt include answering all manner of questions asked by curious deviants; being a role model for comment etiquette; establishing a friendly and inviting identity in the chat rooms; assisting deviants in personalizing their profile pages; being a champion and advocate for new and unknown artists; directing deviants to tutorials to improve their craft; being available for thoughtful reviewing of artists' portfolios; knowing who in the DeviantArt network to put deviants in contact with for specific problems or needed advice. This is far from an exhaustive list of ways Deviousness winners impact our community. In fact, thinking of new and creative ways to serve other deviants is possibly the consummate definition of Authentic Citizenship.
The spirit Deviousness Award recipients have reflects the brand pillars outlined in Our Story.
Each month's Deviousness Award recipient is selected by a small committee of DeviantArt staff who are constantly monitoring the community for deviants who go out of their way to bring good to DeviantArt. While each recipient is selected for specific, individual reasons, there are basic traits they all have in common. Recipients are highly active in the community, offering guidance or advice or even just a helping hand to people they interact with. Some are recognized professionals in their field; all are recognized members of their respective sub-communities on DeviantArt. Every Deviousness Award recipient has worked to help others strive to be their best, and has bettered the community and themselves in doing so.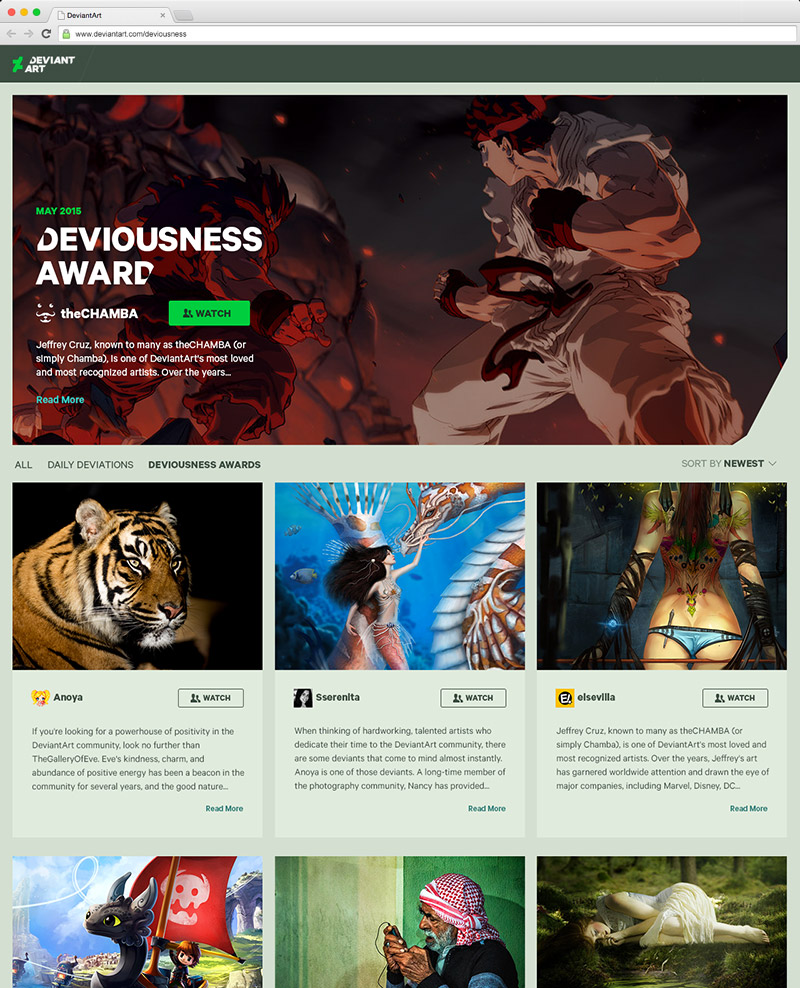 A potential future showcase of
Deviousness Award winners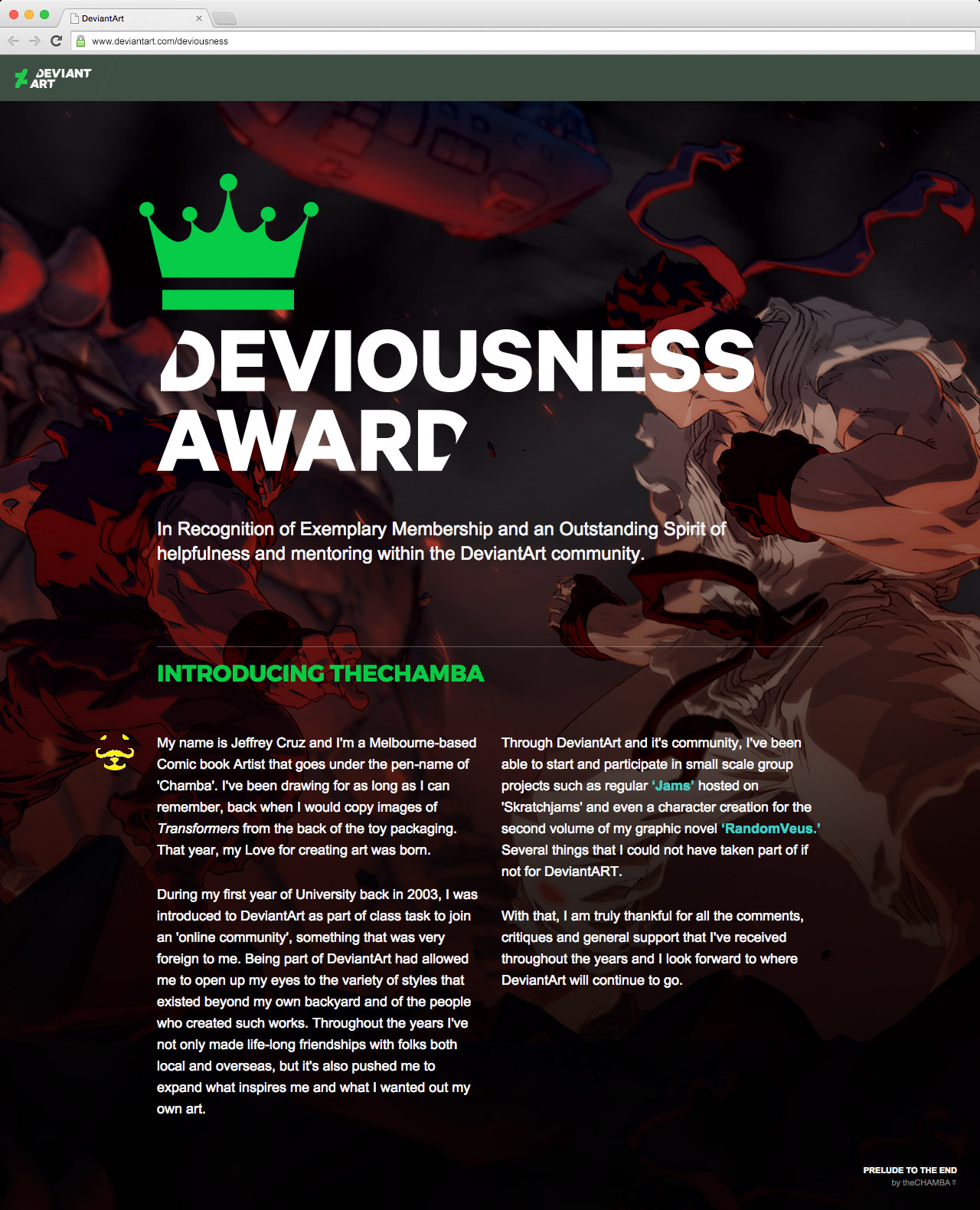 Winners of the Deviousness Award embody the life-energy that fuels DeviantArt at its core, and without them, DeviantArt wouldn't feel like the welcoming home it is for so many.
We want to elevate the prominence of Deviousness Award recipients in our overall site design, so they are properly recognized for their efforts. The award is not only about the current month's recipient, but is also about previous recipients, and the importance of the time and efforts they've dedicated to DeviantArt's community. For all of these reasons, we're looking to better showcase and acknowledge deviants who show excellence in lasting ways.
Whether they set out to change the world or just feeding the insatiable muse within, artists at their very cores create something that leaves the world a little better than it was, changing lives around them for the better with every world they create. Their passion, support, and inspiration cultivate a greater community and a healthier, happier global artspace for all to share.
Deviousness Award winners represent every artist and art enthusiast on this hallowed journey of creation, and it's truly an honor to bestow this award on those who have poured so much of themselves into the community they helped cultivate and nurture.