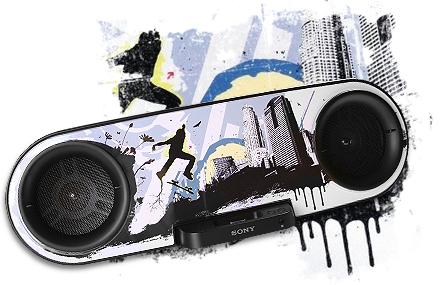 Sony's TRiK™ docking system is a unique, brand new audio enhancement machine capable of transforming your musical world into something you've previously only dreamed of. In the past, musical superiority was relegated only to bland black boxes. Today, with the advent of the TRiK™ , your musical experience can now be far more colorful and far more customized. The cool and interchangeable skins you can download or create yourself make the TRiK™ more than just an iPod-friendly powerhouse. Nay, the TRiK™ is the perfect representation of you and your tastes.



Artwork Created by $reiiz
Exemplify your skinning superiority. Create a unique, one-of-a-kind skin for the TRiK™ that represents a musical genre of your choice. To participate, download the skin template below and start getting creative.
Making an awesome skin means a potential win (that rhymes), and a win means incredible prizes including your very own TRiK™ and a Sony® Playstation® 3 computer entertainment system (meaning you can listen to awesome music and play awesome video games AT THE SAME TIME).
A winning entry will be visually stunning, so make sure you really bring out your A-game on this one.
See $reiiz's skin example above for inspiration.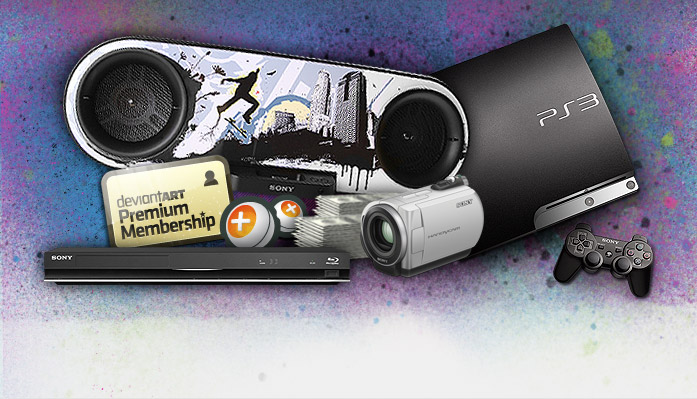 Each of the 25 semi-finalists will receive 4,000 deviantART Points and a one year Premium Membership to deviantART!

Sony® TRiK™ docking system
Sony® Handycam® camcorder
$1,500

Sony® TRiK™ docking system
Sony® Playstation® 3 computer entertainment system (120GB)
$1,000

Sony® TRiK™ docking system
Sony® Blu-ray Disc™ Player
$750
The 25 semi-finalist entries will be available for purchase on SkinIt.com, so you can get a chance to earn some cash! If you become a semi-finalist you will receive further instructions on how to upload your entry.


Entry must be received by 11:59:59 PM (PT) on July 27, 2010 and be submitted to the Contest gallery on www.deviantart.com "click here"
Entrant must be at least 13 years old;
Entries may not use any watermarks or distinguishing artist marks (such as signatures);
Entries must be in GIF, PNG, or JPG file format;
Entries may originate in any visual medium but must conform to the template provided;
Entries must be made for this contest;
In order to win, the Work must be available as 300dpi, layered psd, sized to print 8x24 inches;
If the Work is selected a semi-finalist entry, entrant must upload the Work to a special skin gallery for the Sony® TRiK™ docking system on Skinit.com;
You may submit more than one entry;
Online entries only, hard copies not accepted;
You must be a member of deviantART to enter. Membership is free.
Read Official Rules
25 Semi-Finalists will be selected by full-time deviantART Staff.
From the 25 semi-finalists, the final 3 winners will be chosen by members of Sony's creative team.
Entries will be judged by the following criteria: Presentation of the Theme, Technical Excellence, and Creativity.
Read Official Rules
Submit Your Work
Browse Other Entries