Introduction
For the past 6 years, I have been involved in supporting and raising money for
The Weekend To End Breast Cancer
event in Toronto.
To give a bit of background, in the past 5 years this organization has raised over 70 million dollars in donations and through this has made some landmark strides in advancing the research on breast cancer, which claims the lives of close to 50,000 women a year and about a quarter million women diagnosed per year. You can read about how the money has been allocated
here
This money does make a big difference in helping with in depth gene studies and creating specialized programs for people diagnosed with the disease.
The Weekend To End Breast Cancer
takes place all across Canada. In Vancouver, Calgary, Edmonton, Winnipeg, Ottawa, Montreal, and my hometown of Toronto, where for the last 5 years and soon to be 6, I have participated in the 60k walk alongside my mom (
mombeam
).
Together we have walked 300kms in the fight to end breast cancer (that's 193 miles for you Americans)
To participate in the walk, each person must raise $2000 to qualify and that is no easy task in and of itself. This year,
mombeam
and I will be joined by
theblackmass
as well, so that's $6000 in total we'll need to raise between us and we need your help!
This year the event takes place September 5th-7thth, so the time to help is now!
So how
can
you help? Read on!
Well, you can add these stamps to your journal with a link back to this journal for starters.

How Do I Donate?
Donations are the most important thing you can do here, so to sponsor:

Moonbeam13
-
this link

mombeam
-
this link

theblackmass
-
this link
and follow the simple instructions there! Make sure to leave your deviantART name so we know who to thank, unless you prefer to remain anonymous of course. Please also remember that the three of us are a team and we all individually have to hit $2000 to participate, so spread it around

If you would rather use paypal you can make a paypal donation to
mohitoman@gmail.comOther Ways To Show Support
Dye your hair pink, wear something pink or do a piece of art in pink and upload it to your gallery and link back here so we can spread the word to as many people as possible!
Also, like last year, I will be making memorial shirts eg: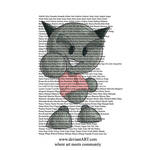 so please, note me your name or the name of someone you love that you'd like us to walk for.
Also, if you are in the Toronto area and wish to cheer the walkers when the route is finalized and the cheering station locations are announced I'll update this

So, now it is up to you to go out there and help support your mothers, sisters, aunts, grandmothers, nieces and girlfriends in the best way possible!
General Information
About Weekend To End breast Cancer
The Campbell Family