Hi deviants

You may know me, my name is Danielle, I'm bisexual and I'm participating in
Count me Out
- A Grassroots National Coming out Day 2010.
Who
Gay, Lesbian, Bisexual, Transgender, Queer, Questioning and Straight Allies, who believe in the power of visibility and are committed to combating injustices facing the LGBT community in areas of marriage, military service, adoption rights, anti-bullying/anti-homophobia efforts, diversity education and full equality under state and federal law.
What
A grassroots social media campaign called
"COUNT ME OUT"
, whose goal is for social media users to "donate" their main profile image to include the word OUT or ALLY on National Coming Out Day, Monday October 11th. Participants are welcome and encouraged to utilize the days preceding and following Monday Oct 11th to participate as well. Should they not feel "OUT" or "ALLY" speaks to them as closely as another word of their choice, individuals are welcome to utilize another word or statement. For those participants utilizing Twitter, flickr, YouTube, the hashtag
#CountMeOut
will also be encouraged
When
Let's start now! But the official date is
Monday October 11, 2010
…and continuing throughout that entire week.
Where
HERE! deviantART! Load up those deviantID's altered as per the instructions below and lets turn deviantART rainbow!!
You can also use any other social media (twitter, Facebook, etc etc) Be loud and proud in your support and if you do upload a new devID, link me to it on this journal so I can make a rainbow collection of awesome people!

Why
…is visibility and "pride" important for the LGBT community?

Students who describe themselves as lesbian, gay, bisexual or transgendered are five times more likely to miss school because of feeling unsafe. 28% are forced to drop out.

The vast majority of victims of anti-lesbian/gay violence - possibly more than 80% - never report the incident, often due to fear of being "outed".

75% of people committing hate crimes are under age 30 - one in three are under 18 - and some of the most pervasive anti-gay violence occurs in schools.

A survey of 191 employers revealed that 18% would fire, 27% would refuse to hire and 26% would refuse to promote a person they perceived to be lesbian, gay or bisexual.

Lesbian, gay and bisexual youth are at a four times higher risk for suicide than their straight peers.

In high schools across America 87% of LGBT youth have reported missing at least one day of school due to safety concerns and threats of violence based on their sexual orientation.
How
IMAGE CUSTOMIZATION INSTRUCTIONS:
Simply colorize your main picture and add block letters "OUT" or "ALLY"
OR…
Go to
pixlr.com
Select "Open image from computer" or "Open image from URL"
Select your image
TINT THE IMAGE:
In the bar at the top of the website click on "Adjustment"
It will open a drop-down menu. Select the option at the very bottom "Color Lookup"
It will open a selection of colors. Select the rainbow image (the fourth option)
WRITE "OUT" OR "ALLY":
Click on the letter "A" on the tool bar located on the left side of the website
Then click anywhere on the image, opening a text menu box.
Type "OUT" or "ALLY," select a font you like best, in either black or white
Click on the arrow symbol at the top-right of the tool bar, then click on the word "OUT" or "ALLY" to move it into your desired position on the image.
SAVE:
Click on "File" at the very top left corner of the website.
It will open a drop-down menu. Click "Save."
and then upload your newfound awesome ID to deviantART and link me to it in the comments below!
Personal Notes
Monday October 11th is also Thanksgiving in Canada and I'm truly thankful for living in a country that recognizes love between two human beings regardless of gender. I support and participate in these causes because I believe these rights should be worldwide, acceptance and understanding should be unconditional and love universal.
Join us.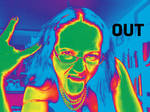 CSS Design and coding by Ikue; Avatar by snowunmasked ;devID by fourteenthstar