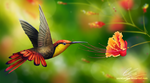 In Recognition of Exemplary Membership and an Outstanding Spirit of helpfulness and mentoring within the DeviantArt community. Join us in celebrating the latest recipient of the Deviousness Award.

My name is Aleksandra and I'm an artist from Poland. In what media do I create? It's hard to tell as often times I feel like a jack of all trades. Art is in my life since I remember - in fact, my oldest memory is connected with drawing. In my early teenage years, I was mostly drawing manga using traditional media. When I joined DA I was sharing photography and my first pixel arts. Before - I posted both photography and pixel art here, now - I moved photography to my other social media. I'm a pixel art creator and a big supporter of this community on DA since then, especially with my weekly pixel art feature. A few years ago I got a graphics tablet from my friend, and I decided to try digital illustrations which gave me a lot of fun while I was drawing! My favorite subject is birds, but I also have a little Halloween-related series of illustrations. In the meantime, I was trying a lot of different artisan crafts: from polymer clay charms, trough embroidery to focusing on creating greeting cards and scrapbooking - which currently are uploaded to my other social media as well.

Still, I think I'm most known on DA for my resources and "pimping-up" profiles. As a past student of Applied Computer Science, I gained basic info about HTML and CSS, but to be honest I truly began to use it here on DA. I started with creating journal skins, but then I noticed it's fun to pretty up not only journals but also deviants' profile pages and galleries, making it one whole themed "online business card". I love when someone comes to me with an original idea and it makes me really happy to help people to personalize their page. But most of all I'm happy that so many people got inspired and started to create resources to decorate profiles, for all users regardless of the subscription status. One day I started to ask myself, "Is there a limit on customization on DeviantArt?". I started to explore the possibilities of creating CSS based decorations, and I still learn something new every day. That's what I love about it the most - exploring the possibilities, being resourceful and deepening my practical knowledge. And on the other side - inspiring people to try on their own and helping them to express themselves through making their little DeviantArt home personal and their "own".

---
---
september 2018
Deviousness Award Winner
If you've spent time interacting within the DeviantArt Community, there's a strong possibility that you have encountered a floating watermelon avatar with cat ears — that whimsical icon belongs to UszatyArbuz! UszatyArbuz is one of those people that just continues to give back. Whether she's sharing amazing ways to customize your DevantArt experience, educating through incredible art tutorials, posting inspiring art features, or just generally being friendly and welcoming, it is very easy to see why she is beloved by many. Beyond this, her gallery is absolutely stunning and spans across a variety of mediums. For all of these reasons it is our absolute honor to award her with Deviousness for September 2018.
---