In Recognition of Exemplary Membership and an Outstanding Spirit of helpfulness and mentoring within the DeviantArt community, join us in celebrating the latest recipient of the Deviousness Award!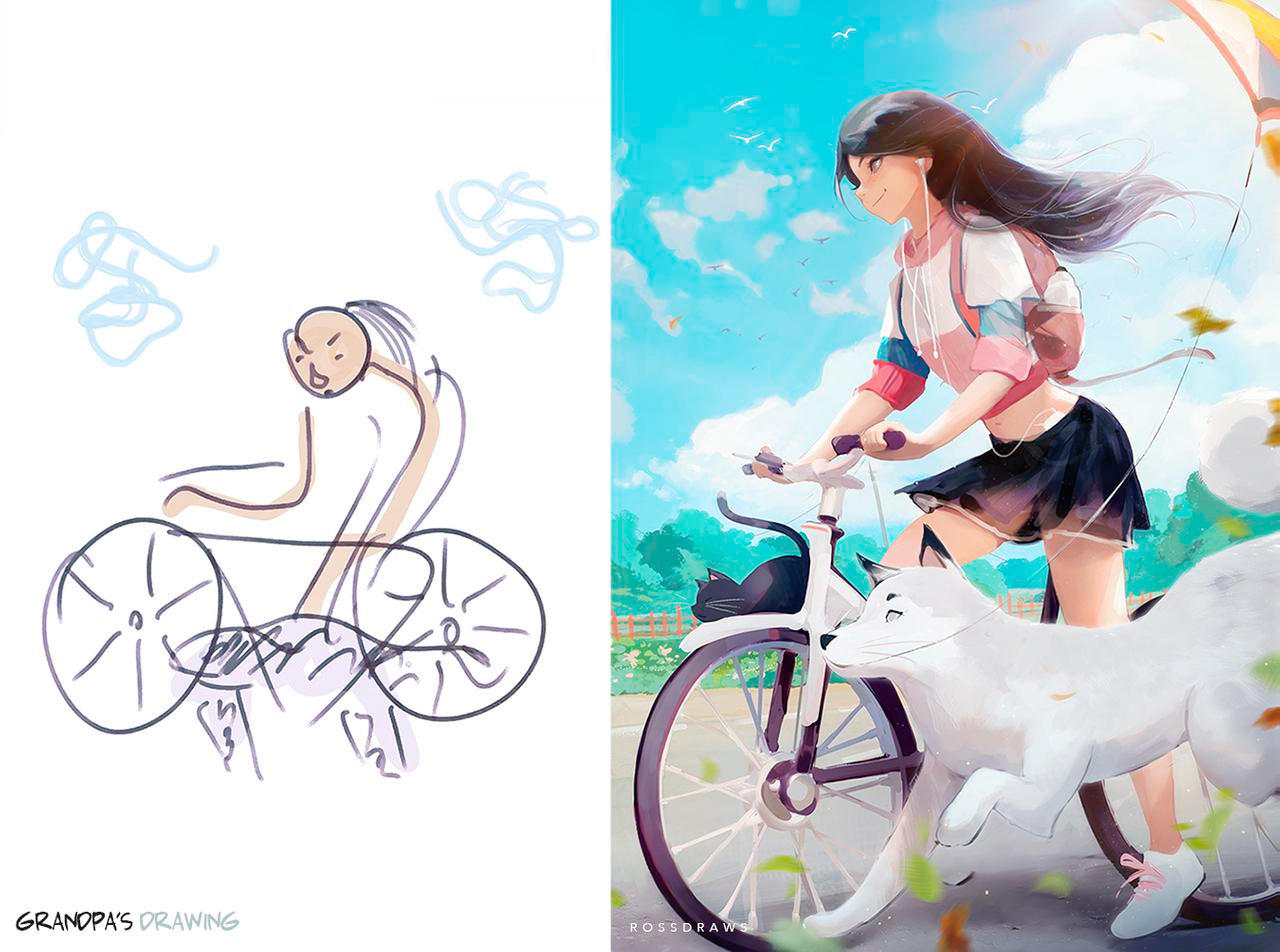 Hi there! My name is Ross, I'm a 26 year old LA-based concept artist and YouTuber. Watching anime and browsing DeviantArt in my younger days largely inspired my passion for storytelling/world-building. I moved to Los Angeles at the age of 17 to seriously pursue my career, even picking up acting along the way. I ultimately found my happy medium between theatrics and painting by creating content on RossDraws to inspire others and spread love as well as positivity within the art community.
I'm also currently working on my very first book project NIMA! To be awarded Deviousness is an absolute honor. DA has been a wonderfully supportive and encouraging community throughout my artistic journey, I only hope to give back by igniting everyone's creative passions with my work.
---
---
October 2019
Deviousness Award Winner
rossdraws is one of those deviants who brings inspiration and true community spirit up front and center. His artwork is sure to inspire with the beautiful and breathtaking atmospheres and colors he brings to each piece. rossdraws tutorials and walkthroughs are so helpful and he is equally as enthusiastic to participate and be a part of the DeviantArt community! His community spirit is infectious and we're so happy to award him Deviousness for October 2019.
Man I was ecstatic upon hearing rossdraws was the selected winner this time round! Ross is one of those artists that whenever he posts a new art piece on his social medias, or especially when he releases an new video on his YouTube, he's just always friendly and positive making it all so welcoming. I look forward to seeing those exciting posts pop up in my feed! They're such an amazing pillar and inspiration for the art community. The best part is his art mimics his personality, bright, energetic and inspiring! Thank you so much for all you've done in the community, rossdraws! Congratulations receiving this award! Keep up the fantastic work!
rossdraws is one of my favourite artists, not only on DeviantArt, but in general. His art is beautiful, and often inspires me to draw as well. With his tutorials he helps a lot of people to improve their skills. He likes to share what he does, so others can do it too and I think that's very generous of him.Thank you for being so wonderful Ross, I wish you the best! Congrats
rossdraws joined DeviantArt in 2011 as a first-year entertainment design student, and in just eight years he's developed a small media empire. In my short time at DA, I've seen him tabling at multiple conventions, he's published an art book, he's launched an online merch store and spoke on a panel about social media. People flock to him at shows, and it's easy to see why. Not only is rossdraws an extremely talented artist, but he radiates energy, positivity and kindness. His art is so good...yet somehow keeps getting better. His advice and tutorials are great resources for the community and his incredible hustle and work ethic is something to admire. Plus, he's got a really cute dog. We love having rossdraws on DeviantArt, and he's very deserving of the Deviousness award.
rossdraws is an amazing artist. His style is unique and completely draws you in. The characters he creates are beautiful, and the side by side comparisons he sometimes does just shows how talented and creative he is. He's the kind of artist that makes me want to say "Damn, I wish he would draw me". All of his works stand out - and you can easily fall in love with each
When I first discovered Ross and his gallery, I honestly believed that this was the kind of art that made you believe in magic. His style was never seen before from my perspective and was filled with many layers of fantasy and wonder. And yet, beyond the art, the man himself proved to be, until this day, such a genuine and amazing human being. Every video and post that I see of him is always graced with authenticity, comedy and great positivity. With my own desire and ambition to become an artist myself, Ross is the kind of fellow artistic brother that inspires you with his work and his personality. And despite his great success, he still tries to reach new heights. If that's not motivating to see, I don't know what is. Congratulations Ross, and I pray that I get the opportunity and chance to not only meet you and thank you in person someday, but to also work with you as well. Keep on shining, brother!
I have followed Ross for quite some time now on both DA and Insta. I absolutely love the use of vivid colors and his stylization. In addition to Ross's art, I am a fan of his sense of humor and the way he connects with his audience. He is humble, sweet, and professional. I always look forward to see more of his creations
A well deserved congratulations to rossdraws for receiving the Deviousness award. I tend to get lost in the goodness when browsing through Ross's gallery. The lovely use of colors, technique and skill. A fun person with great talent makes for a perfect mix and worthy recipient of the Award! Looking forward to his continued work and thanks so much for sharing it with us
I really adore his art! It is just really pleasant to look at and I love how he includes the lightning in his pictures which makes them look really soft and generally just beautiful. I would love if he would do commissions one day lol.
I've been following Ross for a long time and it's been an inspiration to watch him pursue his dreams and make them a reality. I had the pleasure of meeting him at SDCC and he was so generous in sharing some words as well as his art. Definitely a well-deserved recognition!
---