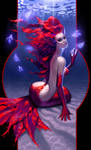 In Recognition of Exemplary Membership and an Outstanding Spirit of helpfulness and mentoring within the DeviantArt community. Join us in celebrating the latest recipient of the Deviousness Award.

My name is Michelle Hoefener and I'm an artist from the United States. Media I often work in is Photoshop, pencil, Copic marker and ink. I've been an artist for as long as I can remember, and always knew it would be my career path. A lot of my earliest art was done in pencil, coloured pencil, ink and marker, and often featured horses, unicorns, fairies, dragons, centaurs, elves and original characters for personal comic and book projects. Some of my earliest inspirations came from movies, fantasy novels and comics. I soon began to work in Photoshop, and became inspired by anime, manga and game art, sharing my work online, and joined DeviantArt. I have also grown over the years through studying at the Illinois Institute of Art: Chicago, working at companies including Riot Games and Midway Games and freelancing. I continue to make original characters and fanart, experimenting in both Photoshop, pencil and Copic marker. My favourite subjects to work with are concept art and illustration of original fantasy characters and fanart. I enjoy working with painting techniques, character designs, colour, lighting, line art, and always love experimenting with style. I always love to use creativity in everything from character designs, web design, interior design and have enjoyed designing websites for my artwork and interests.

Some of my first known works shared on DeviantArt are my original character, Iris, and my first mermaid in my mermaid series, Calypso. I have enjoyed sharing my art techniques and commissioned work with the DeviantArt community over the years, and seeing my art inspire others is always exciting! I love to see when other people become inspired and create their own original characters. Working with people through commissions has grown a lot over the years, and getting the opportunity to work with so many people on their original projects is always exciting! It has been awesome to be able to work full time on personal art projects and commissions. I have been very inspired by sharing my work with the DeviantArt community and looking back on how much my art has grown and evolved, and also the work of so many people. I am always inspired by other artists' work from the DeviantArt community, whether it is photography, illustration, concept art, cosplay, jewelry, etc. I am always looking forward to new ways to be inspired, grow and experiment, and to support and inspire the DeviantArt community!

---
---
October 2018
Deviousness Award Winner
To say that MichelleHoefener's gallery is inspiring, would be an understatement. Contained within is an explosion of colour and dynamic characters! Whether you were drawn into her work through her Mermaid series or her incredible work with companies like Riot Games, you never leave disappointed. A long-time member of DeviantArt, MichelleHoefener never seems to let her fame stop her from being personable and helpful. She has shared her concept work, step-by-step processes, and even offers up line work for others to practice their colouring techniques. It is this type of community spirit that delights us, and we're equally delighted to award her Deviousness for October 2018.

MichelleHoefener's gallery full of wonderfulness. When you first view her gallery - you see a lot of amazingly juicy, colourful and professional works! Each of her work is unique in that they are performed with a high degree of professionalism and love and you feel this love. If you ask me: What exactly I like most in her works? Then definitely there will be a colorfulness and poses. What can I say, just look at them! They are very dynamic! You can always learn something, watching her creativity and it's very important! Her works always beautiful colours, great proportions and dynamic feed. Congratulation on this well-deserved award, Michelle!
I've been following Michelle for years, there is something engaging about her compositions, there is always a great balance of power, beauty, and feminity. With great contours that are always incredible to look at, there is always something to look at with each new piece. There is no color she is afraid to use, it feels like she is always pushing herself to new limits, rather than following some type of colour palette or specific rules. She's always trying to push herself with a new pose, a new idea or something else to keep you wanting more.
Michelle's gallery has been a long-time source of inspiration and delight, not just to myself, but to all who chance upon her bounteous collection of fantastic work. What a banquet of visual delight resides therein! From the use of rich and vivid color (such masterful juxtaposition of light and dark!) to energetic character poses and thoughtful, vigorously dynamic composition, each piece seems masterfully designed to draw the viewer in, engaging thoughts and feeding emotions as the viewer's eyes linger hungrily upon all the delicious details of each and every piece. Even Michelle's rough sketches are a bounty of inspiration and encouragement to her fellow artists. If you'd like to nourish your own creativity and stoke your artistic hunger, I strongly suggest long, leisurely mental walks through Michelle's brilliant gallery at frequent intervals. If you take the time to thoroughly digest each and every glorious submission, I'm sure you'll discover to your delight that, just like me, you'll be inspired
This is a different sort of view for me, as I typically do not really follow game art, character art, and trading card art. Michelle is simply such a brilliant artist, with obviously a solid grounding in the use of color, perspective, deliberate distortion and putting an emotional content into her works that it is easy for me to be enchanted, and often startled by her talent in her presentations. Many of her works are so full of power, personality and heart that it is easy to forget these are not real people but are characters on a stage. And that I think is the essence of her art, she brings the amazing into focus, and you find yourself developing emotional attachments to the characters
MichelleHoefener's work is great: the sense of movement, composition, light, etc. Everything is so vivid and colorful, it makes you want to be there. In her hands, fantasy art is not a boring gray and dark place but a joyful and lively kingdom, an invitation to enjoy fantasy through colors. I remember back in 2007 or 2008, when I watched her Calypso and Alizarin illustration for the first time, I was really impressed by the quality and character design, I had both illustrations as wallpapers for a long time, because it was so inspiring. Now a decade later it is wonderful to see how her work has evolved in wonderful ways, but still, keeps that sense of awe and wonder. My congratulations to Michelle Hoefener for this deserved Deviousness Award.
Nothing brightens my day quite like finding one of Michelle's colorful works in my messages. From DJ Sonia to D.Va, Michelle brings pop culture's coolest heroes and heroines to life with her dynamic compositions. It's truly a privilege to be able to peruse her gallery, and the DeviantArt community is so enriched by the quality of her work and energy. I am thrilled to see Michelle featured, and look forward to many of my future favorite characters appearing in her portfolio! Congratulations!
MichelleHoefener is an excellently talented artist who has managed to bring out the personalities and elegance of the girls from various video games and comics in her unique style of artwork. Her usage of bright colours is fantastic and her gallery is definitely among one of my favourites due to its diverse range of interesting feminine individuals. I had even mistaken some of her artworks as official game designs when I first discovered her page, to my surprise. The lines, the natural postures, the wonderful colours as well as the stunning details always make me look forward to whatever new art pieces she has in store for the future! Congratulations on your deviousness, MichelleHoefener
---