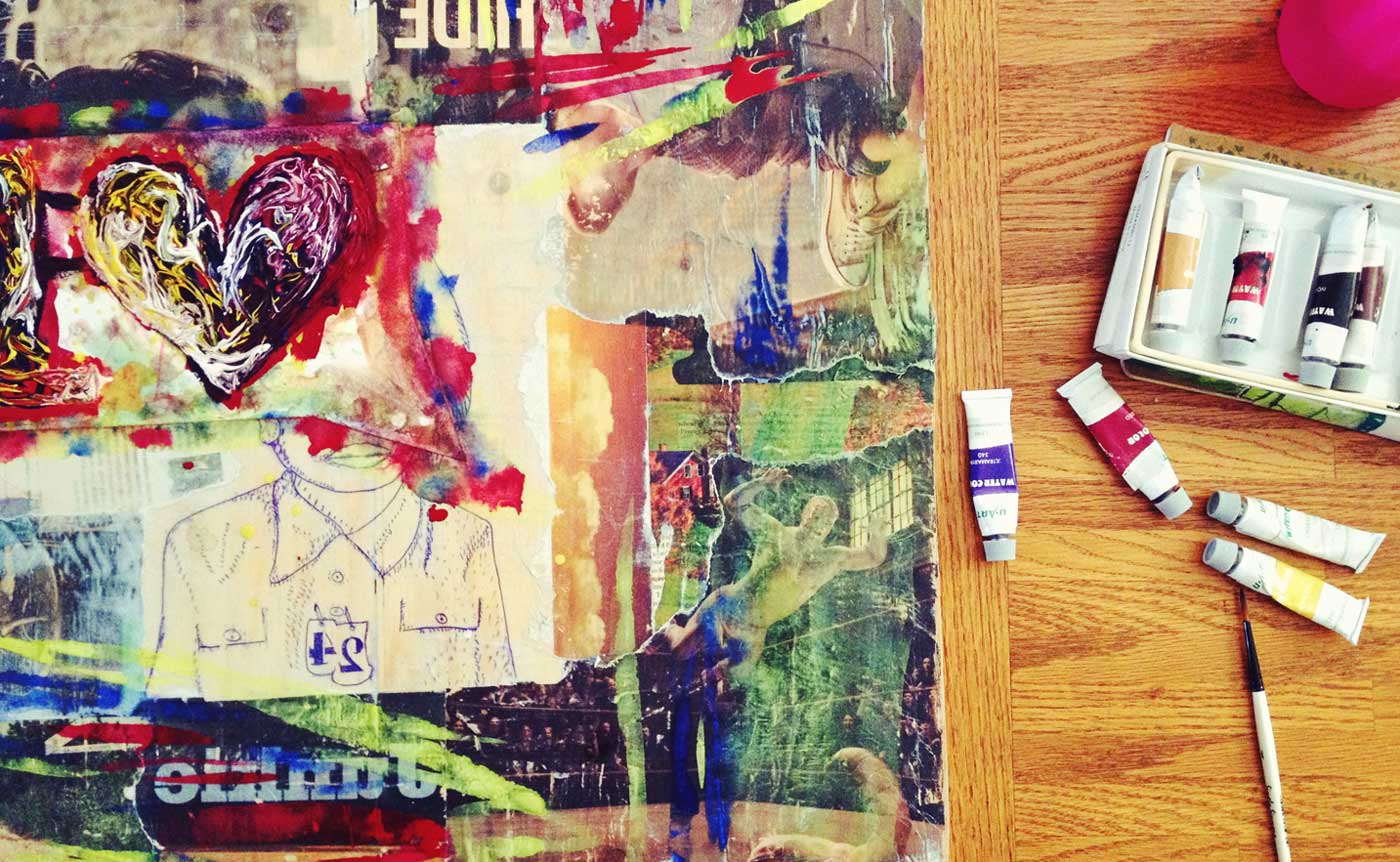 In Recognition of Exemplary Membership and an Outstanding Spirit of helpfulness and mentoring within the DeviantArt community.

Hey everyone! My name is Adam and I am a multi-disciplinary artist and nursing student hailing from the Canadian prairies. Through the years I have fallen madly in love creating with many different art mediums (collage, photography, painting, poetry, and prose). My introduction into the art world began twelve years ago when I was a thirteen year old angsty pre-teen lurking on a book publisher forum. I was sent a link to my internet friends profile page that led me to this tight knit website affectionately called dA (that we all know and love). After working up the courage to create a profile I posted the first picture I had taken with the intent of creating art. I was met with nothing but encouraging comments from the community. Ever since then I have never looked back!
Growing up on a farm in the heart of the bible belt had me feeling suffocated. Art became a necessity in my life. It became a way of coping and surviving the hard times as I tried to figure out my identity. Art became an outlet to celebrate the little things in life I had difficulty verbalizing. And the only way to access art was on here!
Three years after I posted my first deviation I had become fully invested in the support and community that I had found on the site. Deviantart became my second home (and it always will be). Late in 2007 I received seniority and in 2014 received my first DD.
In my day to day life I balance work with the demands of school. In my free time I love to cycle, watch documentaries, drink coffee, read, practice mindfulness meditation, talk to my plants, chill with friends, go to music shows, and lounge in my clawfoot bathtub. On deviantart you can find me lurking in the forums and browsing deep into the photography and collage galleries to create journal features and hunt for daily deviations to suggest.
Thank you from the bottom of my heart for this recognition. I have never felt so at home in a place that wasn't physically my home as much as I feel when I am here. You all have taught me so much and make me laugh and inspire me on a day to day basis. I can not thank you enough! Without you I don't know if I would have found the courage to begin creating. Without you, I don't know where I would be.


---
---
October 2016
Deviousness Award Winner
pulbern has been an outstanding member of the DeviantArt community for the past 12 years, thanks to his various contributions to deviants and projects far and wide.
A frequent suggester of photography Daily Deviations, pulbern has helped bring many lesser-known photographers to the forefront, allowing their talents to shine. He's an active journal writer, sharing exquisitely curated images found across the site in different art features. He is also incredibly active in the forums, offering an ear to deviants in need of anything from help to chatting with a caring mentor.
In addition to helping others on DeviantArt, pulbern himself has uploaded nearly 200 deviations in various mediums: from photography to literature to collage. It is for these reasons that we're proud to award pulbern the Deviousness Award for October 2016!



Having known Adam for more than a decade, and having worked with him on multiple projects and groups during that time, I can confidently say that this deviousness award is well deserved. Adam is tireless in his both his love for the DeviantArt community and his infectious spirit that permeates from everything he does on site. Whether you've seen him on the forums, through his amazingly curated art features, or because of his multifaceted gallery of his own, you undoubtedly have witnessed his kindness and wonderful presence on DA. Congratulations Adam, you've earned this!"







Adam is a great contributor to DA. He's a great friend and very supportive of the community here. He never has a bad idea or says anything bad about anything going on here and is really sweet. I just love his work and I get great feedback when needed. There isn't anything bad to say at all about pulbern and that's a great thing! He's truly a great and wonderful part of DA! Way to go, Adam!"







It was a pleasure to meet Adam here on DeviantArt he is an awesome person , very kind with others and always open to help . I'm happy to know that he will receive this awesome award ! Hope this award will give him more self-confidence and continue to make great art ! Adam you deserve this award and medal because you make a lot for this community and please don't stop because a lot of deviants enjoy your work ! Keep being awesome my friend!"







Adam is one of those people you can tell are genuinely nice, not doing things with a second intent or demanding something in return, he's refreshingly kind and helpful and is always fun to interact with. He also has a very particular eye for art which is reflected in both the amazing pieces he shares in his gallery and the art he promotes in his journal. I'm so glad he's finally receiving this recognition."







I am so excited that Adam is finally getting the recognition that he deserves! Not only is he an avid photographer, he's also very active in the forums. With his candour and easy-going personality, it's easy to see why everyone wants to be his friend! I always like talking to him in the forums to exchange thoughts about topics, be it silly or heavy. His commitment to the community and love for the site is very obvious and apparent and I'm 100% supportive and sure that he will continue to do so for the future as well! Go Adam!"







You do not have to know Adam aka pulbern for very long to realize that he is an amazing person. He is a true asset to the DeviantArt community with his artistic talent and outstanding community spirit and is very deserving of this award."







I am honored to be able to write about Adam on this beautiful occasion. First of all, I'd like to congratulate him, he fully deserves it! Not only is Adam a caring, nice and funny person, but he is also a complete deviant - varied artist and community involved fella. His artworks are always enjoyable and although maybe I haven't said it to him yet, I enjoy his paintings the most, I find them mesmerizing and I hope I can see more of them in the future. He already knows I love his features so there's no need to mention this here hehe! A positive presence who does everything with grace and a smile on his face (or so I imagine him) - this is the way I see Adam. Congratulations once again!







Art is all about making others think differently, and Adam's art is no exception. The mystery surrounding his photography leaves you wanting to know more about the subject, whether it's an ant, a lake, or something as simple as his lunch. In short, he's an awesome artist, so make sure you keep an eye on whatever he decides to do next!"







Energy, the word that describes Adam's work, his art is atmospheric, vibrant and exhilarated which speaks out to many, he is voracious at his work and with aiding the community. He wholeheartedly deserves this award and wish him all the best, Well done!"







Adam is more than a mainstay of the DA community. He's a friend. Over the years, he has been reliably and recognisably kind, supportive and encouraging towards other artists. I'm really happy that I get to work with him at CRPhotography and so pleased to see him as a deserving recipient of Deviousness."







It's not enough to have lived. We should be determined to live for something. May I suggest that it be creating joy for others, sharing what we have for the betterment of personkind, bringing hope to the lost and love to the lonely." ― Leo Buscaglia




pulbern (aka "Prince Harry's Canadian Doppelganger") is a very humorous & insightful fella who has a way to unite people with his vibrant personality. It doesn't surprise me that he's receiving Deviousness since whether rain or shine: pulbern will always be around to help out someone!"







I've known pulbern for years! He's not only an amazing artist but a great person Aww Very glad to see him get deviousness."







Adam's artbook collages are fabulous! Wonderfully abstract montages of images superimposed with text aligned with sensitivity to colour harmony and form."







Though a strong sense of individualism is often reflected in his cutting edge artwork, a strong sense of community is reflected in his interactions. Always willing to lend a helping hand to fellow deviants as well as showcase their artworks. This is not just an online persona as it also carries into his offline life as well, from studying for a caregiving profession to saving people on bridges. Perhaps it is living in such a cold climate that requires Adam's heart to be so warm. But whatever the reason we are fortunate to have him and his art as part of this community. Congratulations my friend."







pulbern is a person who is always willing to help others and very welcoming. You will also see him in forums and anywhere on dA where he can help. On top of that, he suggests great DDs, has a great sense of aesthetics, writes great poems and makes exquisite collages. I also always look forward to his features since I find them always interesting. He is an inspiration artistically and personality wise to me. Which is why he highly deserves Deviousness. Congratulations pulbern!"




---