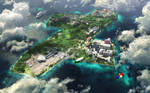 In Recognition of Exemplary Membership and an Outstanding Spirit of helpfulness and mentoring within the DeviantArt community. Join us in celebrating the latest recipient of the Deviousness Award.

Unlike most users here who found DeviantArt in their early teens, I spent most of my adolescence without it. Not having been led to it until I was 17 which by that point my preferences when it came to the kind of art I liked to make and look at were already starting to set. I sometimes wonder how my teenage years would have been different had I discovered it earlier since it was nothing but a positive influence on me once I did.
Not having encountered any real same-age artistic competition in my life before I appeared on DA had left me unknowingly complacent with my work and in hindsight, I was starting to stagnate. But coming to this community and seeing what other artists were doing, many not too far off from my age and some even younger - putting out better quality work, and suddenly I didn't feel like a big fish anymore. I felt like I needed to up my game if I wanted to do anything on par with those existing users who inspired me so much (and admittedly sparked some bouts of envy) back when I was new here.
As long as there's a population of high-experience artists still posting their work here, there will always be fresh faces trying hard to emulate their success, and years later, whether they decided to stay on DA or not, they will be thanking it for pushing them in the right direction during a time where their work might have been ignored or even rejected on other platforms. DeviantArt has a very nurturing atmosphere for those just starting out.

The theme of my own work hasn't changed much over the years. I've always loved certain subjects and styles above all and it was great to see sub-communities here that were fascinated by the same things. But I feel the quality of it sure has - it's hard to look at my old artwork now without a very thick pair of nostalgia goggles to hide the flaws, but each one felt like I broke new ground while making it.
Discovering a new way to draw this or shade that, some even owing to tutorials I saw on this very site or suggestions from other users in their comments. DeviantArt has been a real catalyst to my development, putting my skills years ahead of where I would otherwise be if somehow, against all odds in our much more connected world of today - I still hadn't heard of it. Despite having accounts on other sites, as we all do - DeviantArt forever stands out as the first one I ever joined. I feel like I was born twice, and my second delivery room was a stylish shade of grey, decorated with some killer art pieces.
The fact that I haven't lost interest in it in all this time, and make sure to log in at least once a day, is a testament to the ongoing appeal of this community, the only place I've known where I have ever felt like being myself actually really is good advice and more than simply just tolerated - but accepted.

---
---
MARCH 2018
Deviousness Award Winner
If you've spent any time browsing the galactic wonders of the Space Art gallery on DeviantArt, you have likely run into the otherworldly creations of Chromattix. Much to the delight of the viewer, he uses a digital canvas to unleash his wild imagination in a vast array of vivid colors and incredible textures. However, it is more than his graceful invitation to visit the lands he creates that draws one to him -- his infectious personality and his love for the DeviantArt community serves as a beacon to all. After over a decade, he still calls DeviantArt home and takes the time to provide meaningful critique and feedback to fellow community members. Let us also not forget that he was the first, to be honest about, "Where Subscriber Money Really Goes". We are delighted to be awarding Deviousness, March 2018 to Chromattix!
---