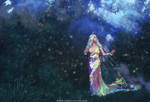 In Recognition of Exemplary Membership and an Outstanding Spirit of helpfulness and mentoring within the DeviantArt community. Join us in celebrating the latest recipient of the Deviousness Award.

I'm a fantasy gown designer based in Los Angeles. What started as a hobby back in Texas where I grew up, making fantasy costumes for my sister and me, turned into a full time career. Back in 2002 I made cosplay outfits for the two of us to wear together to conventions. My costumes began to attract a lot attention and people offered to pay me to make their dream cosplays!

Fast forward sixteen years, I live in Los Angeles and have a studio with a small team of talented seamstresses who have created hundreds of fantasy gowns (specializing in Fantasy Bridal Gowns) for clients who appreciate my personal style. We have published my original sewing patterns with Simplicity Patterns, and recently self-published an exclusive Moonpetal sewing pattern available on our Etsy shop.

---
---
May 2018
Deviousness Award Winner
Firefly-Path is the Fairy Godmother you didn't know you needed! Some may not believe such supernaturally fanciful frocks could actually exist, but one look at her gallery will have you convinced that magic is absolutely real. Her creations are an invitation to a very special world that flourishes because of her seemingly endless imagination. Firefly-Path is self-taught and it's through her tenacity that she has turned a love for cosplay into an incredible business. She has posted several tutorials and even started publishing original sewing patterns with Simplicity, enabling others to create their own fantastical costumes and accessories! It is for all of these reasons that we are enchanted to award Deviousness for June 2018 to Firefly-Path.
---