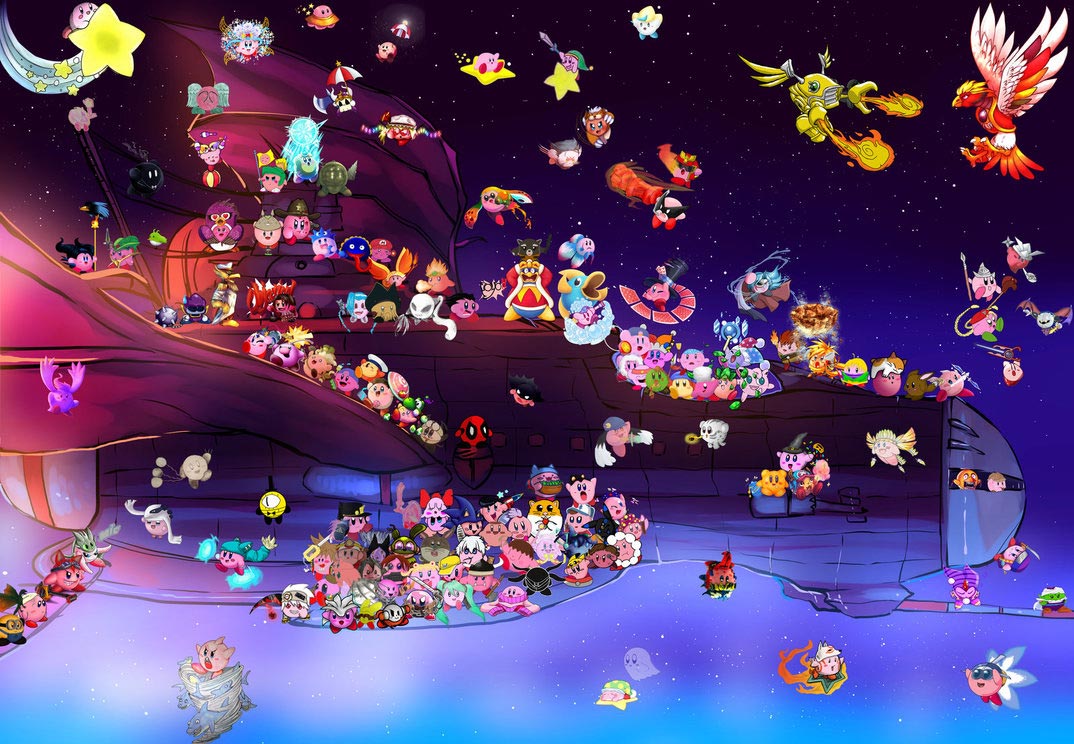 Hello, I'm Tommy! A Canadian art lover from the land of the living skies, Saskatchewan! I am a bird loving magician who is strangely obsessed with weird/creepy things. Art has always been a part of my life as I grew up with a lot of creative and gifted family members. I love shooting photography with my Canon XSi and making stock available for other artists. I also enjoy drawing as a hobby and love working with one-on-one collaborations. I joined this place when I was still in college and was known as "StormPenguin" and grew addicted very quickly. I spent a whole term as a Gallery Moderator in the Fan Art gallery and eventually became a Community Volunteer after that. The community spirit had struck me during my term and launched my first community project "Kirby 166" where I had managed to get 166 submissions from different users for that!
I was overwhelmed and realized what potential this sort of project can do. I wanted to give Fan Art a new use, for charity. My most successful project was where the community had to draw Pokémon with moustaches, and 270 deviants raised nearly $200 for the typhoon Haiyan and raised another $200 for men's health! The impact was real and the community was in spirits.I do feel the need to thank my closest friends for my successes, for without them I have no idea what I'd be doing today.
---
---
July 2016
Deviousness Award Winner
TommyGK has been an active and supportive member of DeviantArt for nearly 7 years, and in this time, he's made an incredible mark on the community as a whole. From the moment he joined, Tommy has been a whirlwind of positivity and inspiration, creating a devious atmosphere of support with his thoughtful comments and sincere relationships. Two years later, he became a part of the DeviantArt volunteer team as the Fan Art volunteer, where he worked tirelessly to improve other deviants' experiences on the site, providing Fan Art creators the visibility they deserved. He was a part of the team from 2011 to 2013, and later rejoined as the Chat & Forums Volunteer for part of 2013.
While he's no longer a volunteer, TommyGK has found a new way to support the community in recent years: through his giant art collaborations! Bringing up to 270 artists together per project, he's brought artistic inspiration to charity, donating to groups such as the Humanitarian Coalition, Samaritan's Purse, and the Canadian Red Cross. Currently, Tommy is hosting a Minions collaboration to support earthquake victims in Ecuador, which you can view here.
As thanks for all the time spent as a passionate and successful Community Volunteer, his massive charitable projects, and his overall supportive and cheerful demeanor towards his fellow artists, we're proud to award the July Deviousness Award to CharityGuildmaster!
Tommy's sense of selflessness and charity is nearly unparalleled in our community. I first met him in the #seniors chat room during a critique event and there was no mistaking his enthusiastic spirit! He is a constant ray of positivity and kindness, making frequent efforts to help others in need through charitable initiatives on DA. His recent collaboration to create a collection of coloring books for Children's Hospital is totally inspiring to me. It takes a very special person to give so much of their time to others and Tommy is indeed one of the special ones! We are incredibly lucky to have him as a part of our community and I can't wait to see the future projects he brings to the table. Congrats on Deviousness, Tommy! You have completely earned it."
Tommy totally deserves this award, as a long time fan and friend of his, his genuine heart of gold and just plain awesomeness to the community is one to applaud. His massive collaborations, dedication to the DA community, and strong spirit make him a great inspiration to not only me, but everyone else. And even though he's had many many difficult times throughout his life, he still held tough like any fiery Pokemon. I am so proud of of this villain of kindness for achieving this devious award for July. And no, you're not getting your wallet back either."
Tommy is that sweet soul who goes above and beyond to help others and to BE a friend!!! He's someone completely dedicated to DeviantArt and he shows it by being present whenever anybody needs it; having a kind word of encouragement for everyone in their time of need; engaging with whoever reaches out to him, making them feel his warmth of heart!!! Tommy is a human "Gem", one will make you want to keep forever!!! His influence in the community reaches really high points, and his skills to organize community projects, like his AMAZING collaborations, are unbelievable!!! He not only helps those within DA, but he also helps our favorite charities, and he does it from the heart, investing not only time, but also his own money, which is admirable and which makes him one of the biggest role models we should all aspire to follow!!! He has a lot of love inside of him, and those of us privileged enough to receive it, are blessed to call him FRIEND!!! CongraSUPERtulations dear Tommy on your Deviousness Award, you SSSSO deserve this sweet recognition!!!"
I've known Tommy for YEARS! Not only is he a great artist but he is such an amazing person and I'm thankful to call him a friend. I've watched him grown not only as an artist but as a person too. He's TRULY a gem in this community."
You always create magic and finally it comes to you. I am so so so so happy for you, and you should have it earlier dear… YAYYYYYYYYY!"
Tommy's a boss. Having known him before, during and after his time as a volunteer I've always been amazed by his constant positivity - even when nothing seems to go right in the world, he's still infectiously chipper and looking at the future. His ongoing work with the #help chatroom and especially with Charity-Guild are great examples of how much good you can do for the community using the tools available to you on DA. Congrats you thunderous little penguin."
Ever since the first time I encountered Tommy on deviantArt Chats, I've seen how he has always been so supportive to everyone - not just in an artistic manner, but also emotionally; and of course not to forget all the collaborations and charities that he has organized, which has brought the art community closer together. Tommy is the loveliest, and fluffiest of them all."
Tommy is a very ambitious & outspoken person who usually strives to confront problems head on. Promoting projects or awareness on a topic, doing collabs, anything you can think of, Tommy has helped in & that's why he's the embodiment of what Deviousness is."
Tommy is an admirable individual. I've spoken with him on many occasions, I've volunteered with him and I've had the pleasure of speaking with him outside of the context of volunteering. All I can say is that I've got a great deal of respect for someone who can come through hell and still manage to remain the radiant individual they've always been. He's a damn fine artist and a good person to know. A person you should really want to encourage and provide smiles/laughs."
Tommy's a cool guy with a big heart—perhaps too big for his own good, but that's a "flaw" everyone in the world should have. With his unstoppable drive to bring the DeviantArt community closer together and mobilize it for good, this award comes as absolutely no surprise to me."
TommyGK, or Toto as I'd like to call him, is a wonderful human being with a ginormous and really good heart. I've known Tommy for quite some years and I admire the work he's done and is still doing for charity. We've gotten to know each other quite well over the years and I'm so proud of him for getting this award. He's a remarkable deviant, a great friend and just an awesome person in general. If you didn't know him yet, you should go meet him, you'll love him! Congrats, Toto!"
Tommy is one of the most caring and selfless people I've ever had the pleasure to meet. He first reached out to me when I was a Community Volunteer many years ago and all he wanted was to help make deviantART a better place for everyone. I'm delighted to say that's what Tommy has been doing ever since! From helping out and being an all around positive influence on fellow deviants, to being a Community Volunteer himself and, more recently, bringing the community together to participate in his famous 'Massive Charity Collabs'! Tommy is a shining light, he makes those around him want to be a better person and do things that matter. His charity collaborations have raised funds for many different causes and brought aid and hope for many people in need. I couldn't be more proud of Tommy, he's the brother I never had and I'm blessed to see him receive this honour. Tommy, you deserve this, let this encourage you to continue nurturing and bringing the people together for a good cause! You are an inspiration to us all! Congratulations, my brother!"
Giving art more meaning" is not only the slogan of his group, but a description of the artist himself: TommyGK has spent his 6,5 years on DeviantArt taking art to a new level, by showing how it can affect and change the world. With his enthusiastic but humble personality and extraordinary kindness he inspired hundreds of deviants, no matter the skill level, to join his charity collaborations. Thereby proving that every artist has the potential to be part of something big, and, in the end, make the world a better place. For all of that and so much more, thank you, Tommy, you deserve this award!"
A sweet person, a dedicated artist and a dear friend. As a Fan Art Community Volunteer, Tommy served his gallery with unbeatable enthusiasm and genuine love. His frequent charity art projects are always a magnet for new artists and prove his generous and unconditional spirit. Congratulations, my dear Tommy! You totally deserve the Deviousness Award. I hope you always offer your light to our Community."
TommyGK is one of those individuals who has the biggest heart and fondest personality. He always thinks of others before himself and offers himself to help others! Along with his personality his art is equally as infectious and savory! Tommy is a sweet soul and an amazing individual. It's been a real honor knowing him for as long as I have! Keep doing what your doing Tommy!"
Tommy is definitely one of the most outstandingly selfless deviants, people, and friends. Someone that you instantly love love love. He puts so much effort and fun in his projects and charity collaborations, that not participating in them becomes impossible. LOL He's got one of the KINDEST souls! Tommy is always eager to tie the community with charity causes, making us all participate in heartwarming, fun projects. (Smile) But if you think that is all, take a look in his gallery and be prepared for awesome. He has superb nature photos, that some he offers as stock. As for crafts, he inspired us with huge life-sized Five Nights at Freddy's figures, all made of recycled newspaper with tons of care and dedication. Tommy is a person who never finishes things half-way, and that inspires me greatly. His words and sense of humour made me appreciate the world in a different manner, a better one. I'm totally thrilled and overjoyed of him receiving the deviousness award, for he deserves every pixel, ever word, every meaning of it!!! Congratulations!!!"
---