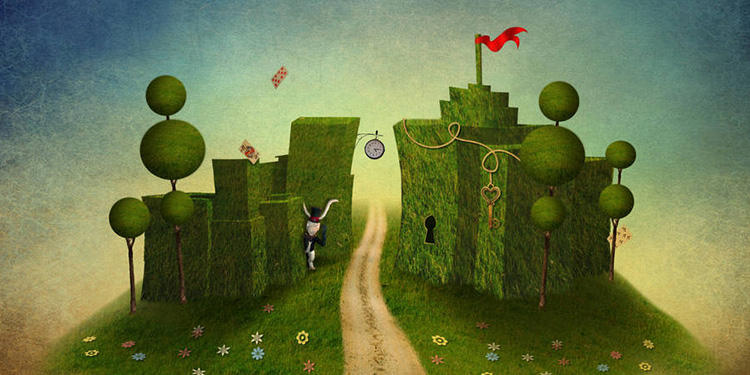 In Recognition of Exemplary Membership and an Outstanding Spirit of helpfulness and mentoring within the DeviantArt community, join us in celebrating the latest recipient of the Deviousness Award!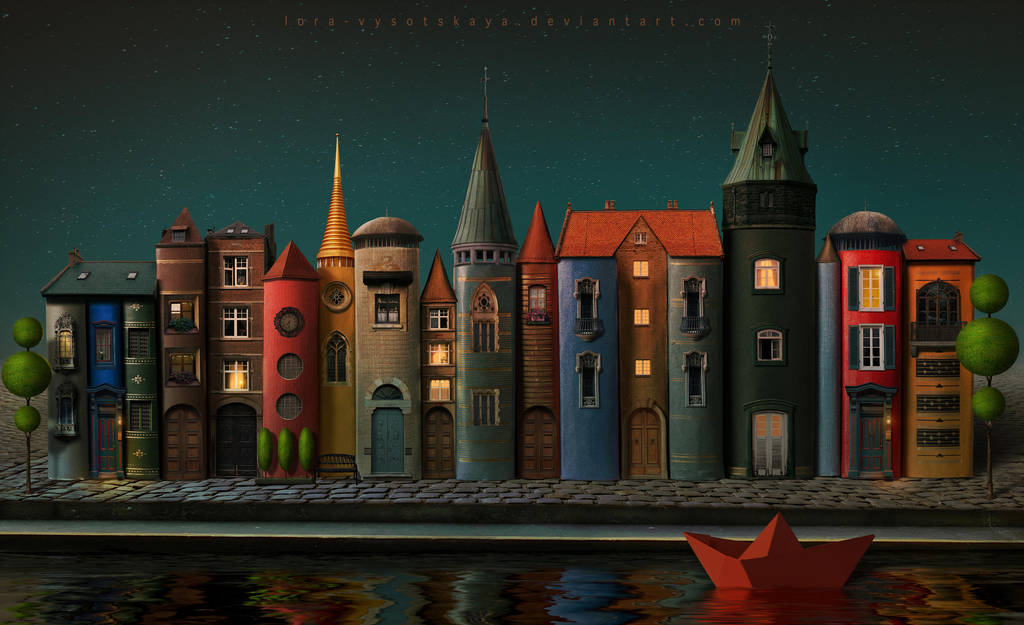 Introducing lora-vysotskaya

My name is Lora Vysotskaya, I was born and live in Ukraine. When I was a child, I loved to draw. I didn't learn drawing, but I loved to copy illustrations from books and photos from magazines about cinema. After that short period in my youth, I didn't do anything creative until accidentally stepped into the world of photo manipulation -- 4.5 years ago. It happened when my husband asked me to make a couple of collages for his work. At that time I had an iPad mini, and I used Bazaart (a pretty simple app for IOS) to make those collages. This process so captivated me, that I can't stop to this day. My first manips were quite simple, but my imagination just gushed, I could create 4-5 manips for a day! Sometimes I miss that time. Well, that's how I became an artist. Except for a short period last year, when I tried to make friends with Photoshop, I've created all manipulations on my iPad 9.7" just with my fingers. By the way, it is very convenient, because I can take my tablet anywhere, as an album for drawing. Now I use Affinity Photo for iPad, a fantastic app, almost as good as Photoshop. I heard that Adobe is going to release a full version of Photoshop for iPad in 2019, then probably I will use it if it will be not too expensive :wink: I'm an engineer and a logistician, and I think my profession is reflected in my creativity. As a logistician, I love order and logic, I don't like to clutter up space with extra details, almost every element in my manipulations must speak and strengthen a general idea.
I don't use a lot of textures and effects if it isn't necessary. You will not find any piece in a-girl-in-a-forest style among my works :wink: I put meaning in every artwork and I love to come up with interesting ironic titles for them, especially if they sound like a play on words. I'm not a master of landscapes but models are almost in every my work. People are most interesting for me as an object for creativity. Their emotions, thoughts and actions. And I always aim to create beautiful things and to avoid any unpleasing details, even if it's something dark. I think art must give just positive emotions and a sense of beauty. People say I have own recognizable style, hope it's true. Although I try to be varied to stay interesting for my dear viewers. I'm a visual by perception type, and most often I get ideas from something seen. I can see a model and immediately come up with a story for her/him. I read a lot, love good movies, and they are also a great source of inspiration for me. Sometimes, when I lack ideas, I look through the art of other artists hoping to get a push for my brain. Another way is contests on DeviantArt, often their themes also perfectly stimulate the imagination. Btw, I posted my first work on DeviantArt 3 years ago, in November 2015. And this place became some kind of virtual reality for me (and for the most part of artists I think), a little world where we live in parallel with our real life. We get inspiration from each other and have a great ability to share our art (read: our souls) with a lot of people. Besides creating photo manipulations, I have another hobby - coming with contests and organizing them. This is not less interesting than participating in them so I do it in my two groups and enjoy this.
---
---
December 2018
Deviousness Award Winner
Lora-Vysotskaya is a self-taught artist whose creative imagination has populated her gallery with whimsical scenarios and fascinating characters. What is more remarkable is that she does all this on a tablet with her finger, proof that true artistry doesn't rely on access to the best equipment. She's also a beacon within our photomanipulation community, regularly highlighting other members work and hosting community contests. She consistently inspires and supports others through her work with Stewed-Tomatoes, CRPhotomanipulation and DA-LOVERS. Her love and support for the DeviantArt community has not gone unnoticed and we are thrilled to award Lora-Vysotskaya with Deviousness for December 2018.
Lora is one of the most loyal, friendly and talented artists I know from Deviantart. I've known her since I joined DA and she has always been so helpful and kind, always giving her honest opinion about my artworks, even though she's much more talented and experienced than I am. I'm always amazed at her creativity and unique artworks. Each of them has a bit of her soul and its own story. I wish her all the best and many more years filled with unique artworks that makes us fans of her, more amazed. And lastly congratulations on her well-deserved award!
I have known Lora since 2016, back when she came to participate in the second art contest I ever hosted and we've been friends ever since. She impressed me with her creative and elegant work. Lora has become a successful artist within a few years because she is not only a skillful artist, creating all her artworks with just fingers on a small iPad, but also a very kind and supportive person. I do much admire her devotion that is shown through many activities in this great art community, and I'm happy that she finally received the Deviousness Award, which she well deserves. Congratulations, Lora!
Visiting Lora's gallery is an incredible voyage to fantasy, creativity, colour and amazement. Lora is a master, she doesn't create simple photomanips, she creates new worlds. Her attention to details, in the concept and composition along with flawless execution, provides a perfect result in the final piece. Not only she is a great artist, but she is also attentive to others and does an amazing work in her groups. Lora is kind and helpful and I'm a great fan, always waiting for her next work with much enthusiasm. I'm sure that if you visit her gallery you'll become a fan too. This award is very well deserved.
Lora-Vysotskaya is certainly belonging to this very seldom category of fully accomplished artists. Her immense talent and stunning imagination guide Lora in creating very powerful pieces of art, each and everyone remarkable and memorable in itself. What is most impressive is the whole world generated by the totality of her work, a world that possesses its independent life and consolidates a firm artistic vision. I could hardly think of someone else deserving more than Lora the Deviousness Award. Congrats and hugs dear Lora.
Lora is simply one of the best deviants, and digital artists DeviantArt has to offer us! And she's never too busy to offer a kind word or helping hand to those in need. Simply put, she - and her artworks, are like a light to a moth at night. People are simply drawn to Lora. Inspiring on every level; she leaves us wanting her friendship, and grateful to have it. She is the 'friend' in friendship. If anyone is deserving of this reward, it's Lora-Vysotskaya.LindArtz
Lora is a great artist and a very kind person. I'm fortunate to have her as a judge in my Wallpaper Contests! Her unique art-style is so enchanting! Lora, congrats on your Deviousness award, you really deserve it and I'm happy for you!
Lora is a wonderful person and artist. I love her work very much, she is very creative, and her artistic work amazes me time and again. Lora has more than earned the Deviousness Award and I am very happy for her... Many Hugs Lora!)
Lora-Vysotskaya is not only an excellent artist but also an asset to the community. As founder of two groups and admin of 5 more, she finds the time to awe us every month with a jam-packed newsletter. She also promotes contests from other groups by bringing us, the Photo Manipulation community, a regularly updated journal of contests and challenges on DeviantArt. Lora has added a uniqueness to her art. Some of you may not know this, but she uses her fingers and iPad to create her awesome deviations. I remember when she told me that she and Photoshop were not friends, so she found Affinity Photo. I was in awe when I saw the first creation she did with this new app - she was born to create. In September she was one of the 3 winners of Angels Without Wings and I believe she truly deserves this Deviousness award, too. Congratulations, my friend.
Lora is a very talented artist, thoroughly dedicated and selflessly devoting her time for DA community despite many responsibilities. I have had the privilege of knowing her for quite a few years. She is not only a kind person but always supporting and encouraging many lesser artists to achieve work of extraordinary quality. Describing Lora's art, it's akin to revisiting renaissance period/age. It has a touch of classiness which transports us to the old era of minimalistic details. It surely contains a combination of past and present vision, highlighting her creative mind. Her gallery is full of individuality and is therefore full of deep significance. She's a versatile artist who has a knack for working on different themes; her work is a fairytale story. This fairytale exists only in our dreams which she paints into reality through her art, engaging in the relationship between fantasy and surrealism. This she does with an incredible sense of humour incorporating love, nature and animals. I absolutely love it. Thanks to my friend for always been kind to your fellow artists. Congratulations on your deviousness award, you truly deserve it. I'm so happy for you!
Lora-Vysotskaya is a very talented artist, with unique works. A great supporter of our Photomanipulation community. She always very kind in support our members! Congratulations on your Deviousness award.
Lora is a great artist, and the great things that I really admire from her is what she has done with the photomanipulation community, She likes a mother to our community always trying to take care and support all artists within it. I appreciate all of her efforts to keep the photomanip community going and she always inspires us with her efforts. One of the strongest women I've known, she really deserves this honour, and I'm so glad for her! Congratulations Lora.
First of all, I would like to congratulate Lora on receiving this award. I am really proud of you, my talented friend. Lora is a very imaginative and inventive artist, in my opinion. She has her own unique style of art, and her artworks are always well thought out and inspirational to behold. She is a very creative and artistic person, whose works are continually spellbinding and stunning. I absolutely love her artworks. I also admire her flair for composition and lighting of the subject matter. Secondly, she is an inspiration to other artists and has a real professional outlook to the industry. I always appreciate her feedback, which she gives to other aspiring artists, as well.
---