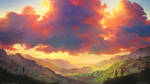 In Recognition of Exemplary Membership and an Outstanding Spirit of helpfulness and mentoring within the DeviantArt community. Join us in celebrating the latest recipient of the Deviousness Award.

I discovered DeviantArt in 2005 when I was a student. It was 12 years ago, I should feel old, and yet I always feel like the teenager that I was browsing the various galleries of the site. DeviantArt was my first social networking experience, long before Facebook or Twitter. With its community from every country and all mixed techniques, DeviantArt represented for me access to an infinite world. When I reconnect on my DeviantArt, I feel like I always find a big colorful party where everyone draws without limits what he wants. I have been a Concept Artist / Art Director, for more than 10 years. All the while, I worked in animation, architecture, comics, cinema and video games. My career was built step by step. DeviantArt is the only gallery on the net in which I keep my old drawings because I want to remember the efforts it took me and the encouragement I received. I shared on DeviantArt the pages of my webcomic "The Neighbors of Chaos", my Badass Cartoon illustrations, my first concepts art and now the first images of my future video game.
I now have my own video game studio, my life is beautiful, but I know I don't owe this situation to my efforts, but to all the people I met. The internet is a fabulous place to meet a maximum of different personalities. I'm not the kind of person who would tell others to just pursue their dream to make it happen. Progress in an artist's career does not require that of will, it's necessary to develop empathy, to understand others, to better interact in images. Sharing your work, watching others and understanding their world is the best way to move forward. The image is a language and nothing makes me happier than when one of my illustrations is appreciated by someone on the other side of the world. I hope everyone finds the pleasure I have in my exchanges on DeviantArt. I want to continue to grow with you.
---
---
april 2018
Deviousness Award Winner
Browsing Tohad's gallery is like agreeing to embark on a journey beyond your wildest imagination, with no need to use vacation days. One can easily picture themselves in any of his colorfully expansive landscapes, so it's easy to understand why people flock to his page. However, Tohad goes a step beyond, offering words of wisdom, technical advice, and behind the scenes glimpses of the life of a Concept Artist giving tens of thousands of people even more reason to return to visit his work daily. His work is a magnetic force and his kindred soul keeps us coming back for more. It's for these reasons that we are delighted to award Deviousness, April 2018 to Tohad.
---