Journal Entry:
Mon Apr 9, 2012, 10:29 AM
♥ News ♥
♥ My Store | Facebook | Formspring | Twitter | Mailing List ♥

Online on Live stream www.livestream.com/mooglegurl
Got questions you need answered? Ask away here!!: www.formspring.me/mooglegurl

Commissions CLOSED!

Hello loves!

First let me thank you all for 1 million PV!

Now, ACEN is this weekend and I am extremely excited to once again be in the vendors room rather than the Artist Ally!
I am bringing tons of goodies as well as many new products not available online yet! This weekend I will be located
at booth # 326 near the dealers room front!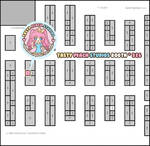 Be sure to stop by and say hello <3


Thank's everyone!!!

~ ♥ ~ ♥ ~ ♥ ~ ♥ ~

Commission

Commissions are now currently closed.

Mailing List
Please join our mailing list for promotions and gift ideas!

Join here: artfire.us2.list-manage.com/su…

~ ♥ ~ ♥ ~ ♥ ~ ♥ ~

♥ Commission Information ♥
Commissions are Closed
*sorry no trades and no requests

-PLEASE- read the F.A.Q. before asking me anything <3
Commission are completed within a timely manner of starting. Please be patient.


~ ♥ ~ ♥ ~ ♥ ~ ♥ ~


♥ 2011 Convention List ♥


Convention updates! I'm signed up for a few more conventions now, so as of right now our convention list is looking pretty solid!
Here is a list of our confirmed conventions for 2012, more to be added soon!


* Anime St. Louis
*ACEN
*Animazment
*Colossalcon
*Metrocon
*JAFAX

- More cons pending!

There will be more to add as we find out information about other cons, and are approved for more!


Listening to: Party with Pinkie - DJ Alexs

Watch