Hi. I'm just an average person but an all-over-the-place mind and personality. Until I'm around age eighteen or something, I will confess my real name. Until then, go check out my art and try my memes out! For now, you can call me...
<a href=
www.wishafriend.com/photo/name…
target=new>Acrostic Name Poem by WishAFriend.com
░████░░████░
░█░░ █░░█░ ░█░ Put This
░████░░████░ On Your profile
░█░█░░ ░█░░░░ If You Love To Role-
░█░░█░░ █░░░░ Play!
╔══╗♫
║██║Put this
║(o)║on your page
╚══╝if u think music rocks!
fav.me/d639lae
missfratercula.tumblr.com/
My vines:
seekvines.com/user/10339181880…
Here are some things I'd like for you guys to use!:
:thumb372856694: :thumb374714258:



Pageviews:

How Mature Do You Think?
Hosted By theOtaku.com:
Anime

</a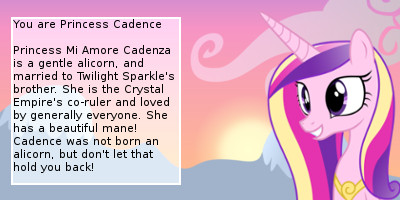 What Alicorn Princess Are You?
Hosted By theOtaku.com:
Anime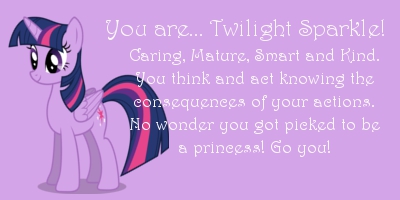 Who Are You In The Mane 6?
Hosted By theOtaku.com:
Anime
www.nick.com/videos/clip/monst…
What Is Your Level Of Sanity?
Hosted By theOtaku.com:
What Element Of Harmony Are You?
Hosted By theOtaku.com:
Anime

MY TRUE LOVE!


MY FAVORITE CHARACTERS

9These characters are in no particular order.)
All right! Now let's dance!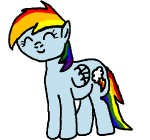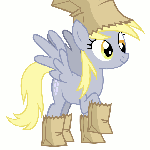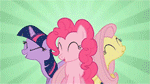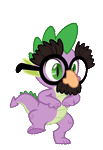 Do know where I can find any more dancing GIF's? Comment the link to one of them, and it may be on here!
Favourite Visual Artist
Those who work on cartoons and video games. Also, I admire some Deviants. I SALUTE YOU ALL!
Favourite Movies
Monsters vs Aliens; Monsters Inc.; The Nightmare Before Christmas; Rise of the Guardians; Muppet movies, Disney movies, especially Disney Renessaince
Favourite TV Shows
The list is LONG!
Favourite Bands / Musical Artists
Owl City, Katy Perry
Favourite Books
Percy Jackson; Alice in Wonderland; Maximum Ride
Favourite Games
Just Dance games, MarioKart, Glee Karaoke Revolution, anything that is similar to those I just listed
Favourite Gaming Platform
Wii
Tools of the Trade
Any utensil, or my phone
Other Interests
gaming, music