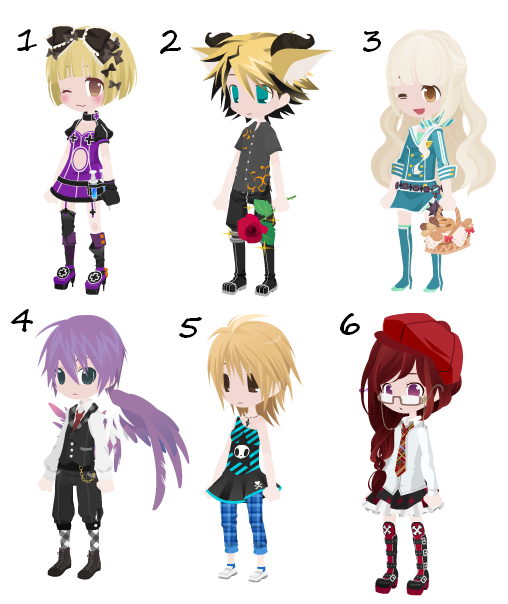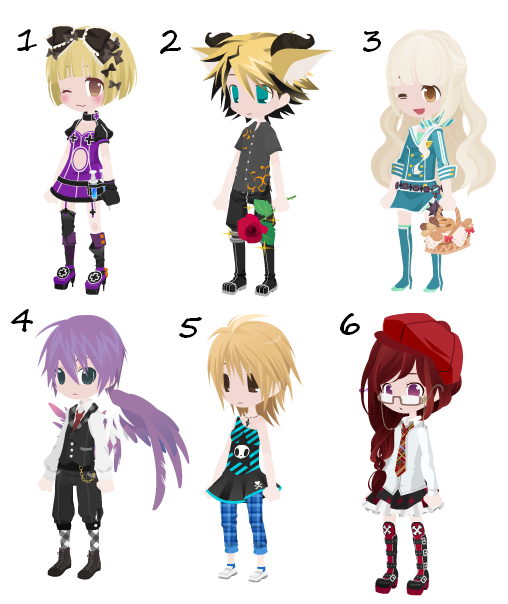 Watch
1. SOLD to

2. SOLD to:

3. SOLD to

4. SOLD to

5. SOLD to

6. SOLD to:

and i'd like to see your frst pic of em! so plz link me!
made with:
[link]

May I have 3 please? *puppy eyes* :3
Reply

Reply

Omg can I have 4?! hes sooo amazing looking!
Reply

can i have 1?
(i wanted 6 but one is adorbale too <3)
Reply

Ohhhh

Could I get number 6?
She's absolutely adorable~!
Reply

yey ok! she's my fav to (#>w<#)
Reply

Hnnnhh I want 2 ;u; It's adorablee!
Reply

ok! it's yours! don't forget to link me the frst pic of em! >w<
Reply

Thank you! ;u; I'll sketch him right now and I might finish it later when I get home~
Reply

cool! i bet it will look really cute! (*w*)
Reply

I drew him as chibi holding hands with one of my other characters and one with him standing with bare chest and one with him pressing his forehead against my other chars forehead XuX <3
Reply

omg, that's so cute! i love pic's that have pressing forehead's!
i think it's so cute, >w< and i'm really happy that you like him
and that your using him! uwu
Reply

I hope it's okay they're both male ;u; I'm lining the chibi one now and it'll be up before bedtime~
Reply

that's ok! i love me some boy x boy as well as the next girl XwX
that's awesome! i love chibi's!
Reply
(2 Replies)