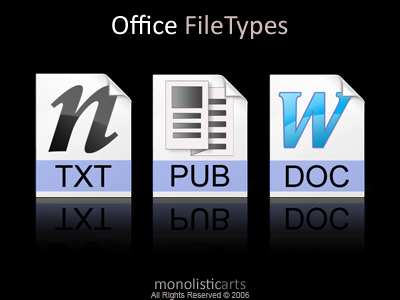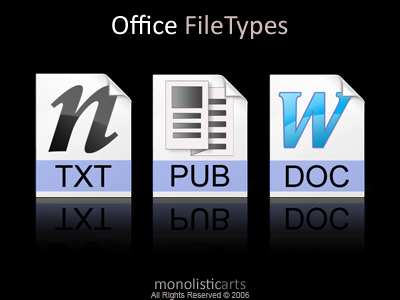 Watch
Office FileTypes
12 icons and 12 PNGs of common Microsoft Office and document file types.
The icon set includes:
CSV, DOC, MDB, MHTML, PPT, RFT, TXT and XLS file formats.
For:
Access, Excel, Frontpage, NotePad, Outlook, Powerpoint, Publisher, Word, WordPad.
Just to name a few!
INFO:
Format: Icon file format (.ico) and PNG (.png)
Icon sizes: 256 (Vista ready*), 128, 64, 48, 32, 24, 16 px
PNG size: 256x256
*
Vista ready
| icons work with Windows Vista PNG compression.
-----
Also see:
Programming FileTypes
Media FileTypes
Media2 FileTypes
System FileTypes
-----
Need help applying the icons click here.
---
All Rights Reserved © 2006 monolistic art
No unlicensed/unrequested use other then personal