I love this bitch!!!


I wanna kiss those furry lips of yours!!!!~



"Even through all the hate, what brings you down could make you stronger. We live in a world where nothing is a fairytale. We will have criminals, cyberbullies, wars, division and hatred. But behind all of that is a light, some happiness that still exist within the ones who reject darkness. Love, acceptance, unison and protection. I believe the world has balance in both the powers and feelings of the light and dark in our society. We just need to find out how to make it through the worst and make it to the best parts in life.. I believe as humans we are strong.. No matter what obstacles we face, we'll find ways to go over them or face them head on. Do you believe in the balance of good and evil? I do."

"It's our lives. We have to take leadership in what happens next to us. We shouldn't wait for someone else to start it. "We" should make it start on our own. We are our own heroes, our own villain at times. But.... We must learn through our mistakes and regrets and try our best to stop ourselves from ever being stuck in our never-ending hellhole's. And from ever going through the same dreadful torments over and over each day. We will find a way to escape. And death and pain won't help us. It'll only lead us to an eternity of haunting and mourning. So what'll you do next to change your life? The future of who you are and what you do to others is in your hands."

Written by me, Maggie and/or Monica

---

〷
Maggie Douga ⋆ 17 ⋆ She/Her * Bisexual

〷

---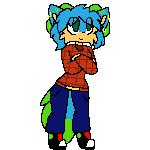 ---
I am the creator of Monica Genesis. I one day want to become an animator and also create some video games if possible. Wants to work for Sega/Sonic Team one day as well and change the Sonic Franchise forever.


I love you guys!! The many artist that inspire me!! <3


This Inpriation Shrine is made for all of you!! X3 For all my friends and just people I watch and love the art of and wish to commission or trade with someday! ^^


















































---

STATUS


〇


〇


〇

---



---

code (c) Chromlyte