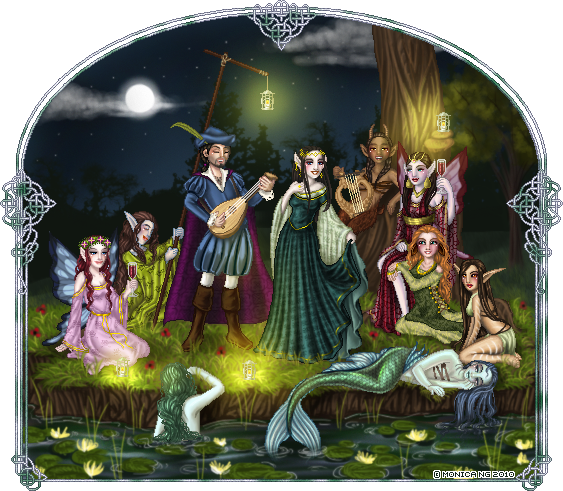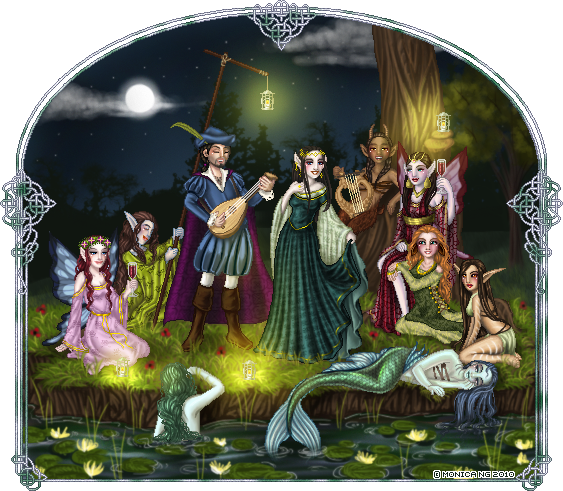 Watch
The night of Summer Solstice it's my favourite night

In my city we go to the beach, jump the fires, take a bath in the sea and see the fireworks.
But surely my fav summer solstice was when I was as a child in my grand-dads house in the mountains. There they says that the veil of this world and the world of the fairies is very thin!

And people can see the fairy realm this night. I and my sister danced with candels and fire under the stars with music.
I dolled a scene of a human bard that has lost this night in his way home and he found a fairy circle :3 He sings and plays the lute and fairies and nymphs dances and sings too. Maybe he has lost in the other world forever o_o
The bases are mine (Equidna & Einherjar) :3
[link]
I painted and pixelled all the scene :3 I got some references of the tutorial of ~
tata-s-z
celtic knots for the frame.
I spent a totally of 4 days finishing it :3 All the fairies has complete details and outfit that in the composition are partial hidden by the other figures.

Used PS CS4
Sorry for my crappy English

EDIT: Thanks a lot for the DD!! I know I got 3rd place, but I'm so honoured by this!

Thank you!
Daily Deviation
Given 2010-10-24
Summer Night
by =
Monica-NG
The suggester wrote: "This artwork really shows that dolling can become much more than a stand-alone doll, but a digital masterpiece." (
Suggested by isoldel and Featured by Lyricanna
)