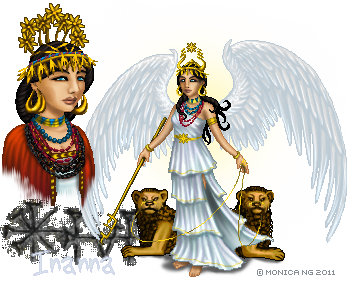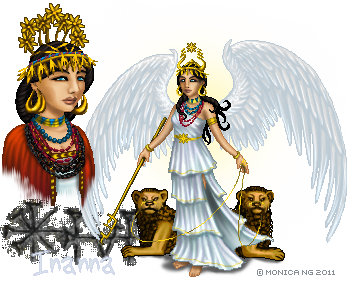 My entry for the mythology pageant.
[link]
I chose the goddess Inanna (also known as Ishtar or Astarte and many other names), queen of heaven, goddess of sexual love, fertility and war.
I spent a lot of time researching for make a good dress for her (rules of contest don't let me make her naked, but this was not my idea, I wanted a dress), inspired by the murals and rests with her image. I also focused in her role as the morning star, her sybol is the an eight-pointed star or a rosette, you can see on both versions. In the fullbody doll you can see her with all her glory (and more war-like dress) and some atributes, a horned headress, the lions (they look horrible, but they are inspired by sumerian art, make realistic lions is boring!
[link]
), the knot...
The portrait resembles a noble sumerian woman (Shub-ad) that was used for inspiration for her headress. My idea was that the goddess appeared like the in myth that tells her visit to the underworld, before she have to pass the 7 gates and drop all her jewels and clothes until she stands naked before her sister Ereshkigal.
Bases used: both my own, Equidna for fullbody and Venux for portrait (modified) wings, and mini-lions, hand painted by me :3
The doll is better in a dark background, like the contest site. I had no time for dolling anything better for the contest, I have a very important exam soon!!! >__<
If you're interested, you have here:
The wiki entry for Inanna
[link]
Some interesting links
[link]
A video with the queen Shub-ad/Puabi headress.
[link]
Next Round entries:

Reply

Good work with clear evidence of solid research; I'll keep an eye out for others in the series.
Reply

Me chifla tia! Además te ha quedado super bien! Estoy segura de que a mi profesor de arte del modulo de ilustración, cuando nos dio a los Summerios le hubiese encantado como has representado a esta Diosa, por cierto que no sabía su historia mitologica, me encanta. Si es que, ademas de alegrarnos la vista, nos culturizas, que mas se puede pedir!

Reply

jajaja, no es para tanto, la verdad. Me han faltado algunas cosillas pero es normal que no pueda tenerlo todo puesto sin parecer muy recargada

creo que seguiré culturizándoos durante un tiempo XD a mí la mitología mesopotámica mi encanta, sobre todo tras descubrir que los dioses de las historias que escribí de pequeña se parecen un montón a estos

Reply

Yo descubrí con mi profesor de historia del arte la cantidad de copias que hay de una religión a otra, y sobre todo en los mitos de la cristiana.
Reply

Ya

Sobre todo en el antiguo testamento de la sumeria.
Los cristianos eran en la antigüedad unos copycats (y no me meto más por si hay sensibilidades entre los que luego leen), y eso era algo que también hacían mucho los romanos en sus tiempos. Nada más hay que fijarse en las vírgenes y los santos y lo que han cogido de una y de otra cultura. "No, ahora tu diosa es una virgen o una santa y este otro es un demonio". Tiene sus cosas buenas y sus cosas malas, claro. Lo bueno que tenía para los paganos es que con una medallita de la virgen nosequé estabas todavía adorando a Isis o a Ishtar, lo malo es todo lo demás D:
A Inanna/Ishtar la demonizaron, a la pobre. Sin embargo también la virgen lleva sus estrellas y simbología de reina de los cielos! D:
Reply

Reply

Qué pasada, Mónica!! Me chiflan los adornos y las mascotas, es preciosa!!!

Reply

uy mascotas, jiji yo ya me pienso que es una giganta y que los leones se le quedan pequeños D:
Gracias!
Reply

Reply

Very nicely done. Gorgeous work on the wings.
Reply