Hi everyone!
It's been a while since I last made a journal, but I kind of want to get back at it with weekly news and all like in the old days. Let's hope I can keep this up!

Commissions
I'm starting with a few favorites among the commissions I've made since last journal. I've been commissioned to model lots of cool characters by very inventive people, so I'm very happy!
Patreon
On other news, I've reopened my patreon, and right now I'm adding videotutorials on modeling!
You can visit it here.

The first series is about modeling this character:
Supersonic Tank Cats
Supersonic Tank Cats is coming along nicely and I hope to finish it soon! Initial plans were to wrap up as fast and possible and reach v1.0 by the end of this month, but a few setbacks and the ever-present scope creep make that date impossible. On the other hand, the game is getting better than ever! The next update has MASSIVE bug fixes, two new tracks, two new characters, a new battle arena, character unlocking, cup and track unlocking, new items and more!

's very own Calico, from his game Combustion. Let the crossovers begin!

More things
I have been able to show some of my contracted work that was under NDA previously, and boy, am I happy to show it!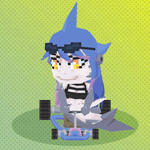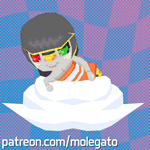 I've also practiced quite a while with my drawing skills, and I hope to be able to open commissions with that style as well.

What do all think?