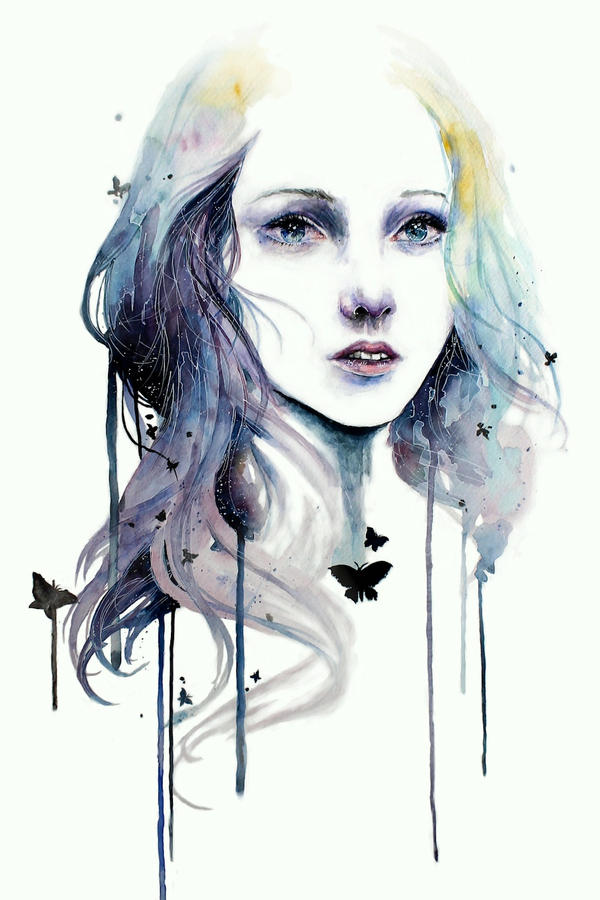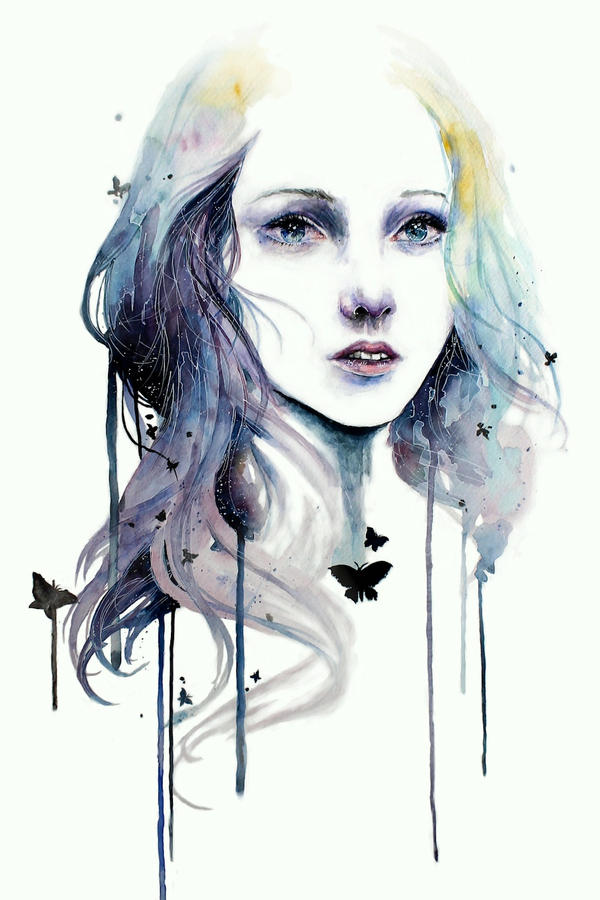 Ahaha, I wanted to post something; most recent little painting that I made ...
Yup, I'm an =agnes-cecile wannabe
Please don't mind the messed-up face. *sobs in a corner*
I'm not sure if I'll scrap this or not ;___;
---
Media: Watercolor and gel pen
Hmmm, I think this is a very eye-catching piece of work. I'm not a regular painter, and I've barely done watercolor, so some of this may seem a little biased. But from what I've seen of this type of work, I think this piece is successful.

I like the strokes you did for the hair, the light yellows you used for the base (or head) flow well into the dark purples and blacks you later use for the strands before the hair itself drips and fills up the bottom space (which accentuates the look of watercolor well).

As for the face, I don't think it's messed up at all. In fact, I really like how you did the face. The shading techniques you used . . . I almost couldn't tell it was a painting until I looked at it more closely (besides the hair).

The composition is pretty simple, but I feel like it works here. If you had put too much in the background the face and hair could have been lost, which you wouldn't want since it appears to be the focus here.

Great job! I love faces, so this is very inspiring for me. Thank you for sharing this with us. I hope this critique helps.
The Artist thought this was FAIR
18 out of 18 deviants thought this was fair.
The messed up face.... pardon me, but where IS that messed up face? You already have a very good critic there, but I might try anyways. I think her gace is beautiful - people don't usually draw noses out like that, but when they do it rather well - and you did - they can. I agree there might be minor details that mght not be perfect on the face, but they don't really show - the overall feeling is that she's beautiful. She looks scared, but still very pretty. The impact is nice - I love all the beautiful soft yet cold colours and how they melt and I I like the butterflies to and the running color and also - I'm just glad to see real paintings!
The Artist thought this was FAIR
20 out of 20 deviants thought this was fair.