I´m a self-taught hobbyist with both photography and photomanipulation. I consider myself still a beginner. Therefore I would be very happy if you could comment on my work and give your opinion. A constructive critique is always welcome! That would motivate me a lot to continue learning and become better. Thank you all for your support!
I am so glad that I was given an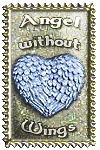 award. Thank you very much
Andorada
for suggesting me and
Angels-And-Gangstas
for giving it to me! I feel very honoured!
You can continue to use my old stock photos, which will remain in this account. You can find the stock rules here: