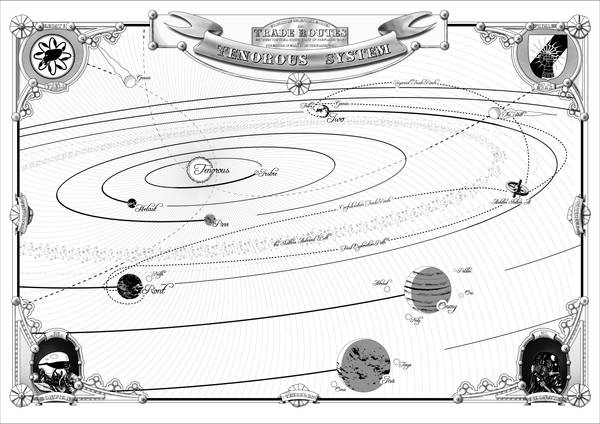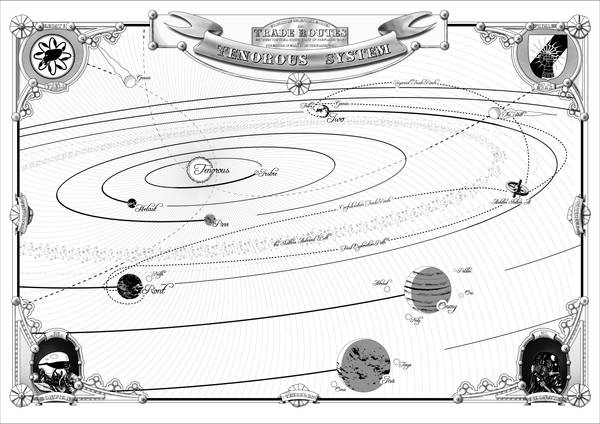 Watch
If you are interested in this one, you should most likely download it for the level of detail.
This is the winning entry for the
Novemeber Challenge
over at the
Cartographer's Guild
. The Challenge was to:
Quote:
Whether you are "Lost in Space", "Pigs in Space", or colonizing the "Spore Universe", what the intrepid space farer really needs is a decent map.

The challenge this month is to create an orbital map, star-system map or even a quadrant map. A map as large as an entire galaxy, or the immediate environment surrounding a planet or star system.

Not just any old political map... this is intended to be a traveler's map (not a Traveller map) to aid in "getting there", where ever there may be.

Sharpen up your lightstylus, put a fresh coat of paint on the Tardis, and prepare to beam up...

Entries should be in by no later than November 25, 2008.

Good Luck!!
The idea behind this one actually came from a Star Wars mock-up of an
"Imperial Credit"
by
. That graphic is completely badass. I tried to approach the same level of badassery, but I know that I came up short, and that is ok because this map has made me better for doing it. There are already some techniques to this one that I will incorporate into my work maps and other pieces that I know how to do better now.
The other idea behind this map was to do it with a single ink in mind, as if it had been done as an intaglio print. The process took a while, but it would have been insanely time consuming by hand. Thank you vector illustration programs. The portraits in the bottom corners really started out the feel of the map. Lots of crosshatching and pen and ink techniques on them. Everything else was done in illustrator. I only pulled it into Photoshop at the end to add the shaded relief of the border elements.
The map is designed to print at an ANSI D size (24 in x 34in) or a 2 x 3. The initial work in PS was done at 200 dpi, but the posted version is only 100 dpi so it would post. Luckily I have a large format printer at work and not very close supervision I will have a hard copy of this one.
As stated before in a previous post, I wanted a bunch of linear elements that started to have some vacillation and moire effects, much like the tight geometric linework of currency and other government documentation.
That is my story and I hope you like the map. C&C is always welcome. I would love to hear what you have to say about this one, because it was quite a departure for me.