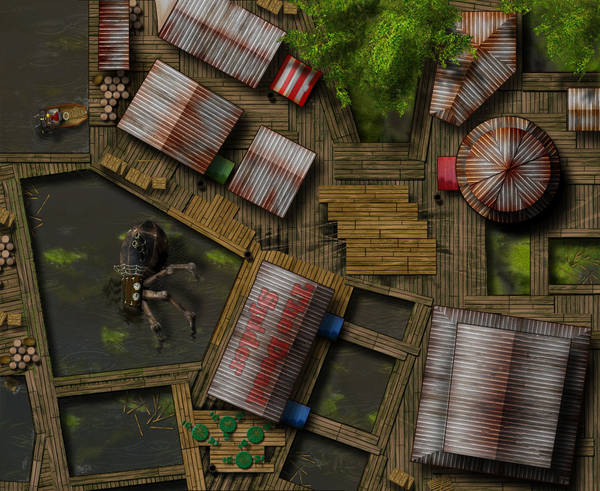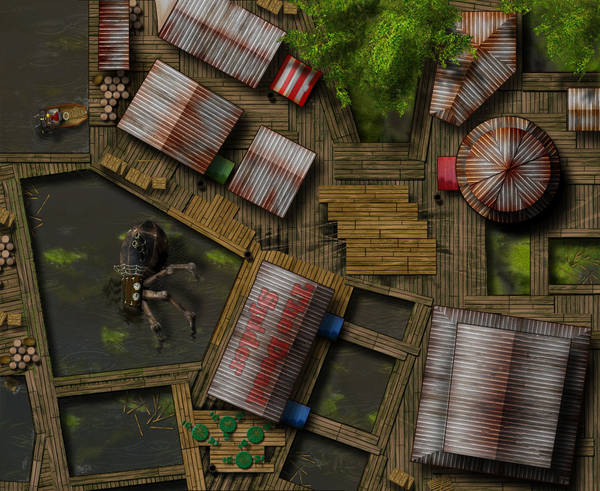 Watch
This is my winning entry for the
October Challenge
for the
Cartographer's Guild
monthly mapping challenege.
I wanted to play with the idea of figure vs ground. So I made the dock area level zero and the and the buildings are level 1 and 2. the trees are level 2, and the ground and water are level -1.
This was all primarily done in Photoshop with some monor forays into illustrator. The spider and the airboat are both my creations. They were drawn out first by hand and then vectorized in Illustrator prior to the painting in PS.
The devil is in the details, so please feel free to download and look.

Reply

Can you tell I am trying to build my fantasy cart portfolio?
Reply

I sure can! Did you ever hear anything from that I guy I referred you to? In any case, keep up the fantastic work. I'll try and keep an eye out, and when you get a portfolio built, I'll forward it on to everyone I work with.

Keep up the great work!

-B
Reply

Cartography is where I am a Viking

thanks!
Reply

I like it a lot!

Reply

wow...this looks very cool! I like the level of detail and the coloring choices. I dont think I would want to go for a little swim in that murky water

Reply

Thanks. It took waaay longer than I wanted and I still see all the unfinished stuff that I wish I had gotten to. That water is pretty darn scary, to be sure.
Reply