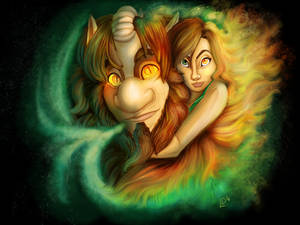 Comic Tier
Burnt out folklorist hides from the world and her antagonist who plumber the outside of her home. Upon receiving a random invite to a cabin from a fan. Mel escapes the drudgery of her life only to find another annoying neighbor who turns out to be fey. Can she survive the encounter or can Mel give him an offer he can't refuse? This tier has all of Shurale season 1 and 2 Shurale fairytales! Updated every month.
---

Description
So, the first volume is now available on
Comixology
and
kindle
, it's only $1.99 and I'm getting a large % on the sales since I'm self-publishing on their platform. If you want to make my day, go buy it, leave a great review (HUGE THANK YOU to people who have already left 5 stars!!! OMGOODNESS!) Every sale helps me keep doing the work I love.
I've been slow getting this out since I'm currently working on 3 different contracts, 2 of which are books. And then there's the kiddos: my oldest just graduated kindergarten, and my youngest just finished cutting 2 new teeth. I'm a pretty proud mama.
Also, an anthology I worked on just found a publisher, more info on that soon, too.
Hope everyone is having a great summer!
Previous page
Would you rather read on
Tapastic
?
Or make my day and become a
Patreon
subscriber?
My check out my
website
.
Image size
940x1410px 975.68 KB