Good day, CX fanboys a--*cough cough* Oh, woah. Hold on a second, let me just clear all this dust away. Hot damn I've been really bad at mirroring things over from the main site and our social medias to deviantART. My bad.
Ugh wow it's been over a year? Oof. Sorry about that, everyone. Good news though, we have an update! Or rather, a news update. Killer wanted me to do this whole copy pasta but his intro was super cheesy and lame. I mean really, fanboys and fangirls? What is this, the early 2000s?
For those who aren't aware, we are primarily active on our
Twitter (@mmbncx)
, and on
our Facebook page
. These two, in addition to the
Official MegaMan Battle Network Chrono X Discord Server
are the best places to get up to date information on what is going on as of late. I will definitely try my best to be better about putting smaller updates here and there as we have them, but in the meantime, if you're not already aware of those three methods of keeping up with the project, what are you doing? Go go go, follow us on Twitter, Like us on Facebook, and join our Discord.
And now we will return to Killer's lovely update.
Ahem.
====
Time for a status update on the project: MaxRock fell quite ill towards the tail end of 2018, and has taken a small break on the project, doing a minimum amount of work per day. Without going into personal details, he's had some bad physical health since birth and from time-to-time it impacts his abilities. Don't worry, he's not in any serious life-threatening condition. In fact, he feels a bit better now. He also wants you to know he absolutely hates his situation, too. But because he is feeling a bit better, I got him to implement some features that we were holding off on.
We want to give Chrono X's Internet Areas more of its own identity, so we'll probably move away from the Battle Network 3-esque semi-placeholder tiles. What do you guys think?
Make sure to vote in our poll!
There's quite a bit more we did, but they're more overall optimizations introduced by our dev tools and not exactly interesting to show. Content-wise, the other parts of the game are being done in piece-meal for when Max is ready. This is big, since in the past we used to wait a while for spritework. Demo 5 brought us some new helping-hands with regards to pixel art, we've been loving that. Here's something we showed on a stream at one point: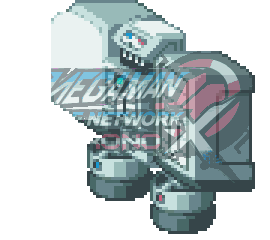 You should know who this is if you played the demo. But while Max is working on his own thing, there's no reason why other members of the team can't do their own content and make progress.
=================================
We would like to thank everyone who reported bugs in the multiplayer on our Discord and all of the reported ones have been looked into. We still want to add more multiplayer features that didn't make it into Demo 5 (such as cut-in) and other niceties. There are logic/code changes planned to make future NetCode experiences less bug-prone and overall a better experience. That will take some time, but we're willing to go that far for quality.
=================================
We haven't forgotten about the Android version! Around the middle of 2018, we discovered that YoYoGames' SDK needed to meet Google's requirements for newer Android phones. The proprietor set out to make those changes, but as of this post, adjustments still have to be made. There isn't much we can do about that, so as of now it's on-hold until it's ready.
Add onto that Max's earlier health issues, and you see why we had to re-focus on priorities. Not to worry, the Android version is definitely NOT cancelled. We want it just as much as you guys.
Anyways, that's pretty much it. Make sure you follow us on our many other Social Media platforms to get the most up to date news, and until next time, this is Winds, signing out.