UPDATE (19.03.2013): It's done!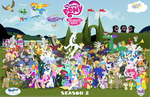 Hello Vector Artists and Vector Fans.
I'll try to keep it as short as possible.
We are officially announcing the third of several Vector Collaborations of the newly released MLP Posters. We hope that you're as excited as we are.

The third Vector Collaboration (as the Title states) will be the 'Season 2 cast' poster.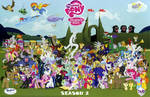 Thanks to

noval
for providing the high quality photos.
Remaining pieces marked in this png file.RULES:


1)
Post a comment on this post in the following manner to reserve spots:
RESERVATION: State the
Character
,
Object
, or
Background Section Number
you wish to Vector.
Posts not in this format will be ignored, and you will lose your reservation. Be sure to be very clear about what you are requesting, so there is not any confusion.


2)
You may use Inkscape or Illustrator to create your vectors. Post a link to your SVG or AI file (if you're using Illustrator, AI files are good; if you're using Inkscape please do not use swatches) in the comments when you are done with your section(s).

Sorry, but we do not accept PSDs for this project, because of compatibility issues.


3)
Time limit will be 1 week after the Journal's initial post. If you aren't finished within 1 week, we will give your part to someone else.
The quicker we have everything done, the better and sooner we can start on the next Group Project.



4)
So that everyone may participate, you may choose up to 1 slot at a time. You may have 1 character, 1 object, or 1 background.

Once you finish your first reservation, you may make another one (one at a time after the first) if there are more available.


5)
Please use as accurate colors as possible for all characters. The colors from the poster scan are far from correct, so please use a color guide for the right colors, or find the character in a color corrected episode. Be sure to get the 'daylight' colors of all characters, where they are not under any lightning or shadow effects.The Collaboration will be separated into three parts:



Characters:



Use

's
MLP Season 2 Cast Poster
Character Reservations
Finished

Lyra

MysteriousKaos
DONE
File:
fav.me/d5akpas

Pound Cake

Feitaru
DONE
File:
fav.me/d5ifro9

Jeff Letroski (light brown stallion with mustache and goatee)

SilverRainclouds
DONE
File:
sta.sh/0or93j8jcy

Future Twilight  

Mamandil
DONE
File:
mamandil.deviantart.com/art/Fu…

Pumpkin Cake

X-Discord-X
DONE
File:
x-discord-x.deviantart.com/art…

Flitter

SilverRainclouds
DONE
File:
silvervectors.deviantart.com/a…

Celestia, Twilight, and book

Takua770
DONE
File:
fav.me/d5ali75

Fluttershy and Bear

alien13029
DONE
File:
fav.me/d5igwf0

Time Turner/Dr. Hooves

Ambassad0r
DONE
File:
sta.sh/01e39bbkwwhp

Spitfire

Kired25
DONE
File:
fav.me/d5ihxqe

Applejack

revelersapprentice
DONE
File:
sta.sh/0mj7scpq6ml

Gummy

alien13029
DONE
File:
fav.me/d5ii4gq

Apple Bloom

Loaded--Dice
DONE
File:
sta.sh/01qtw5d13d4h

Cherilee

MysteriousKaos
DONE
File:
sta.sh/0qcbpgrogy7

Discord Statue and Screwball

Abion47
DONE
File:
fav.me/d5ijy0a

Sweetie Belle

blueblitzie
DONE
File:
fav.me/d5ijxsx

Spike and Peewee

ZanderalS
DONE
File:
fav.me/d5ik99l

Chrysalis

Psyxofthoros
DONE
File:
fav.me/d5iklhl

Pinkie Pie

VladimirMacHolzraum
DONE
File:
sta.sh/01dycllpkj7f

Rainbow Dash

DaringDashie
DONE
File:
fav.me/d5ilzbu
(New version by
UnimportantUsername
:
zutheskunk.deviantart.com/art/…
)

Cloudchaser and Thunderlane

Atmospark
DONE
File:
fav.me/d5ioymf

Cranky

Pirill-Poveniy
DONE
File:
sta.sh/02diae80m6qz

Tank

Psyxofthoros
DONE
File:
psyxofthoros.deviantart.com/ar…

Bon Bon

revelersapprentice
DONE
File:
sta.sh/01y70jl8kjpe

Diamond Tiara

alien13029
DONE
File:
fav.me/d5ikvqq

DJ Pon-3 and Octavia

Yanoda
DONE
File:
fav.me/d5iq3ym

Big Mac

DDHyuugaman
DONE
File:
fav.me/d5iqy7q

Rumble

DaringDashie
DONE
File:
daringdashie.deviantart.com/ar…

Carrot Top, Berry Punch, and Colgate

DrFatalChunk
DONE
File:
fav.me/d5iyinx

Mr. Cake

blueblitzie
DONE
File:
fav.me/d5iyjox

Blossomforth

Kired25
DONE
File:
fav.me/d5iyv46

Angel Bunny

SnowFlight96
DONE
File:
fav.me/d5izamx

Walter Coltchak (tan pony with sunglasses)

SilverRainclouds
DONE
File:
sta.sh/02f2cb2tiys2

Winona

PsychoanalyticBrony
DONE
File:
sta.sh/01z4fzjbi6d3

Rarity

MysteriousKaos
DONE
File:
sta.sh/0h6psol7eos

Fancy Pants and Fleur de Lis

mattyhex
DONE
File:
mattyhex.deviantart.com/art/Fa…

Cerberus

RainbowDerp98
DONE
File:
rainbowderp98.deviantart.com/a…

Discord

piranhaplant1
DONE
File:
sta.sh/01lb8fjy3sqr

Wild Fire

Stabzor
DONE
File:
sta.sh/02emgoqcs9ik

Snowflake (muscular pegasus)

Silentmatten
DONE
File:
fav.me/d5ja8qw

Gustave Le Grand

mattyhex
DONE
File:
fav.me/d5jbblx

Granny Smith

revelersapprentice
DONE
File:
sta.sh/01p11lq7k91r

White goat

mehoep

mehoep
DONE
File:
sta.sh/0k75cri3b3b

Screw Loose

Psyxofthoros
DONE
File:
fav.me/d5jnu1f

Zecora

Stabzor
DONE
File:
sta.sh/02exdonnxrdy

Featherweight

UnimportantUsername
DONE
File:
sta.sh/011hzshaf7o2

Filthy Rich

Psyxofthoros
DONE
File:
psyxofthoros.deviantart.com/ar…

Crafty Crate (cherry vendor from Putting Your Hoof Down)

mehoep
DONE
File:
sta.sh/028idcdvx9le

Cherry Jubilee

revelersapprentice
DONE
File:
sta.sh/02zpl6lpq0q

Owloysius

revelersapprentice
DONE
File:
sta.sh/087ms158aj0

Mayor Mare

revelersapprentice
DONE
File:
sta.sh/01zwk4ghbauu

Derpy Hooves and cloud

Derpwave
DONE
File:
sta.sh/0s39dlmtb7f

Donut Joe

revelersapprentice
DONE
File:
sta.sh/0wsfq8w0pvi

Doctor Stable (doctor from Read It And Weep)

Ambassad0r
DONE
File:
sta.sh/02550qqqg196

Mrs. Cake

DDHyuugaman
DONE
File:
sta.sh/01u07fpqzdk4

Jesús Pezuña (dark brown stallion with pulled back mane)

DDHyuugaman
DONE
File:
sta.sh/0uab0folevo

Opal

mehoep
DONE
File:
sta.sh/01jayqo3cxo5

Lily

Parclytaxel
DONE
File:
sta.sh/027rmqkyba8x

Gizmo (asparagus buying pony from Putting Your Hoof Down)

DDHyuugaman
DONE
File:
sta.sh/01a47ekf82g5

Theodore Donald "Donny" Kerabatsos (light yellow stallion with parted mane)

SilverRainclouds
DONE
File:
sta.sh/019ly8gzkirr

Flim

laberoon
DONE
File:
sta.sh/0ol2huv70ha

Pipsqueak

Midnight--Blitz
DONE
File:
sta.sh/01byssvvqp9l

Mare-Do-Well

revelersapprentice
DONE
File:
sta.sh/0253hh70d6ni

Matilda

piranhaplant1
DONE
File:
sta.sh/022od50uiemg

Flam (the one with the mustache)

zomgmad
DONE
File:
www.dropbox.com/s/vhw9oa984icr…

Allie Way

VladimirMacHolzraum
DONE
File:
sta.sh/02965hn765lu

Iron Will

Ambassad0r
DONE
File:
sta.sh/011f8m738hy4

Vigilance (security guard)

revelersapprentice
DONE
File:
sta.sh/01bcqw0jgtg3

Swan Dive (wearing hat with swan on it)

mehoep
DONE
File:
sta.sh/01sluj87jh2c

Roma (tomato vendor from Putting Your Hoof Down)

BaumkuchenPony
DONE
File:
sta.sh/0nl6gmemyvw

Gray goat

Trildar
DONE
File:
sta.sh/01q9fe033kjw

Turf (asparagus buying pony from Putting Your Hoof Down, has purple shirt and orange mane)

piranhaplant1
DONE
File:
sta.sh/01qmaegh3k0u

Strike (gained bowling cutie mark in The Cutie Pox)

Stabzor
DONE
File:
sta.sh/021lftoha3uo

Garble, Mulia Mild, Pish Posh (gray pony with purple mane and ruffle collar), Surf (asparagus buying pony from Putting Your Hoof Down, has red shirt and blue mane)

DDHyuugaman
DONE
File:
sta.sh/2gz94qso2wx

Changeling

sharydow
DONE
File:
sta.sh/213r4t0a144i

Daisy

areyesram
DONE
File:
sta.sh/0ameou24382

Princess Luna and Scootaloo

abydos91
DONE
File:
fav.me/d5p2qm6
(New version by
UnimportantUsername
:
sta.sh/0lrxuftp7yf
)

Vance Van Vendington

laberoon
DONE by UnimportantUsername
File:
sta.sh/03wdgc646as

Ahuizotl and Daring Do

BonesWolbach
DONE by UnimportantUsername
File:
sta.sh/07rpv2usc5b

Rose

RainbowRage12
DONE by UnimportantUsername
File:
sta.sh/010wlcxsasxm

Cadance and Shining Armor

Tim015
DONE by UnimportantUsername
File:
sta.sh/01nvmbipd6l8

Snips and Snails

UnimportantUsername
DONE
File:
sta.sh/0146x4n6bp0i

Crackle

UnimportantUsername
DONE
File:
sta.sh/016mhrpvi5zd

Truffle Shuffle

UnimportantUsername
DONE
File:
sta.sh/01wh85kgv9sw



Object Reservations:



Finished

Iron Will brochure

Loaded--Dice
DONE
File:
loaded--dice.deviantart.com/ar…

Ms. Smarty Pants doll

revelersapprentice
DONE
File:
sta.sh/02e41nziewdy

Hourglass

Loaded--Dice
DONE
File:
loaded--dice.deviantart.com/ar…

Airship

Pirill-Poveniy
DONE
File:
sta.sh/0j1htdrkso7

Statue with trumpet

VladimirMacHolzraum
DONE
File:
fav.me/d5jeo7a

Confetti

mehoep
DONE
File:
sta.sh/01c9s2cv5rlg

Statue with scepter

revelersapprentice
DONE
File:
sta.sh/01z51oq6u3ve

Statue with flag

Yanoda
DONE
File:
sta.sh/01ousxqa5is7

Train tracks

UnimportantUsername
DONE
File:
sta.sh/01xgd32zq8yr



Background Reservations:



Poster with Background Regions:
sta.sh/0cgs58d1mxr
Background Section Reservations
Finished

Section 7 - Friendship is Magic Logo  
DONE
  File:
minus.com/lIs8Foep9516w

Section 3 - Train

alien13029
DONE
File:
alien13029.deviantart.com/art/…

Section 2 - Courtyard

revelersapprentice
DONE
File:
sta.sh/0jqtprbx5qj

Section 1 - Logos

joeyh3
DONE
File:
sta.sh/01cobtfivq3u

Section 4 - Hills

joeyh3
DONE
File:
sta.sh/01cobtfivq3u

Section 5 - Hedge Maze

joeyh3
DONE
File:
sta.sh/01cobtfivq3u

Section 6 - Sky, Clouds, and Hill

joeyh3
DONE
File:
sta.sh/01cobtfivq3u