This is now the second time I've managed to feature a villain in these Goodnights. A personal victory. Huzzah!
Hope you're all doing well on this
Chrysalis Celebration Day
. Even villains need some love. Just not too much or they conquer everything.
Thanks to

for the hillside vector: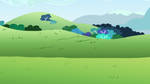 And thanks
Pinkie Pie Says Goodnight
's creator, Undead Niklos

!
Image details
Image size
2000x9689px 5.07 MB