I'm so happy, I finally finish her reference sheet !! TwT <33
You can find up here all the different frames not animated
I changed a little the feline design of Shiroki... uwu
Sorry if I have a bad English sometimes twt
I hope you will like it ! ^^
---
★ Shiroki Ottomiru★
"I would fight for justice and to never see anyone suffer the monstrosities that I have endured !
Neither you nor your entire organization can stop me from defending the innocent of this cruel world "


■ Name || Shiroki Ottomiru
■ Japanese Name || Ottomiru Shiroki
■ Rōmaji || 哎呀白城
■ Alias || Hoshiro ( ほしろ Hoshiro )
■ Epithet || Smilodon Hero ( スミロドンヒーロー Sumirodon Hīrō )
■ Nicknames || Shiro, Shiroki-chan, Cotton hair (by Katchan), my darkness' queen (by Fumikage)
■ Birthday || July 20
■ Age || 15 ( first appearance ) / 16 ( current)
■ Gender || Female
■ Height || 157 cm (5'2")
■ Hair Color || White
■ Eye Color || Galaxy
■ Blood Type || B
■ Quirk || Astral Feline
■ Status || Alive
■ Occupation || Student
■ Affiliation || U.A. High School
■ Team(s) || Team Midoriya
■ Fighting Style || Melee + Ranged Combat

■ First Appearance:
Manga: N/A
Anime: N/A
■ Portrayal:
Ja: Kana Hazanawa
Eng: N/A In progress
◣ A b o u t ◥
███ Short Introduction
Shiroki Ottomiru (しおっろとき みる Ottomiru Shiroki ), also known as the Smilodon Hero:
Hoshiro (スミロドンヒーローほしろ Sumirodon Hīrō Hoshiro), is a student in Class 1-A at U.A.
High-School, training to become a Pro Hero.She is a protagonist of My Hero Academia and
the main antagonist of own of its spin-off.


███ History
-Childhood-

Shiroki was born July 20 and it was an exceptional day =
She was suddently born at her home, *E.O.H and all the journalist were here to see the Ottomiru's successor.
At her birth she got blue eyes
There was snow which fall from the sky and cherry trees were in bloom.
It was really strange to see something like this in summer.
Some people says that it was her father who change intentionally the weather.
That's why they'll call her Shiroki. Shiro = white in japanase and "ki" is a suffix used for girls meaning beauty.



-Shiroki's secret-
• Before Shiroki was born, the rumor of a child prodigy by the two legendary heroes Densetsu and Yuridea comes into all the Japon.
Her father, Densetsu is famous by the fact he is a giant who would be immortal.
Shiroki Ottomiru has been kidnapped by a circus boss while her parents was talking to journalist in their reception room.
After this she was put in the circus troupe, she never do any show, she usually admires and consider the clairvoyant as her best friend.

•One day when All Might comes to the circus to checked if everything were all right since there were scandals about the circus.
The clairvoyant said to Shiroki that he was her father to give her hope and brave.
She was used to sleep in the lions' cages and to talked to them.
The boss was thinking she was a weirdo and unable, she didn't know he was waiting that her quirk showed up to select the best price for her.

• She will be abused and overworked at the age of 4 when her quirk (Smilodon) will wake up and scared the owner.
When she tried to escaped from him, she ran to her best friend but before she can hug her, the boss shot the clairvoyant.

• After that he will sell it to a group of satanic fanatics. She is used for rituals, to invoke a demon with the soul of a "immortal".
Until this she was locked in a big cage in the darkness, she fall more into depression : she hates her quirk and felled guilty of her friend's
murder but she still hoped to see her father stopped the villains.
The day she should be killed, she meets the demon in the cage.
she makes a pact with a him to survive, she gives her coveted immortality and signed a pact with him.
Since she her blue eyes turned into galaxy she always see the demon in her dreams or sometimes in the real world.
With the demon's power she burned the crypt with the satanic fanatics.

• She ran to the outside to find All Might who was sent to arrested the villains.
Since she was thinking he was her father, he will take care of her with the help of her acquaintances until they find her biological parents.

-Adolescence-
Shiroki had difficulties but tries to get used to popularity and her new family life (formerly All Might)
She noticed that the pact had consequences , one day she transformed her hands into paws but accidentally she scratched
the bottom of her chest and her slits were really strange, they were like galaxy and closed itself under 15 minutes.
She tried to saw with the demon what will be its use. She puts things in, but when she puts 7 objects she threw everything out
as a strange galaxy liquid. She became worried about all the stories with galaxy things and hide her power.
She always wanted to go to high school, the first time she tried, many students didn't stop to followed
and asked her questions about her past life and her comeback. While she waited her father to brought her back home,
she was chilling in a little deserted park in front of the school. Suddenly she saw a boy eating an apple and reading a book on a tree branch.
When she saw him she continues to starred at him and to walked when she fell on the ground. He jumped of the tree to help
her and they started to met each other, they were both lonely into their school, he shared about his dream and his ambition with her .
When she came back to home she stopped to went to her ancient school to chilled in the library of E.O.H where she fell on a hero's journal.
She continued to go met the boy of the park, they talked hours about heroes and every times they saw each other she comes and brought a cake,
a pie or a candy made with apples. He made her discover many things like the candy apple or new novel by his favorite author.
But from one day, she continued to went at the tree and he wasn't here, he disappeared without a trace.
This event made her sad for a very long moment but with it she started to be more open to others people.
She was fascinated by heroism and spent her time studying alone heroes and astronomical constellations in the library.
She made a request and was educated at her home to be able to enter a high school of heroes in the future.
-Present-
Shiroki entered 1-A at the U.A High School, she made new friends (Ochaco, Mina, Momo, Fumikage and Shoto).
She enjoys talking about heroes and to share their journals together with Izuku and regularly enjoys eat with him and All Might. Suprisingly
she knows about All Might and Izuku secret and is totally okay with. She is appreciated by the whole class and has secretly fallen in love with Fumikage.
The first time they meet in the class they didn't recognize each other, but when she sees he usually eat apple, she had a flash. What if he was the
one who bring her support and interest when she needed it so much ? Since she didn't remember exactly how the boy looked she started to secretly
put in his locker the same gift made with apples early in the morning. She usually did it and noticed that since she started Fumikage seemed more relaxed
day by day. At his birthday she cooked a cake. When she tried to put it in his locker, she was surprised by Fumikage who was waiting for her, the surprise
made her fell on the ground with the cake. Since they start to chill more often and usually eat Shiroki's cake together. She loves chills with her friends and is
always happy to have new ones. Her quirk is a big mystery in all the class, many people asking themselves how look her 100% form.
She is an excellent student and is promised to a excellent future according to Mr Aisawa.
*EOH : Enterprise Ottomiru Heroes = large gathering of offices, marketing, management and support agencies as well as the Ottomiru family home.)
---
◣ A p p e a r a n c e ◥
---
███ Appearance
Shiroki is a young girl with a fair skin but very strong thanks to her many trainings to become a professional hero. She owns 3 pink birth marks in the shape of claws on each cheek with a small plump nose. Her teeth, like a feline are different from the human ones, she got fangs. She has galaxy eyes and long white hair similar to cotton with a bangs made by her hair put behind her right ear, as well as 2 locks which falls over her chest and which falls on her back.
At school, Shiroki wear the standard U.A. uniform and light beige gaiters with the usual knee-high socks worn by her other female classmates but she only button one or two buttons on the top of all the buttons on the jacket.
Shiroki's casual ouftit usually consists of confy pastel dresses or sweater and skirt with stripped stockings and boots.
Her hero costume consists of a navy blue leotard with an turned collar which is golden on a side and sleeveless, the top imitates a suit which is open at her bottom chest level with an imitation of folded shirt. The suit exposes its skin at the level of the navel, dividing in half from behind which wraps around itself on the end. The bottom is buttoned with 4 golden buttons and the bottom end of the leotard and pants is frilly internally gilded. His feline ears are protected by azure shells against loud noise, shock and water and his eyes by an azure mask as well as long fingerless white gloves and white boots striped golden with several cotton padded peaks which retracts on the ankles and wrists during hands and feets transformations with several cotton padded peaks.


---
███ Personality
Shiroki is an energetic, cheerful and extrovert teenage girl, she loves studies and respect sincerely every pro-hero. She usually pass her time to training and to study every hero who works at E.O.H, for the hero it can looks a little creepy since she can starred them for a very long time, but, the people the most closed to her parents are more used of it and find it cute. Most of the time she learns a lot with them. Since she thinks her double guirk is a curse, younger she see a psychologist and with time she go out of her depression. She decided to turn this old curse into a blessing for the others and study all the common points her quirk have with the others to understand it.
She really likes when the others calls her by nicknames, she can become close friends with anyone who act friendly with her so she usually feel destroyed when they abandoned her.
She prefers to act confident in front of the others to hide the fact that she is really sensible, she cries easily, from her only day at high school people calls her "crybaby".
She is describe my most people as a elegant and wise person but in reality she is extremely clumsy and absentminded. When she carries many things she can be distracted by all or nothing and can suddenly falls on the ground, but not in the way of a cute anime girl.
When people are in danger or have problems she don't hesitate to risk her life for them. Her goal is to use her quirk to bring hope and brave in every heart, she will fight to bring joy and justice.
She was used to mockery but she never stopped to believed in her dreams.
███ Likes
✔ All Might
✔ Lily of the valley
✔ Cook
✔Candy Apple
✔ Look at the stars
✔ Comfy Pillows
✔ Sushi with sweet soy
✔ Horrors Movies
✔ Pastels color


███ Dislikes
✘Circus
✘Cage
✘Loneliness
✘Her vulnerability
✘Profiteers
✘Bullies
✘fluorescent colors


---
◣ A b i l i t i e s ◥
---
Overall Abilities:
In progress
███ Quirk
Astral Feline (アストリアネコ Asutoraruneko) is a double quirk
Astral
Shiroki's Quirk gives her the ability to expel from her tail and fingers a thick fog which represents the galaxy. It doesn't have his own mind so Shiroki can change it easily, she usually use the physical form of her fog. She can grab objects from long distances and also throw people and herself into the air. The first version of the fog allow her to disturb her ennemies to camouflage herself to ambush them and where only her can see. It's a good way to isolate one or more ennemies from the outside world. The fact that she can create events in is thanks to the time when she goes make pact with zodiacs sign in their temples. The events can be the tiredness, lights, colds, burns or its physical form.
Feline
Shiroki's Quirk gives her the ability to transform into a white smilodon, she have the ability to transform each party of her body. She never tried to transform her body entirely at 100% because she can loose control and become as wild as the smilodon, she usually is at 1% make appears ears, tail and paws in her human form. She have the ability to be really fast and to have a really good hearing and sight like a real feline but when she is tranformed her weakness are the loud sound and the water. She can lengthen her tail at 10 meters when she is at 100%

Moves

Move Name: (Description of move)
In progress




███ Stats
Power:





3/5 C

Speed:





4/5 B
Technique:





4/5 B
Intelligence:





5/5 A
Cooperativeness:





5/5 A


███ Equipment

Start: (Any equipment that they may use or may be part of their hero costume to help deal with parts of their Quirk or make using their Quirk easier, such as Momo Yaoyorozu's costume.)
---
◣ B a t t l e s & E v e n t s ◥
---
In progress





---


◣ M i s c e l l a n e o u s ◥
---
███ Relationships
Other Students:

Yuchaki Sagihato
Anna Kimotchi
███ Trivia
In progress

███ Quotes
In progress
Original template (c) dre-tama | modified by Phantom-Otaku
Thanks to

for the bio reference and to

for the base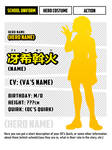 Image details
Image size
823x1100px 756.04 KB