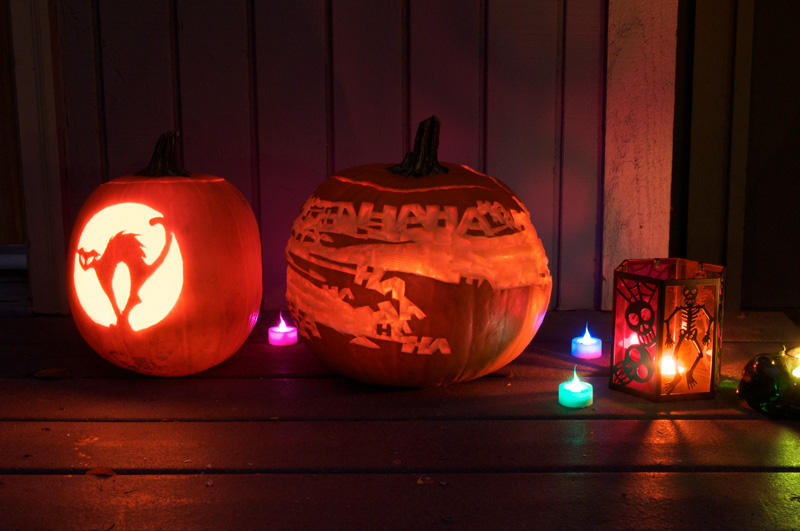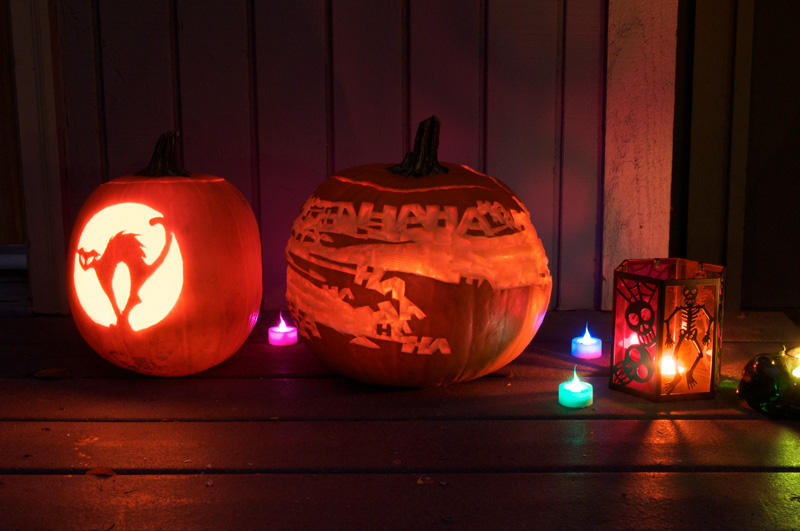 This year's pumpkins. Skinny cat made an appearance on the small pumpkin (10 minute carve), alongside the Locked Maze laughter pumpkin (8 hours carve). The latter is sadly quite literally made from my blood, sweat, and tears. The inside was bright red by the time I finished after carving up my fingers in addition to gourd, x-acto knife NOT being the ideal tool for this type of carving.
Some other angles of the Difficult Pumpkin (fb):
[link]
--
2006:
[link]
2007:
[link]
2008:
[link]

That's some pretty nice carving there. We do ours from patterns.

It's safe for those of us with less artistic talent.
Reply

Yes exacto knives have many purposes, but pumpkin carving isn't quite the best one
Reply

Reply

What did you use to do the cat if it took you 10 minutes?? Granted I only had a knife, a grapefruit cutter and a stanley knife, but it took me quite a long time. Experience helps, I suppose.
Amazing work, on the difficult one in particular.

Reply

BTW, your version of skinny cat was lovely. I've been using the Official Tools for so long, I forgot how beautiful the candlelight looks off the irregularly cut and scooped innards... it's like an abstract painting, or watercolor wash. Modern technology => boringly smooth pumpkins.

Reply

Thank you very much

. Over here we've never really been into pumpkins that much, but this year I thought it might be fun. The two pumpkins were very different, actually. The first one I did had much less stringy insides - after the initial scooping of the innards, a little whip-round with an ice cream cone had it nice and smooth. For the cat though, it was so much more stringy. Also, finding a balance between thick enough not to break and thin enough to carve was pretty difficult, I found.
All in all, very happy with the results

.
Reply

They sell those little $5 pumpkin carving kits at my grocery store with a teeny-tiny battery-powered carving saw. Combine that with a good specialty pumpkin scoop to empty out the seeds and smooth and thin out the pumpkin wall, and it's just a matter of tracing over the pattern with the saw. Now someone just needs to make a specialty pumpkin-carving, battery-powered, kid-sized, detail sander for the two-tone patterns and I'll be set!

Reply

fuck man those are amazing!!!!
Reply

Thank you! We only had 4 trick-or-treaters, so at least I have a photo to share or it would have all been for naught.
Reply

I love the pumpkins but in my country we don't have pumpkins so I can't do art like yo did

Reply