Welcome to my page
Hi everyone, welcome to my wall
Um you can call me Kirina or Kiri. I'm 16 years old and now in high school (I hate school

). Really want to draw but don't have time

but feel free to ask me about Art trade or collab.
I mostly draw chibi style ;; v ;; I usually draw UT, my favorite char are Chara and Sans

(I ship them so muchhhhhh). My sencond OTP is Charisk >v<

Now I'm in a lot of fandom now (LOL) not only UT, I'm also like BATIM, Cuphead, Doki Doki Literature Club (I just don't have time to draw them yet, but I'll draw soon

)
Visitor from all over the world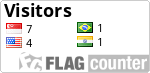 Stamps !!!
Thank you for all the watch, fav, comment, give Llama - It's mean a lots with me
Favourite Visual Artist
Don't know :p
Favourite Movies
Cartoon, Anime
Favourite Bands / Musical Artists
Miku Hatsune
Favourite Writers
Don't know :p
Favourite Games
Don't know :p
Favourite Gaming Platform
Don't know :p
Tools of the Trade
Don't know :p
Other Interests
Listen to music, read book, ...