You may have noticed that I am now marking all my images as mature, ideologically sensitive, violent, toxic, infected, and otherwise unfit for anyone...
...who isn't a grown-up with enough sense to be able to decide what they want to look at.
I am utterly, totally, thorougly sick and tired of people who seem to think that the world should be free of anything that offends them. In case anyone hadn't noticed, it's
impossible
to live your life in this world without something annoying you; it's either going to be a jackhammer breaking cement at 7:00am, or chewing gum on a sidewalk, or a couple of pixels of nipple-JPEG on a thumbnail that you had to click and
look at closely
to verify that those might be nipple-pixels before clicking on the "report deviation" button.
So, I've decided that, from now on, my art is not available to anyone who isn't willing to say, right up front, "I'm willing to see gore, violence, ideologically sensitive, nude, etc" content. If you're willing to see that, you'll have your preferences set so that you can see my art. If you're not? One of two things:
1) too bad for you.
2) you're too young according to the stupid 18+ rules.
18+ is another topic I should not go into right now, but - simply put - it's really fucking stupid to not let an 17-year-old girl see pictures of a 20-year-old girl with her shirt off. Can we get real for just a second?
Anyone who is blocked by the age filter from seeing any of my photos, just email me and tell me what you wanted and I'll email it to you. If you're grown-up enough to email me and ask, you're grown-up enough to take a look at naked boobs. Period.
Why?
I've ranted about this topic before because stupidity in all its forms offends me deeply. What set me off this time is that some idiot complained that these two images: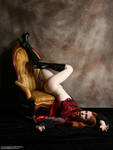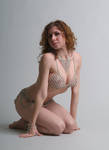 are mature content. And some gutless DA drone went and sent me a "violation notice" and put a mature flag on them. Yes, a "violation" occurred - but it was only a violation of common sense. Anyone who is old enough to walk down a street in a big city, or go to a bookstore or magazine stand, or turn on a television - is going to see more "mature" content than is in those pictures.
In fact, Disney's(tm) Little Mermaid(tm) is showing more "thigh" than Sinned-Angel is in my oh-so-mature image of her. Reality check:
(avert your eyes!)
Yes, it's DA's rules and I am going to follow them scrupulously. As I said, from now on my images are all mature, violent, gory, ideologically sensitive images. I.e: they're only for cool people who can cope with the real world.
I need someone who's got a really cute little blue-eyed blond child they can lend me for a photo concept. I want to shoot a photo of a pair of proud parents gouging that child's eyes out with a spoon so that it can walk down the street safely without seeing anything "offensive." Because, to me, the real offense is there - that people are willing to make weird intellectually inconsistent steps to "protect" someone from the real world. You're also protecting them from beauty, knowledge, elegance, and - in the long run, which is worse?
A couple weeks ago I mailed a package of

porno magazines to a friend's 13-year old son. At the very least it'll save him having to shoplift a copy of Playboy, like I did when I was his age. I sent him two things: a couple copies of Perfect-10, and a couple of "men's adventure" magazines from the late 1950s. Guess which one was full of violent imagery, Nazi prison guards, gangsters, and ladies in their underwear? And guess which one was full of pretty ripe girls with bare boobs? Guess which one he liked better? Hellloooo, america? This is a normal teen-ager we're talking about. Mask the "mature content" from him and feed him Arnold Schwartznegger movies instead of cheerfully bare boobs and maybe he'll want a machine-gun instead of a girlfriend. (the little voice in the back of my mind says: "why choose? I'll get 'em both!")
Anyway... I am thinking of starting a "get the chickenshits off the internet" campaign. Maybe if the folks who provide good content mark everything as all the mature content flags turned on, then all the cool people will look at it anyway and the idiots will be left with nothing but pictures of puppies and flowers and chubby little angels.
Not
mind you that I have anything against puppies, flowers, or pedophilic angel porn - being a person who's unafraid of any content, I see those,
too
.
I support

I am going to change my stock usage rules to read "you are not allowed to use any of this stock if you use the mature content filter." Because if you support this nonsense? My art is not for you. I am also going to create a deny list and if you're on it, you can't use my stock. If you do not support my position on this? You can't use my stock. My art is not for you.
Update:
I guess my journal entry must have pissed off one of the complainers 'cuz now I am getting more images re-tagged. Like this one: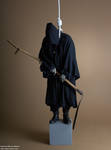 Oh, yeah, that's violent and ideologically sensitive and -
what-evurrrrrr
....
And today's "violation report":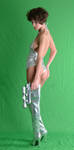 needs a mature content tag. I guess I tweaked the prudes' noses and I'm in for a big spate of revenge taggings. People really make me want to puke, sometimes.
mjr.