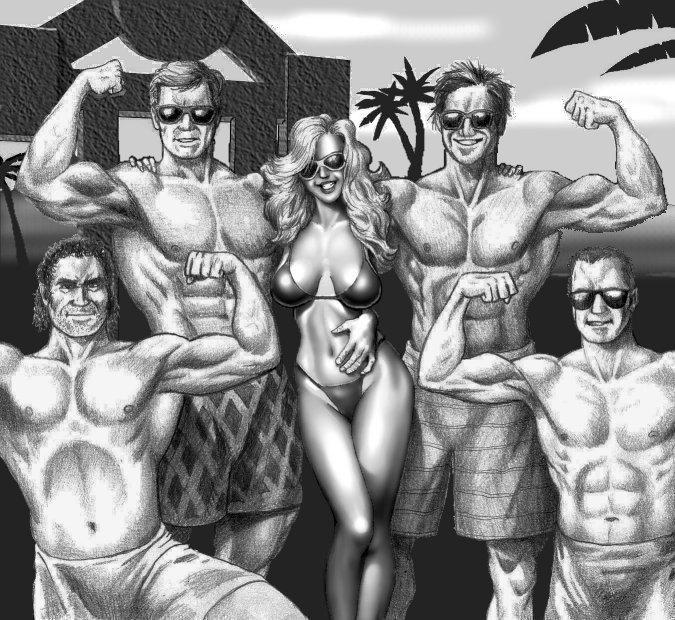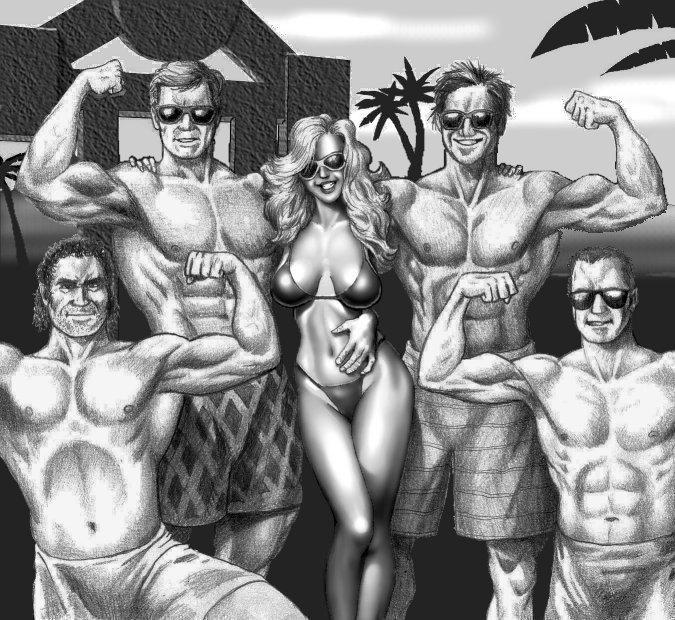 Watch
When Joanna posed for the adult magazine Pipe Dreams as Miss October Dream Girl 1995, this pic was one of the many photographs that were included in her pictorial. Typically a centerfold pictorial includes a few photos of the model out and about town doing what they normally do when not modeling or looking glamorous. One of Joanna's favorite haunts was Muscle Beach, where she flirted and had become close friends with some of the bodybuilders there. This pic was with four of her closest friends from Muscle Beach, all of whom have become like a second family to her. They are: (lower left) Ahmed Banir, (upper left) Brett Ely, (upper right) John Erikson, and (lower right) Jesus Garcia. All four of the them are local bodybuilding champions and have been the best of friends since they were in grade school.
This isn't actually a photograph, obviously, but one of the many projects I want to do is illustrate Joanna's centerfold pictorial as it appeared in Pipe Dreams, as described in "Joanna on Super Earth, Part 16 (
mjarrett1000.deviantart.com/ar…
) under the chapter "Payoff for Don". It's gonna be a lot of work but it's something I've wanted to do for a while.
I admit I used a photo reference for this drawing, something I haven't done in ages, but I wanted to give the bodybuilders a more real appearance instead of the comic line drawing I usually do. Joanna, of course, was done freehand (no visual references, just my minds eye).
I'm not happy with how the scan I made brought out the paper's grade. In the original drawing the skin tones are smooth and blended. I dunno what is up with that. So, I am retouching it and smoothing out the skin in Paintshop. I'm pretty happy with Joanna's appearance now so I'll be working on the others and updating it as I go. My first attempts at making the men's skin look realistic were disappointing. This may take a while.