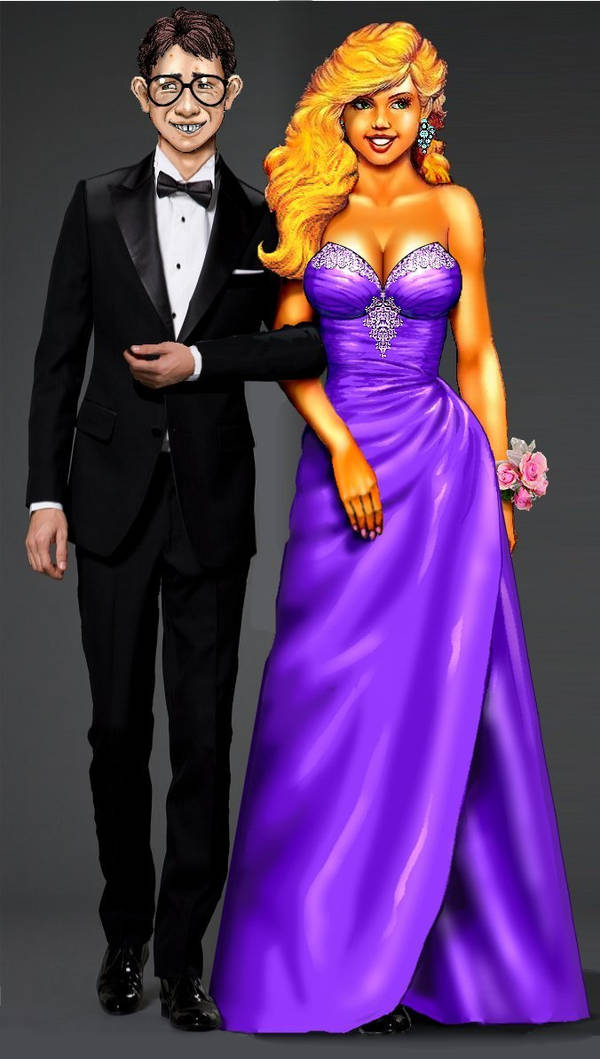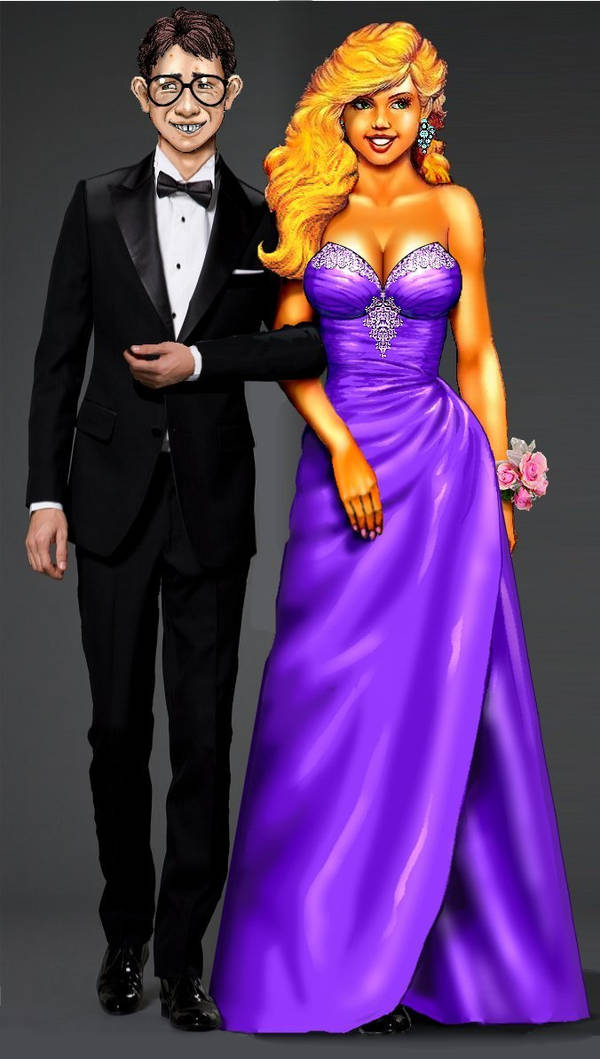 Joanna promised to be Malcolm Horowitz's date for his senior prom if he managed to get back on the honor roll. With a proposal like that, Malcolm became a very studious young man.
In this drawing we see Malcolm showing up to his senior prom with his gorgeous date on his arm. No one could believe their eyes.
This is chronicled in "Joanna on Super Earth, Part 15" (
[link]
) under the chapters "Resolutions" and "Prom Night".
I'm really happy with the way Joanna's dress turned out. What about you?


Reply

Reply

Malcolm says........Dad, look how sexy and beautiful my prom date is!
Dad says......see son, I told you it was in your jeans, .....oops I meant genes.
Reply

Love the folds in the dress. Great color. Beautiful work.
Reply

Yes, Joanna has a fantastic body, but I have to hand it to you - she has an adorable face. I've seen so many artist focus on one and not the other. Well done.
Reply

Thanks! I try not to over-emphasize body parts so as to retain a sense of cohesicveness. A lot of the boob pages on DA make the boobs ridiculously large, and I don't like that. I love boobs, but women aren't just a collection of body parts to fulfill men's fetishes. I spent a long time trying to get Joanna's face the way I imagined it, and I came up with this about...er...20 ears ago? Has it been that long? Hmm. Anyway, it was long before Jessica Alba came onto the public scene, so no, I didn't copy her. She's close, though. Kind of a cross between her and Charlize Theron.
Reply

Yeah, I see that now. Men love a baby face, and she definitely has that. There is something in your art style that reminds me so much of an artist from Dragon Magazine. For some reason, Phil Foglio is coming to mind, but I don't think that's the one. Maybe its Fastner & Larson. Either way, keep up the great work! Oh, and I agree with you 100% on women not being a collection of parts and the ridiculousness of a lot of DA art. Thanks
Reply

I like Jo's dress in this one Matt. But hey, are we ever going to see the end to "A Leisurely Stroll?"
Reply

Yes, but I've got at least two other commissions to do first. The only reason I posted this was because I had already had this one done and felt I needed to post it after writing the "Errand of Mercy" short story.
Reply

Hehe, his ears are bigger than I thought he'd be. Such a shame for his fate in the latter chapters, I had half hoped with the "confidence" that Joanna gave Malcom he'd become some sort of tech billionaire.
Reply

Malcolm had to stay in therapy for many many years, LONG after Joanna had disappeared. Understanding obsession from all the Psych and counseling classes I've taken, I know that Malcolm would never quite get over her, and it would have detrimental effects on his professional life. Malcolm became an accountant, but remained a mid-level employee all his life despite his impressive resume of having graduated from Yale. He simply was an unremarkable and unfocused employee, and never got much recognition. He also remained single all of his life until, in his 50's, he met a lady his same age at his synagogue, they fell in love, and got married. Both were too old to start a family, but grew old together, living a simple life.
Reply

Oh and Joanna's dress is excellent.
Reply

He's a very lucky nerd

Reply