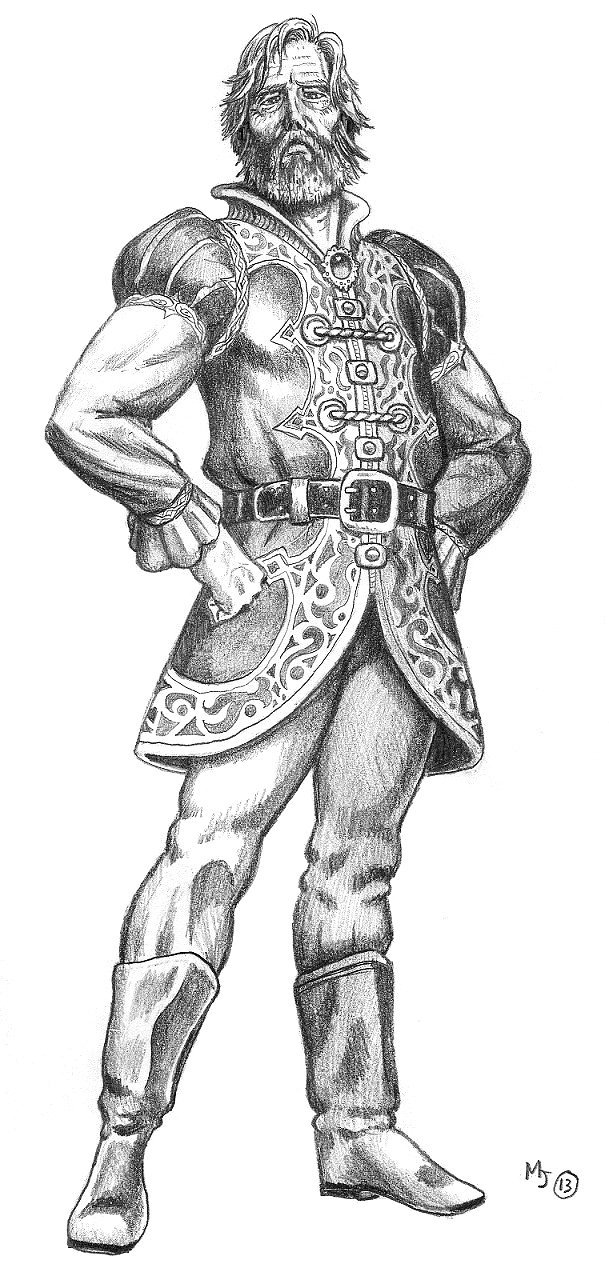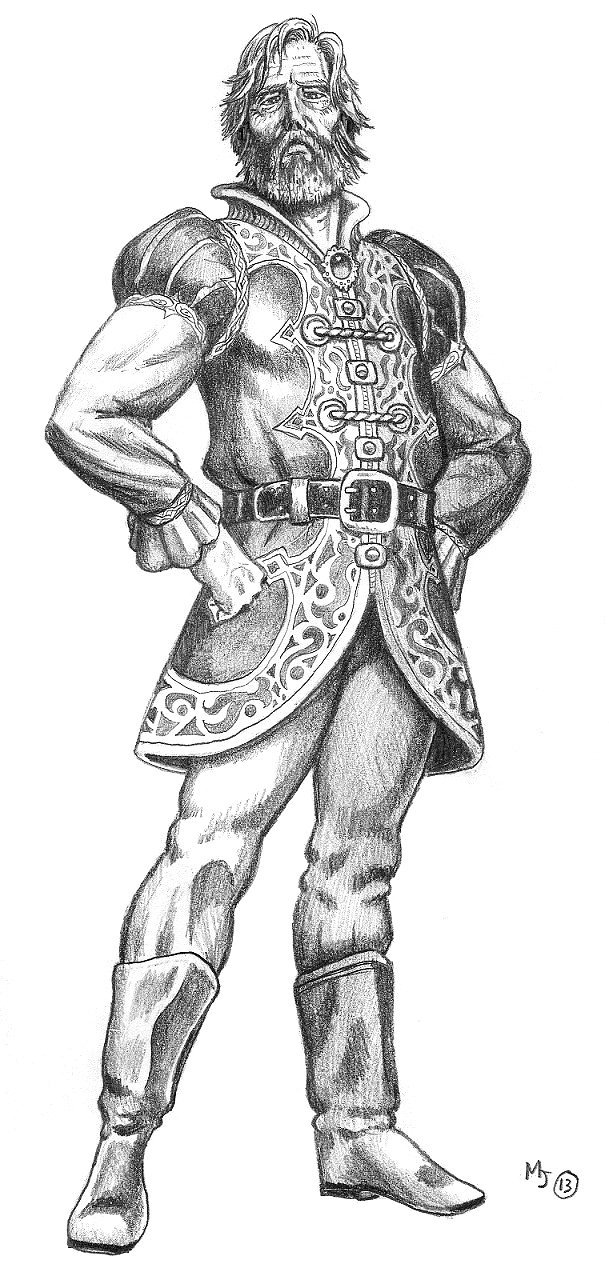 Watch
This is Kant Dimuril, Lord Mayor of Highport whom Joanna had dealings in "Joanna's Oerth History, Part 3" under the chapter 'Kant Dimuril", found here (
mjarrett1000.deviantart.com/ar…
) . Kant is quite tall (6 feet 4" (193cm), and was in his late 60's when he met Joanna.
Kant Dimuril
Born Reaping (July) 15th, 519 CY
History
Kant is the youngest son of a famed ambassador in Gryrax, the capitol city of The Principality of Ulek. A brash, rebellious and headstrong youth, Kant was a major source of woe for his diplomatic father until finally his father was forced to send Kant off to a the University in Greyhawk City where he would learn the fine art of diplomacy from the finest minds on Oerth. While in Greyhawk Kant was a quick study and later used his newfound knowledge of the law and his diplomacy skills to literally blackmail his father into giving him his share of his inheritance in advance, not willing to wait for his father's death. It was payment, Kant reasoned, for sending him off to University against his will. However, only a few months after receiving an enormous sum of money from his father, Kant dropped out of University and spent the following years squandering his inheritance on wine, women and fun.
During this time, Kant's father grew ill and died, yet Kant was so self-absorbed and hedonistic he didn't even bother traveling to Gryrax to attend the funeral, which infuriated his elder brother. Eventually Kant's money ran out, and with it went the women, the wine, and all of his so-called friends. By that time Kant was addicted to opium and he pleaded for his brother to give him more money but was rejected outright. Desperate to supply his habit, Kant scrounged for whatever odd jobs he could find but his reckless behavior had garnered him a bad reputation and he had difficulty finding work. Finally he resorted to prostitution and became moderately successful in that enterprise, entertaining both female and male clients (even though he himself was heterosexual). However, his success earned him the ire of his competition, resulting in a alleyway beating that left him close to death and he would have died had it not been for the timely arrival of the elf Sidiya, who took him in and nursed him back to health.
Sidiya was the last remaining priestess of
Ixcuiname
, the an obscure Ohlman Goddess of Love and Pleasure. She took Kant with her back to the Pleasure Dome of Monmurg, a giant world-renown brothel and gambling hall where she lived and worked as an instructor of the new pleasure slaves. Sidiya was the author of the Hiral Sai, a codex of innumerable sexual techniques she had gathered from traveling to hundreds of worlds and spanned 500 years of her life, and with that knowledge and experience she taught the new recruits of the Pleasure Dome to become masters of the erotic arts. She took Kant under her wing, cured him of his addiction to opium and taught him all the ways of the Hiral Sai. He was such an adept student and proficient in the art of lovemaking that he was quickly promoted to be the new Head Instructor of the pleasure slaves, a duty he performed masterfully for the following 15 years. His students became unparalleled in the act of love.
A few years into his tenure as the head instructor at the Pleasure Dome he discovered a young runaway named Mekali hiding in his bedchambers, and took her in to protect her from the authorities, telling everyone she was her long-lost younger sister. After a few years, Mekali grew to admire the lives of the pleasure slaves and insisted that Kant teach her how to become one. Kant was reticent about it because he had come to love her like she was his own child, but at the same time Mekali was growing up to be a strikingly beautiful young lady, and there were times his feelings for her were less than platonic. Finally Mekali seduced Kant into teaching her in the ways of the Hiral Sai, and they became lovers despite Mekali's young age. On her own accord she used her new skills to become one of the pleasure slaves in the Dome herself. She quickly rose through the ranks of the other pleasure slaves, and combined with her beauty, youth and exuberance, she quickly became the most sought after girl in the Dome. In less than 3 months she became one of the elite and moved out of Kant's quarters and into her own private room. Kant and Mekali's love for one another cooled, although they remained close friends.
Several years later Kant fell in love with one of his new students, Sarina, a peasants daughter sold into slavery. Kant was instantly smitten by her kindness and beauty, and she in turn fell in love with him as well. Resolving to save her from a life of prostitution he gathered all the money he had earned over the course of the last 15 years at the Pleasure Dome and bought her freedom. They married soon after and left the Dome to live out their lives as free individuals, finally settling down in the coastal city of Highport along the Wild Coast. There they raised a family of 4 children. Word of Kant's heritage was known to Highport's magistrates and he was invited to join them as a distinguished bureaucrat, and discovered he he had a natural aptitude for the role. Within a short amount of time he was recognized as being a supremely gifted politician. During this time Kant discovered he also had a natural talent as a painter, and using his considerable influence, he hired a world famous painter to teach him the finer points of the craft and soon his skill surpassed his mentor, becoming a reputable and talented painter in his own right.
Fifteen years into their marriage Sarina became ill and died, presumably from cancer. Unable to emotional cope with the loss, Kant threw himself in his work, causing him to be estranged from his children, who, one by one, struck out on their own when they each came of age. Soon Kant was alone. He became a cunning and shrewd politician with such a knack for diplomacy that when the orc hordes of the Pomarj swept through the lands he managed to persuade their leader to spare the human denizens of Highport. The Orc Empire's leader, Turrosh Mak, was so impressed with Kant that he elevated his position to that of Lord Mayor of Highport, assigned to keeping the tenuous peace between the human population and the orc populated areas of the city.
Kant played the dangerous balancing act for over two decades, partly out of fear of being killed by Turrosh Mak should he fail in his role as diplomat and peacekeeper, but also because, deep down, he enjoyed the political game and took a certain amount of pride in his diplomacy skills. He was, above all, a survivor, and his keen political mind enabled him to outmaneuver, outwit, and outplay all of his adversaries. Still, he was a lonely man, and after a cordial visit from his old lover Mekali, who had by that time become the Madam and proprietor of the Pleasure Dome back in Monmurg, he realized how truly alone he had been for so long. To ease his pain Mekali gave Kant one of her pleasure slaves, an exotic Olman beauty named Oona. His loneliness lessened somewhat, but still the memory of his beloved wife caused Kant to remain emotionally detached. Oona had been in Kant's service for 4 years when another beauty came into his life that would change everything.
In early 587 CY, word had reached him that the legendary Joanna Del Zoltan of Ket, world famous for her god-like beauty, was being held in one of his jails. When Joanna's lover Hawkmoon approached him in an attempt to bribe her release, Kant had her summoned to see her for himself. Upon seeing her for the first time he was instantly and inexplicably entranced with her unlike any woman he had ever met, and her erotic figure fired a lustful hunger he hadn't felt for any woman since his wife Sarina died nearly two decades earlier. At that time Joanna feared her lover Hawkmoon was going to leave her and believed that she could keep him if she became more skilled in bed, and Kant took advantage of her insecurity by revealing he used to be an instructor of the erotic arts at the Pleasure Dome in Monmurg and promised to teach her everything he knew (as well as reducing her sentence from 2 months to 2 weeks) if she agreed to stay with him in his mansion and be his lover. Joanna was reticent, but she eventually agreed to his terms. After their first time together Joanna discovered that Kant was in prime physical shape for man in his late 60's and also discovered how skillful Kant truly was in bed, being the best lover she ever had. She became Kant's willing lover thereafter. Kant likewise found Joanna was the most pleasurable lover he had ever been with and he became quite obsessed with her. The two indulged in their lust frequently between lessons.
Joanna consented to pose nude for a painting he wished to do of her, and the final product was Kant's masterpiece, his Opus. It took him several months to complete, long after Joanna had left his side for parts unknown. The raw beauty of the painting became the stuff of legends, and although numerous individuals have offered a kings ransom for the painting, it remained on the wall in his mansion in Highport. His brief two-week affair with Joanna left an indelible mark on Kant, and all of his subsequent art pieces were attempts at recreating her inhuman beauty on canvas. Although they all were exquisitely painted, Kant admits that they all fall far short of how beautiful Joanna truly was in person. He also did a series of 7 realistic and rather graphic pornographic paintings of Joanna having sex with various mythical monsters, including a dragon, a unicorn, and others. No one knows of this private collection, but they would undoubtedly be worth a fortune. These paintings are small (24"X30"), and unframed, while the masterpiece painting of Joanna reclining is very large (72"X48")
Kant's obsession with Joanna dulled his diplomacy skills over the following years and in the summer of 594 CY the city of Highport erupted into a bloodbath of genocidal rage when the fragile peace Kant had fostered between the orcs and humans fell apart. Kant took his paintings and fled east to Keoland, eventually establishing a new residence in the nations capitol of Niole Dra. Later that year the large masterpiece painting of Joanna that Kant had kept in his home in Highport found its way to Monmurg and presently adorns the walls inside the Pleasure Dome, hanging directly over the main exit. It has become a centerpiece attraction of the Dome and many people make a pilgrimage to the Dome purely with the intention of seeing the gorgeous painting in person.

Reply

I already have a drawing of Wez, although I plan on doing one of him in his armor. I am working on one of Jevhond Cliger right now. Should be done by Saturday morning, provided I don't get distracted with something else.
Reply

You give such a sad nobility in his face. Awesome job again and keep the new stuff coming!
Reply

Anybody in her history you'd like to see?
Reply

There was a cursed man who if I remember correctly was constantly being chased by a magic bolder. It was somewhat slow moving but it would always catch up with him. I can just imagine him with a look of constant paranoia.
Reply

That was a plot thread that I didn't get a chance to bring back into the campaign. Mostly the players fault because to them NPC's are just cannon fodder and they didn't want to go out of their way to help poor Vassa and his curse. After shrugging their shoulders they just forgot about the guy despite me dropping hints several gaming sessions later. So...I was forced to just say the boulder finally caught up to him and killed him and the wizard behind it all got away with it. So...Vassa was inconsequential to Joanna's history, all things considered. A footnote, if even that.
Reply

Very good pose, excellent design of face and costume.
Reply

You know what one of the signs of a truly great artist is? When they can draw male figures every bit as well as females. Your pictures of Joanna are always captivating, as are your other female forms. (The image you did of my Natashiana Grasamere was pretty epic too!) But you put every bit of detail into the male figures as you do the female. You're very talented Matt, it's too bad you aren't able to be active enough to make a living at this, you could do quite well.
Reply

Thanks. I tried doing professional commissioned work for a while and got burnt out. My problem (if it can be called a problem) is that I only enjoy drawing if I feel a need to release some creative energy, and come to resent drawing when I HAVE TO.

Interesting thing about drawing men as well as women; my artwork is beginning to show up more and more on gay DA pages. (shrug) whatever floats your boat, I guess.

BTW don't mean to see ya but I started an Ariana pic about a year back but lost interest in it after some aspects about it didn't turn out the way I imagined it in my head. I might pick it up again, but ya never know. Right now I'm considering doing a few more portraits of Joanna's lovers, the first being this one of Kant. Are there any you would like to know what they look like? (that question is posed to all visitors to my gallery) Suggestions welcome.
Reply

Actually, I'd like to see more with the vampire from early on in her history. I'm sorry his name escapes me at the moment. Also
..YOU NEED TO FINISH THAT ARIANA PICTURE!!!!!! I've been thinking I need to write something new for Joanna. Short story of her on Kyzanthia. After a Leisurely Stroll. I'll let you know if inspiration strikes.
Reply

Ah yes, Vorzan. Almost forgot about that guy. He was a Pseudo-Vampire from 1st edition AD&D Monster Manuel 2. They were creatures who evolved to appear like an undead but weren't really. Vorzan was a magic-user so he could fake being a vampire better than most, but he didn't have the power to drain levels like real vampires do. They're fun to play because you can convince players that he's a real vampire that is somehow immune to everything real vampires are susceptible to while being able to do everything a real vampire can do (simulated through spells like Gaseous Form, Polymorph Self (into a bat), etc.

I'd have to start over on the Ariana pic. Old picture got crumpled up and thrown away.
Reply

err...I meant to type "I don't mean to TEASE ya..."
Reply

He looks good for being in his sixties. I would have guess he was late forties.
Reply