~~~
Swaying, swaying. Swaying on the mother's back.
Faint sounds as a lullaby can be heard now, it's voices from many of my lost, old dear friends.
Nothing scares me, nothing suffers me anymore.
I'm coming to you soon dears, let your hands embrace my soul tenderly, warmly.
~~~
A picture which belongs to my original series Blood Ocean Adventure.
This time I show the view of ocean's surface instead of deep sea!
The one of crews' lamplight has vanished away now.
Do you know that we creatures' body fluid is very close to the sea, as we all came from the ocean?
And this law works in this story too. All of these fighters' body and soul will return to their birthplace in the end, as melting into the one.
However usually these crews resist against the end on this place, but trying to live by rebuilding themselves with machines which drives them to extremely unnatural.
No matter what, the mother of nature opens its hands to give a peaceful rest on the exhausted fighters.
Usually the ocean of blood must be awful to look at for people.
But I wanted to make this picture not only awful looking, but also somehow tender, warm and nostalgic.
So I hope my message reaches toward someone's mind. ><
More from series: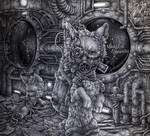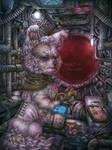 * Don't steal / trace / copy / edit / use my artworks. Thanks for reading! *