I'm a BIG fan of Tomb Raider. I have been ever since the first game. I remember, when I was about 17 year old, renting the original Play Station console and not leaving my room for days playing Tomb Raider.
At that time I didn't even have a computer let alone internet at home, so whenever I got stuck I had to go somewhere I could find access to the internet and print out the walkthroughs.

I fell in love with Lara then and I still adore her.
I'm so happy that they have decided to reinvent Lara and the Tomb Raider franchise and even though I haven't yet played the game I can tell that it's awesome. I love the new look of Lara.
So you all are probably aware of the Tomb Raider Reborn Contest that was held here on DA. I'm so amazed by the quality of the art that has been submitted. I really can't remember ever seeing such great turn out in a contest. Quality and quantity wise. I guess Lara is inspiring to so many of us. I'm just sad that I didn't have time to enter myself. So I've decided to do a small feature of some of my favorite works. It shows you how many excellent artists there are here on DA community. So please take you time and check them out. Give some

to these amazing artists.
And here is a cool retrospective video I found on Youtube. It's hard to believe the look of the first Tomb Raider. How it looks silly now, and I remember it being so impressive when I played it.

So check it out.
So thanks everybody for checking out my feature. Hope you enjoyed it. I would also like to give special thanks to

and

for making these great tutorials on how to make awesome journals like this one

:thumb347207205: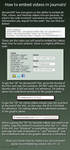 Well that's all folks! Hope to see you soon!