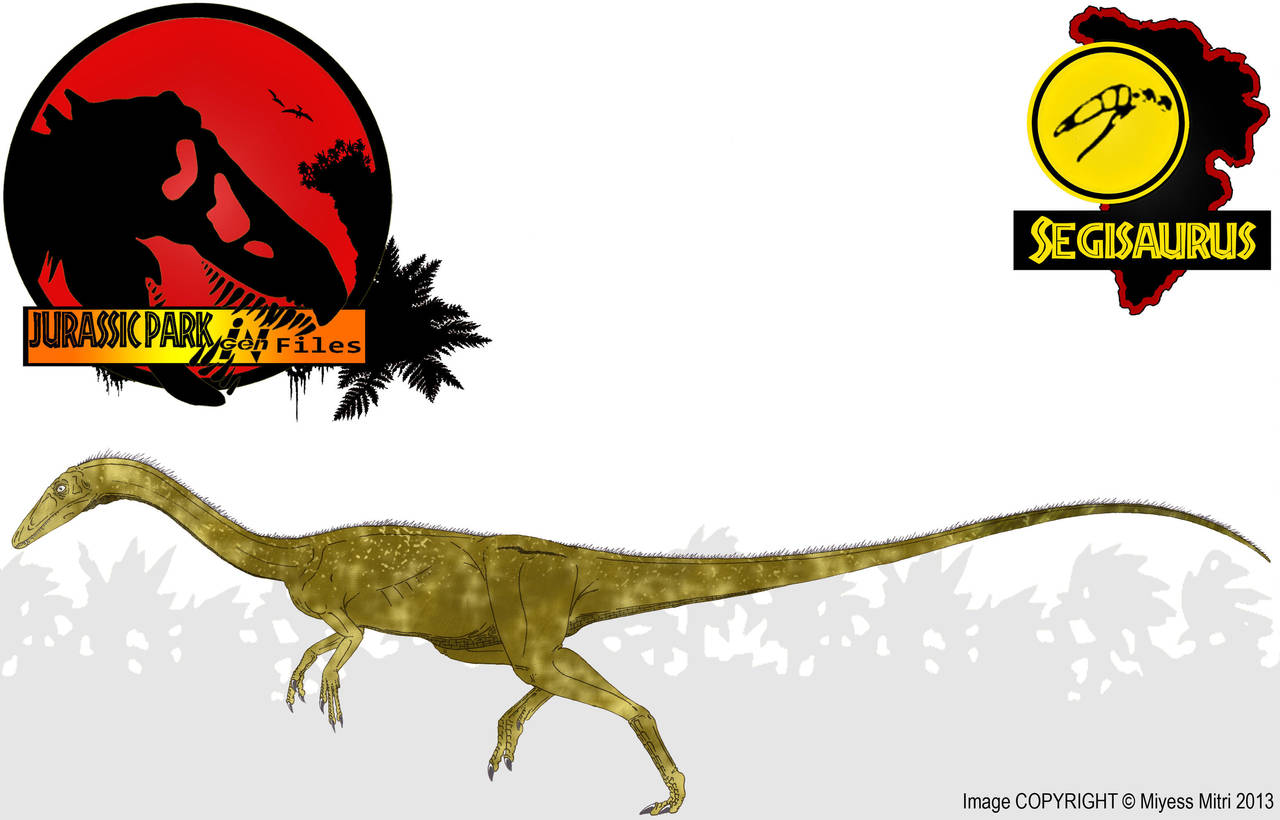 Watch
Jurassic Park InGen Files: Segisaurus halli
Age: Early Jurassic of North America (around 180 million years ago)
Diet: They hunt for small mammals and lizards around dawn and dusk, they are also occasional insectivores and active scavengers.
Length: Adult specimens reach just over a meter in length.
Weight: 7-8 kg
Notes: These close relatives of Coelophysis were one of the first dinosaur species to emerge from the cloning program and can be found on Isla Sorna and Isla Nublar. They form small, loose-knit packs that quickly scatter at the first hint of danger. Segisaurs can be quite aggressive if cornered, but they are otherwise harmless. Not to be confused with Compsognathus, they can be distinguished by their distinctive color, size, and vocalizations. Like compies however, Segisaur saliva contains quite a load of bacteria that can easily result in massive infection once bitten. They use this to their advantage when attacking extremely sick or mortally wounded animals, to speed up the process. They don't have an instant effect to their bites like the compies do, but it's still deadly if you don't get it checked out within a couple of days, sort-of like a komodo dragon bite. They don't go out of their way to attack an animal, not unless it is on its last legs, but if you do get bitten, you can bet they're not far away, stalking you... Segisaurs are the major competitors of the compies when it comes to catching small prey items or sniffing out carrion.
We bred them in the hope that they would help the compies by scavenging for carrion too big for the compies to handle, and keep the numbers of insects, snakes, and small mammals in check. They have lightning fast reflexes and run incredibly fast, making them very good at catching small prey items, unfortunately this occasionally also includes Compsognathus. Segisaurs are the only dinosaurs the compies truly fear. They have been seen attacking packs of compies on many occaisions, mostly over food, but sometimes over territory when their packs coincidentally cross paths.
I changed the body shape to be more like a Coelophysis than whatever the hell the old one was...
Old version: [link]
COPYRIGHT NOTICE ©
This work is covered under copyright law. You may not use my work for layouts, blogs, websites, myspace pages, banners, designs, posters, CD, books etc… without receiving a license from me.
My work is not stock photography. If I find that my work is being used illegally, then legal action will be taken. If you see my work being used, please E-mail me right away. Please respect copyrights.


This my friend is a beautiful reconstruction of the Segisaurus. It truly is...from neck to tail there is a great asset of detail in every piece and I love what you did by putting the little quills on Segisaurus!
Also great job with the detail in the feet and the impact of color represents a lot showing this dinosaur maybe as a female and a great camouflage in in swampy areas which emphasizes on the realism of what dinosaurs really would've looked like in their in enviorment like we see with most animals today and this deserves a great applause!

The Artist thought this was FAIR
9 out of 9 deviants thought this was fair.