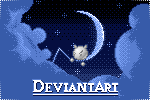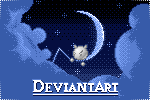 Watch
Daily Deviation
Given 2009-07-11
I've not been one for writing reviews, but, to me this deserves one to just express my joy that someone has made this. I'm a big fan of DreamWorks, and you've developed this beautifully; the whole scene looks perfect, down to the simple design of the stars and the glorious shading on the clouds. And what could be more fitting to the creativity and wonder that is DeviantArt! My only qualm is that it doesn't quite look like Fella to me; the shape of the ears are just not right to me, but it's a tiny thing. You sincerely deserved that DD for the clear imagination that got you to make this. I can find nothing more to fault with a beautiful piece of emoticon-ing. Well done.
The Artist thought this was FAIR
112 out of 121 deviants thought this was fair.